Philip V of Macedon (238-179 B.C.)
King of Macedonia from 221 to 179, whose attempt to extend Macedonian influence throughout Greece resulted in his defeat by Rome. His career is significant mainly as an episode in Rome's expansion. The son of Demetrius II and his wife Phthia (Chryseis), the young prince was adopted, after his father's death in 229, by his half-cousin Antigonus Doson, who took the throne. Philip succeeded upon Antigonus' death (summer 221) and soon won renown by supporting the Hellenic League in its war against Sparta, Aetolia, and Elis (220-217).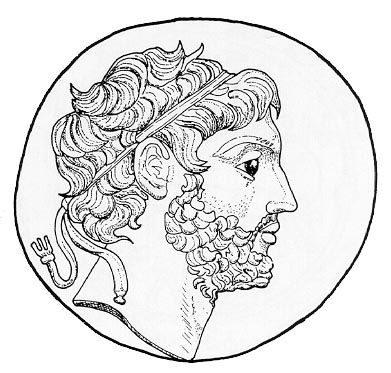 In 215 Philip, allied with Hannibal, the Carthaginian general who was invading Italy (Second Punic War), attacked the Roman client states in Illyria and initiated 10 years of inconclusive warfare against Rome (First Macedonian War). The Romans countered his moves by an alliance with the Greek cities of the Aetolian League, but Philip effectively aided his allies. When the Romans withdrew in 207, he forced an independent settlement upon Aetolia (206) and concluded the war with Rome on favourable terms (Peace of Phoenice, 205).
Philip then turned to the east. He plotted against Rhodes and in 203-202 conspired with Antiochus III of Syria to plunder the possessions of the Egyptian king Ptolemy V. But the people of Rhodes and Pergamum defeated Philip at sea off Chios (201) and so exaggerated reports of his aggression that Rome decided to declare war (Second Macedonian War, 200-196). The Roman campaigns in Macedonia (199) and Thessaly (198) shook Philip's position in Greece, and in 197 the Romans decisively defeated him at Cynoscephalae in Thessaly.
The terms of the peace confined Philip to Macedonia; he had to surrender 1,000 talents indemnity and most of his fleet and deposit hostages, including his younger son, Demetrius, at Rome. Until 189 Philip aided Rome against her enemies on the Greek peninsula. As a reward his tribute was remitted and his son restored (190).
Philip devoted the last decade of his life to consolidating his kingdom. He reorganized finances, transplanted populations, reopened mines, and issued central and local currencies. Neighbouring states constantly and successfully accused him at Rome, however. Becoming convinced that Rome intended to destroy him, he extended his authority into the Balkans in three campaigns (184, 183, 181). In 179, while pursuing a scheme for directing the Bastarnae against the Dardanians, Philip died. He had been a fine soldier and a popular king whose plans for expansion lacked consistent aims and achieved only temporary success. (Encyclopaedia Britannica Article)