David Levy Yulee (1811-1886)
David Levy Yulee, senator from Florida, was born in the West Indies in 1811. His father, whose name was Levy, was of Hebrew extraction. The son removed with him to Virginia when quite young, and there received the rudiments of a classical education. In 1824 he went to Florida, studied law, and engaged in planting.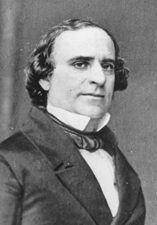 Yulee was elected a delegate to congress from the territory of Florida, and served from March 31, 1841 until March 3, 1845, under the name of David Levy, but afterward changed it to David Levy Yulee, under which designation he was subsequently known.
He was a delegate to the State constitutional convention, was elected a United States senator from Florida as a Democrat, serving from December 1, 1845, until March3, 1851, and again in the Senate from December 3, 1855, until January 21, 1861, when he retired to join the southern Confederacy.
During the civil war he served as a member of the Confederate congress, and at its termination was confined as a prisoner of state at Fort Pulaski until he was pardoned.
At one time he was president of the Atlantic and Gulf railroad in Florida. Mr. Yulee was interested in the development of Fernandina and Cedar Keys, and was one of the corporators of the railroad between those two places. He died in New York city, October 10, 1886.