Horatio Gouverneur Wright (1820-1899)
Horatio Gouverneur Wright (March 6, 1820 - July 2, 1899) was an engineer and officer in the Union Army during the American Civil War.
Born in Clinton, Connecticut, Wright graduated from the U.S. Military Academy in 1841 with a commission in the engineers. He served as assistant to Chief of Engineers Colonel Joseph G. Totten in 1856. After the start of the war, he took part in the evacuation and destruction of the Gosport Navy Yard (later named the Norfolk Navy Yard) on April 20, 1861, to prevent its exploitation by Confederate forces. He was captured during this action, but was released four days later.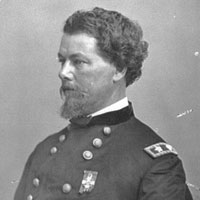 Wright began constructing fortifications around Washington, D.C. before being assigned to the 3rd Division of the Department of Northeast Virginia under Major General Samuel P. Heintzelman. Serving as Chief Engineer of the 3rd Division during the First Battle of Bull Run on July 1, 1861, Wright was promoted to Major of Engineers in August. Promoted to Brigadier General of volunteers the following month, Wright was assigned as Chief Engineer to Major General Thomas W. Sherman's November 1861 expedition against Port Royal, South Carolina. His successes while commanding Union troops in operations against Jacksonville, St. Augustine, and other military targets on the Florida coast from February to June of 1862 led to his appointment as commander of the Department of the Ohio in August, 1862, and later the newly created Army of the Ohio in March, 1863. In this command he played a major role in the repulse of General Braxton Bragg's invasion of Kentucky in 1862.
In May, 1863, Wright was given command of the 1st Division in the VI Corps of the Army of the Potomac under Major General John Sedgwick. His first battle in division command was Gettysburg in July, 1863, where his corps was held in reserve. The corps saw action at Mine Run in November, 1863, and the Battle of the Wilderness on May 5­6, 1864. After General Sedgwick's death at Spotsylvania on May 9, 1864, Wright assumed command of the VI Corps, receiving promotion as major general of volunteers and brevetted colonel of regulars on May 12, 1864.
Wright's corps fought at Cold Harbor on June 3­12, 1864. In the Valley Campaigns of 1864, he was dispatched to Washington, D.C., to defend against Confederate General Jubal Early's raid on July 11­12, 1864, commanding the Washington Emergency Defense Force, consisting of the VI, VIII, and XIX Corps. During the defense of Fort Stevens, he gained notoriety by inviting President Abraham Lincoln to join him on a parapet exposed to enemy fire. (A young lieutenant, Oliver Wendell Holmes, was responsible for yelling at the president to get under cover.)
Wright commanded the VI Corps again during Major General Philip H. Sheridan's Shenandoah Valley campaign from August 6­October 16, 1864. Wright directed fighting at Cedar Creek on October 19 before General Sheridan's arrival.
At Petersburg, the VI Corps was the first unit to break through Confederate defenses on April 2, 1865. Subsequently, operating under the command of Philip Sheridan, it defeated Confederate forces at Sayler's Creek on April 6, 1865, resulting in the capture of a large number of Confederate soldiers including General Richard S. Ewell. For Wright's actions at Petersburg he was promoted to a brevet major general of regulars.
During Reconstruction, Wright commanded the Army of Texas from July, 1865 to August, 1866, before leaving volunteer service. He was involved in a number of engineering projects including the Brooklyn Bridge and the completion of the Washington Monument. Promoted to Colonel in March, 1879, Wright was later named Chief of Engineers as a Brigadier General in June, 1879. He retired at that rank on March 6, 1884, and lived in Washington, D.C., until his death in 1899. He is buried in Arlington National Cemetery under an obelisk erected by veterans of the VI Corps, facing the Washington Monument he completed.