Joseph A. Wright (1810-1867)
Joseph A. Wright, Governor of Indiana 1849-1857 and U.S. Senator 1862-1863, was born in Washington, Pennsylvania, on April 17, 1810, the son of a brick manufacturer. In 1819 or 1820, his family moved to Bloomington, Indiana, where he and his two brothers assisted their father at work in a brickyard, and in the brick business generally. He attended the common schools.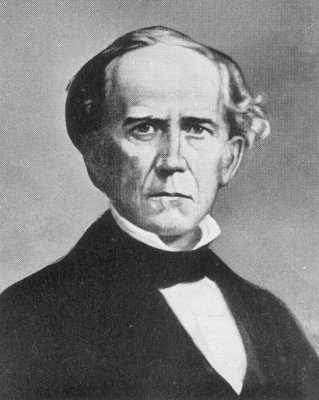 In 1822, his father died and he, then fourteen years of age, having but little if any aid from others, was left entirely upon his own resources. He attended school, and college about two years, graduating from Indiana Seminary (later Indiana University) at Bloomington in 1825. While at college was janitor, rang the bell and took care of the buildings. It is said that what little pocket money he had was made by gathering walnuts and hickory nuts in the fall and selling them to students in the winter. He subsequently studied law with Craven P. Hester, of Bloomington, and began the practice of his profession, in 1829, at Rockville, Park County, where he met with good success from the start.
Wright served in the Indiana House of Representatives from 1833-1838 and in 1840, the year of the Harrison political tornado, was chosen a member of the state senate. He was also elected district attorney for two terms in 1836 and 1837, and later was appointed by President Polk United States Commissioner to Texas.
In 1843, he was elected, over Edward McGaughey, as a Democrat to the 28th Congress (March 4, 1843-March 3, 1845). He was an unsuccessful candidate for reelection in 1844 to the 29th Congress. He served until Polk was inaugurated, March 4, 1845.
In 1849, he was elected governor of Indiana on the Democratic ticket, under the old constitution, and in 1852 was re-elected under the state's new constitution for a term of four years by over 20,000 majority, serving until 1857. Wright's administration was highlighted by the adoption of a new state constitution and by the formation of a State Board of Education and a State Board of Agriculture.
In the summer of 1857, he was appointed by President James Buchanan as Envoy Extraordinary and Minister Plenipotentiary to Prussia and served until 1861.
A firm supporter of the Union in the Civil War, Wright was appointed in 1862 by Governor Morton as a Unionist to the United States Senate to fill the vacancy caused by the expulsion of Jesse D. Bright. He served from February 24, 1862, to January 14, 1863. He was not a candidate for the succeeding term.
In 1863 he was appointed commissioner the Hamburg Exhibition and in 1865 went again to Prussia as United States Envoy Extraordinary and Minister Plenipotentiary where he remained until his death in Berlin on March 11, 1867.
Governor Wright will be best remembered as the governor of Indiana, his services in the general assembly, senate and congress being too brief for him to make much impression in any of those bodies. As governor, he was an important factor in shaping legislation and molding public opinion. He was an orthodox Democrat of the straightest sect, stood high in the councils of his party and contested with Jesse D. Bright for the leadership, but without success. He was strong with the people but weak with the leaders.
A theory attributed to Gov. Joseph Wright derived Hoosier from an Indian word for corn, "hoosa." Indiana flatboatmen taking corn or maize to New Orleans came to be known as "hoosa men" or Hoosiers. Unfortunately for this theory, a search of Indian vocabularies by a careful student of linguistics failed to reveal any such word for corn.
In personal appearance, Governor Wright was tall and raw boned. He had a large head and an unusually high forehead. His hair was light and thin, his eyes blue, and his nose and mouth large and prominent. He was an effective speaker, mainly on account of his earnestness and simplicity. While not the greatest man in the state, he was one of the most influential; and to his honor be it said, his influence was exercised for the public good. Economy and honesty in public life, and morality and religion in private station, had in him an advocate and an exemplar.
Wright composed Indiana's contribution to the words on the Washington Monument in Washington, D.C.: "Indiana knows no East, no West, no North, no South, nothing but the Union."