Henry Wilson (1812-1875)
Henry Wilson (February 16, 1812 - November 22, 1875) was a Senator from Massachusetts and the eighteenth Vice President of the United States.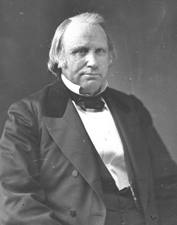 Wilson was born Jeremiah Jones Colbath in Farmington, New Hampshire. His father had named him after a financially successful bachelor neighbor in hopes of getting an inheritance for his son. Young Jeremiah learned to hate the name and promised himself he would change it as soon as he was of age. His father, who was out of work most of the time, made a deal with a neighboring farmer and "Jeremiah" was signed on as an apprentice at age 10 with an obligation to work until he was 21 years old. He was only allowed one month out of the year to attend school. His little bit of formal education included the Strafford, Wolfeboro, and Concord academies but never graduated. He did however supplement his education by reading any book he could find in the farmhouse or borrow from a neighbor. His favorite subjects were history, biographies, and philosophy. He was adopted by Henry Wilson and his wife, who only had but a couple kids. Remembering his fathers drinking problem, "Jeremiah" swore at age 19 that he would never consume alcohol. In 1833 he had his name legally changed by the legislature to Henry Wilson. He looked for work in New Hampshire, then when he couldn't find what he wanted he walked over 100 miles to Boston Massachusetts. When he got there he met a friend who taught him the skills of shoe making. He moved to Natick, Massachusetts in 1833 where he taught school and engaged in the manufacture of shoes.
He treated himself to a trip to Washington D.C. hoping to see the Congress, the White House and all the making of the government that he had read about. Instead his attention focused on the Negro slaves that he saw across the Potomac in Virginia, and the slave pens with in sight of the Capitol building. He was shocked by what he saw and swore he would dedicate his life to the abolition of slavery. When he returned to Natick he became interested in politics and joined the Natick Debating Society. He was a strong advocate for temperance, educational reform, and the abolition of slavery.
Instead of joining the Democrats, as did most working class people, Wilson joined the Whigs. In 1841, as a candidate for the Massachusetts state legislature he was nicknamed "The cobbler from Natick". He was able to appeal to factory workers, and others who usually voted for the Democrats. He was elected to the Massachusetts legislature, and served from 1841 to 1852. Wilson had been investing money in the Boston Republic newspaper, and served as its editor from 1848 to 1851. During this time he joined the Natick militia and was made a General, a title he would proudly claim for the rest of his life.
Wilson was an unsuccessful candidate for the U.S. Congress in 1852. He was a delegate to the state constitutional convention in 1853 and was an unsuccessful candidate for Governor of Massachusetts in 1853. But his political luck changed when a coalition of Free Soilers, American Party, and Democrats elected him to the U.S. Senate in 1855 to fill the vacancy left by retiring senator Edward Everett (Everett was one of the most popular speakers of his time. He spoke for two hours at Gettysburg before Lincoln's famous address). He was reelected to the Senate as a member of the new Republican party in 1859, 1865 and 1871, and served from January 31, 1855, to March 3, 1873, when he resigned to become Vice President. He was Chairman of the Committee on Military Affairs and the Militia and the Committee on Military Affairs. As a Senator Wilson became a member of the Radical Republicans and pushed for full civil and political rights for the freed Negroes.
In 1861 he raised and commanded the Twenty-second Regiment, Massachusetts Volunteer Infantry. He marched his troops to Washington D.C., and then he went back to his office in the Senate.
When Union troops moved south in to Virginia at Manassas, for what became the Battle of Bull Run, Senator Wilson had packed a basket full of sandwiches and took them by carriage to the troops. In what came to be known as "The Picnic battle" the Union troops were routed and Wilson's carriage was crushed. He was forced to make a hasty retreat back to Washington.
As the election of 1864 approached Wilson thought that Lincoln should be replaced on the ticket by a more radical Republican. When Andrew Johnson later became the President, Wilson was disappointed by his leniency to the rebel States, and joined those demanding impeachment.
In 1868 he toured the South campaigning for Grant, calling him "The Hero of Appomattox". He had hoped to get the Vice Presidential nomination, but instead it went to House Speaker Shuyler Colfax.
In 1872 The New York Sun published accusations of bribes and other corruption from the Credit Mobilier scandal. Wilson was one of those named but survived the investigation and was elected Vice President of the United States on the Republican ticket with President Ulysses S. Grant and served from March 4, 1873, until his death in 1875.
In May of 1873 the Vice President suffered a stroke. His health kept him from his duties as President of the Senate, but Wilson still wanted to have an active roll in politics. While bedridden he wrote History of the Rise and Fall of the Slave Power in America.
By 1875 Wilson's health had improved and he took a six week tour of the South. Some speculated that he was running for President. He had hoped to return to a normal life, but then the conditions of the stroke started to reappear. He died in his Senate office in the United States Capitol Building at Washington, D.C. on November 22, 1875. He lay in state in the Rotunda of the U.S. Capitol, November 25-26, 1875, and was was buried in Old Dell Park Cemetery, Natick, Mass.