Thomas Williams (1815-1862)
Thomas Williams was born in New York state on January 10, 1815; he died in Baton Rouge, Louisiana, August 5, 1862.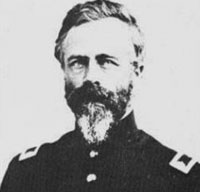 Williams was appointed a cadet in the United States military academy from Michigan, graduated in 1837, and immediately commissioned as 2d lieutenant of infantry. He served in the Florida wars and during the Canadian rebellion on the northern frontier.
He was assistant professor of mathematics at the military academy in 1840-41, promoted 1st lieutenant on 5 October, 1840, and from 1844 till 1850 was aide-de-camp to General Winfield Scott.
During the Mexican war Williams was present at Vera Cruz and the other principal engagements of the war, receiving the brevet of captain for bravery at Contreras and Churubusco, and that of major for taking a gallant part in the battle of Chapultepec.
He was promoted to captain on September 12, 1850, was engaged in operations against the Seminoles in Florida in 1856-57 and in the Utah expedition in 1858.
Williams was promoted to major on May 14, 1861, and made a brigadier-general of volunteers on September 28, 1861. He took part in the North Carolina expedition, and remained in command of Fort Hatteras till March, 1862, then took command of a brigade in the Ship island expedition, was engaged in opening the lower Mississippi in April and May, 1862, commanded in the first unsuccessful attack on Vicksburg, and projected and superintended the cutting of a canal that was designed to turn the course of the Mississippi away from that city.
On the failure of this enterprise he was placed in command at Baton Rouge, where he successfully repelled the vigorous attack of General John C. Breckinridge, and was killed in the moment of victory while leading to the charge an Indiana regiment whose field-officers had fallen.
Williams is buried Elmwood Cemetery, Detroit Michigan.