John Stuart Williams (1818-1898)
John Stuart "Cerro Gordo" Williams (1818-1898), a native of Montgomery County, served as Colonel of the 4th Kentucky Volunteers during the Mexican War and won fame for his exploits during the Battle of Cerro Gordo. A member of the Kentucky Legislature during the 1850s, he was initially an anti-secessionist. However, he abhorred Lincoln's coercive policy, and in November, 1861, he traveled to Prestonsburg and enlisted in the Confederate Army as Colonel of the 5th Kentucky Infantry.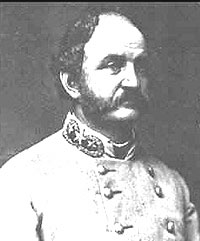 Williams served with Marshall's Army of Southwestern Virginia during the 1861-62 period and participated in Marshall's Fall 1862 invasion of Eastern Kentucky. In the Spring of 1863 he was promoted to brigadier general and placed in command of the Department of Southwestern Virginia. Establishing his base at Saltville and organizing a brigade of cavalry, he contested the advance of Burnside's Corps into Eastern Tennessee in the Fall of 1863, fighting against desperate odds at Blue Springs, Henderson's Mill, and other points.
Resigning his command, Williams was transferred to Georgia, where he assumed command of the Kentucky regiments composing part of Wheeler's Cavalry Corps. He participated in the actions leading up to Sherman's occupation of Atlanta, and in the Fall of 1864, arriving in the nick of time, he and his men played a decisive role in the Confederate victory at Saltville, Virginia, an action for which he received a resolution of gratitude from the Confederate Congress.
Following Lee's surrender Williams returned to his farm near Winchester, Kentucky and resumed his political career, serving two terms in the Kentucky legislature during the 1870s. During the 1880s Williams was an active promoter of Florida land development and with Louisville businessman Walter N. Haldeman, publisher of the Louisville Courier-Journal, established the resort town of Naples on Florida's Gulf Coast. Williams died at his home in Mount Sterling in 1898 and is buried in Winchester, Kentucky.