Lewis Wallace (1827-1905)
General Lewis Wallace, known for most of his life as "Lew," was born in Brookville, Indiana, on April 10, 1827. He was the second of four sons born to David and Esther Test Wallace. His father was a lawyer, a politician and an 1821 graduate of West Point.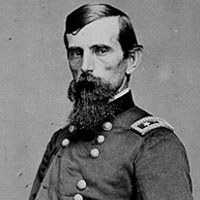 When Lew was five years old, the family moved to Covington, Indiana, in Fountain County. The family lost the third son, John, to scarlet fever during this move. Lew's father was lieutenant governor of the State of Indiana at that time and was away from home a lot. Lew's mother wasn't well and died of "galloping consumption" when Lew was seven. She is buried in Covington at the cemetery on Liberty Street. The Wallace boys were taken in by a neighbor, Mrs. Hawkins, while David continued his career.
In 1836, David Wallace married Zerelda Sanders (age 19). By 1837 she had become not only a new bride and stepmother to three half-grown boys, but First Lady of Indiana when her David Wallace became the sixth governor of the state. The family moved to Indianapolis where Lew had the run of the State House library. He wasn't a good student and didn't like school. He hated math, but he loved to read Lew's interest in art began with his early drawings of friends and battles. Jacob Cox had been hired to paint David Wallace's portrait as governor. Lew helped grind his paint. (It came in hard cakes and had to be ground to powder and mixed with oil.) One day he took some of the paint and made a brush with hair he pulled from his dog's tail. His parents found the painting, a picture of Chief Black Hawk. David laughed at the supplies, said the picture was recognizable, but discouraged his son's interest in art. He told him he would not be able to make a living as an artist in Indiana.
At the age of 16, Lew was told to get a job because he wasn't paying enough attention to his schooling. He applied to the County Clerk in Marion County for work and began copying records, which netted him $18.00 a week ($0.10 for every 100 words), which was enough to live on. Still he found he did not want to be a copyist for the rest of his life, so he began studying nights on his own. He decided to become a lawyer and studied law with his older brother under his father.
In 1846, about the time he was ready to take the bar exam, the Mexican War began. Lew was 19 and 2nd Sergeant of the Marion Rifles, an Indianapolis militia group. He decided to organize a troop of men to fight in the war, and as a result, neglected his studies. He failed the bar exam, but the group he organized became Co. H of the 1st Indiana Infantry. He was their 2nd Lieutenant. The company didn't see much action but lost a lot of men to disease.
Returning home after the war he resumed his law studies and passed the bar exam in 1849.
He also began playing the violin around this time. He opened a law office in Covington early in 1850. He met Susan Elston of Crawfordsville at a party at the home of Henry and Joanna Lane.
Henry was Lew's commanding officer in the Mexican war and Joanna was Susan's sister. Isaac Elston, Susan's father, was a prominent businessman founder of the Elston Bank. He was not impressed with Lew, but Susan accepted his proposal and said she wait until he had established himself.
With this incentive Lew began his law career and was soon elected Prosecuting Attorney of the 1st Congressional District. They were married May 6, 1852, and lived in Covington about a year. Their only child, Henry Lane Wallace, was born there on February 17, 1853. Shortly after the birth of their son, Lew and Susan moved to Crawfordsville to live. In April of 1856 Lew organized another militia group which became known as the Montgomery Guards. In October of that same year Lew was elected to the Indiana State Senate.
When the Civil War began, Governor Oliver P. Morton sent for Lew and appointed him Adjutant General of the state, a job he kept for only ten days. It was his responsibility to organize the troops the federal government would ask Indiana to furnish. They asked for six regiments, and in five days there were 13 regiments at Camp Morton in Indianapolis. Five days later, Lew resigned to accept a commission as Colonel of the 11th Indiana Volunteer Infantry.
Before a year had gone by Lew Wallace was a Major General, at 34 years of age, one of the youngest in the Union Army. He and his men fought at Ft. Henry, Ft. Donelson and Shiloh.
Lew was relieved of command after Shiloh and spend the next two years trying to regain his command. During that time, whenever there was a military problem, Governor Morton sent for him. He organized the defense of Cincinnati and was sent to push Morgan's Raiders out of Indiana to Ohio.
In March of 1864, President Lincoln asked that Lew Wallace be appointed Commander of the 8th Army Corps at Baltimore. By July Lew was in action again at Monocacy where it is said he saved Washington, D. C., from capture by Confederate troops. Lew spent the early months of 1865 on a secret mission in Mexico trying to stop the flow of goods across the border into the Confederacy. By the time he returned to Baltimore, the war had ended, and President Lincoln had been assassinated.
In May of 1865, Gen. Wallace was appointed second-in-command of the court martial that tried the Lincoln conspirators. He made sketches of those on trial and later painted the picture known as "The Conspirators" using those sketches. It is probably his best known painting. In August of the same year, Gen. Wallace was appointed president of the court that tried Henry Wirz, Commander of Andersonville Prison in Georgia. The most notorious of Southern prison camps, men were dying at Andersonville at the rate of a hundred a day the last summer that it existed. Wirz was convicted and hanged.
Lew then resigned his commission in November 1865 and returned to Crawfordsville. He spent part of 1866 and 1867 in Mexico, with government approval, supplying arms to the Juaristas in their attempt to overthrow Maximilian. Maximilian was executed July 17, 1867.
Lew resumed his law practice in 1868 and built a new house that he and Susan lived in for the rest of their lives. In 1870 he ran for Congress but was defeated (by Mahlon Manson, another Montgomery County general). He started writing again, something he had done all his life as a hobby. For twenty years he had been working on a novel about the conquest of Mexico at the time of Montezuma, told from the Aztec point of view. It was published in 1873 as The Fair God and sold well for a first effort. That same year, he began the research that would eventually lead to the book, Ben-Hur.
This book started as a short story describing the first Christmas (Book I of Ben-Hur).
Lew had been fascination with the Bible verses in Matthew describing how the wise men came to Jerusalem to see the Christ child. (He had always attended church with his family and his wife but didn't consider himself religious until the writing of Ben-Hur.) The remainder of the book was inspired by a conversation on a train trip to Indianapolis in September 1876 with Col. Robert Ingersoll, one of the best known atheists of the time. By the time they got to Indianapolis, Lew said he was so ashamed of his ignorance of religion and his inability to answer the man's statements that he must study the Bible. In trying to imagine how to make the task more compelling, he realized in a flash of inspiration that he could write a book detailing the religious and political situation of the world that "would demonstrate a necessity for a Saviour (sic)." Most of the book was written on the Study grounds under that gigantic Beech tree in a rocker with a lap board on which to write laid across the arms of his chair. The last part of Ben- Hur was written in the Palace of Governors in Santa Fe, New Mexico. Lew was appointed Governor of New Mexico Territory in 1878 to settle the Lincoln County Wars. In order to accomplish this, he granted amnesty to all involved, providing they had not been indicted for any crimes. Billy the Kid actually testified against others involved in the killings after talking to Gov. Wallace. But he had been indicted for killing three men, and he escaped from jail to avoid standing trial. One of the last documents Lew Wallace wrote as governor was Billy's official Death Warrant.
In 1881, Lew Wallace was appointed U. S. Minister to Turkey (i.e., the Ottoman Empire). President Garfield had been hoping to find someone who knew a little about the area. He read Ben-Hur, a book full of very accurate historic and geographical information, and decided Lew Wallace was a good choice. During his four years in Turkey, Lew became a very good friend of Sultan Abdul Hamid II. In 1885, Lew resigned his diplomatic post due to a change of administration in Washington, D. C. He was becoming a wealthy man because of Ben-Hur and decided to retire from law and concentrate on his writing. He also started tinkering around in his workshop and as a result, accumulated 8 U. S. patents.
In 1893, his third novel The Prince of India was published. The story was based on the legend of the Wandering Jew and dealt with the events leading up the fall of Constantinople in 1453. During the fall of 1894 he started a lecture tour of the west with his subjects being "Turkey and the Turks," "How I Came to Write Ben-Hur" and "Shiloh." Late in 1895 he started construction on his Study. It was something he had been dreaming of for twenty years, and he designed it himself. An eclectic mix of Periclean Greek (the front porch), Roman (the tower) and Byzantine (the main structure) architecture, it took three years to complete and cost somewhere in the vicinity of $30,000.
On November 29, 1899, he attended the opening night performance of Ben-Hur on Broadway. An overnight, smash hit, it ran for twenty-one years, 2500 performances, with the race actually being run on stage with 8 live horses and two chariots. It was taken on the road around North America, appeared in Europe and in Australia and New Zealand.
In 1899, Gen. Wallace also bought a farm just west of Crawfordsville which he called "Water Babble." It was his summer home and amateur fishery. Its ponds were stocked with black bass and speckled trout. He purchased the second automobile in Crawfordsville, a 1902 Waverley Electric Model 20A Surrey. He was part way through his autobiography when he died at his home on February 15, 1905, at the age of 77. He was buried at Oak Hill Cemetery where his grave is marked with a 30-foot obelisk monument designed by Sidney Speed.
His wife, Susan, completed his autobiography, with the help of her protégé, Mary Hannah Krout, and published it in 1906. Susan Wallace died October 1, 1907. Henry Lane Wallace (1853-1926) married Margaret Vance Noble. They had two sons, Lew Wallace, Jr., and William Noble Wallace. Both grandsons served in World War I, and Noble was killed in France at the age of 23. Lew, Jr., married Josephine Parrott and had four children, three of whom are still living.
Written by Joann Spragg, General Lew Wallace Historian, Edited by Stacy Klingler