Zebulon B. Vance (1830-1894)
Childhood
Zebulon Baird Vance, best known as North Carolina's Civil War Governor, was born in Buncombe County in the North Carolina mountains on May 13, 1830. His family was Scotch-Irish on both sides and he was the third of eight children of David and Mira Baird Vance.
Zeb Vance was born into a family with a history of military and public service. During the American Revolution his grandfather, Colonel David Vance, had suffered through a bitter winter with Washington's Army at Valley Forge and had fought at Germantown, Brandywine, and the Battle of Monmouth. His uncle, Dr. Robert Brank Vance, was a congressman from 1824 to 1826 and Vance's father was a captain during the War of 1812.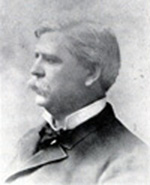 The family lived in the house Colonel David Vance had built in the 1790s and while the family was long on tradition, they were often short of ready cash. Young Zeb was sent to Washington College in East Tennessee when he was about twelve, but at fourteen he had to leave school and come home when his father died. When he turned twenty-one he wrote to former Governor Swain, who was at that time president of the University at Chapel Hill, and asked for a loan so he could enter Law School. Governor Swain arranged for a $300 loan from the University and after a reportedly brilliant academic year, Vance was granted his County Court license in Raleigh in late 1851. The next year he went to Asheville and began to practice law.
Public Career
The young lawyer first ventured into electoral politics when he was only twenty-four years old as the Whig candidate for a seat in the State House of Commons. He won that election against an opponent twice his age. Like many North Carolinians in public life, Vance spoke well on his feet. His gift of ready humor and oratorical skills on the stump resulted in a remarkable success rate in elections. In his whole career he was only defeated once at the polls, in 1856, when David Coleman and not Vance became the State Senator from Buncombe.
He bounced back in 1858 and won his first congressional seat, to which he was re-elected in 1860. When Vance first came to Washington he was, at age 28, the youngest member of Congress and one of the strongest Southern supporters of the Union. In March of 1861 however, when indications were that the North Carolina legislature was going to vote for secession, Vance resigned his seat and came home.
When the ordinance of secession was passed that May, Vance was already a captain in Raleigh commanding the company he had raised. The company was known as the "Rough and Ready Guards" and Vance and his men soon became part of the Fourteenth Regiment. Subsequently in August he was elected colonel of the Twenty-sixth North Carolina. Colonel Vance led his men in the field for thirteen months and the Regiment distinguished themselves at New Bern in March of 1862 and at Richmond in July of that same year. Governor of North Carolina
Vance became the "soldier's candidate" for North Carolina governor and he easily won the post with a majority which included the vote of every man in his regiment. He took office in September 1862 and was re-elected in 1864. While the new governor was a Southerner, he was a North Carolinian first. During the War years, that priority put him in conflict several times with the confederate government in Richmond.
Governor Vance was a States' Righter and some of his independent actions did not find favor in Richmond. In particular, there was disagreement over his policy of exporting North Carolina cotton abroad by way of blockade runner ships and using the material received in exchange for the benefit of North Carolinians, both civilian and military. Because of this policy, North Carolina was the only Confederate state to equip and clothe its own regiments, but much of the blockade runner supplies were shared with the rest of the Confederacy. General Longstreet's Army for example received 12,000 uniforms from North Carolina after the Battle of Chickamauga.
Of all of Governor Vance's policies, the most remarkable was his insistence, in the midst of the devastation and confusion of war, upon the maintenance of the rule of law. North Carolina courts continued to function during the war, and North Carolina stands alone as the only state which never suspended the writ of habeas corpus.
With the fall of Fort Fisher in January of 1865, the last port open to the Confederacy was closed. In May General Joseph E. Johnston surrendered his Confederate troops to General William Tecumsah Sherman at the Bennett Place near Durham. Later that month Governor Vance was arrested and taken into custody by federal troops. He spent time as a prisoner in the Old Capital Prison in the District of Columbia.
After the War
At the end of 1865 Vance was paroled and sent home. He went to Charlotte and resumed practicing law. He also began a new career on the lecture circuit and used the monies earned to maintain his family and satisfy old debts.
In 1870 the governor won one of the North Carolina seats in the U.S. Senate, but still being under parole, was not allowed to serve. But six years later, by a majority of 13,000 votes, he defeated Thomas Settle and was voted into his third term as North Carolina's governor. During this third term the remaining federal troops left North Carolina. Also during this term, Governor Vance proposed plans to the legislature for increased educational facilities and teacher training throughout the state.
This third term was a short one, for in 1878 Governor Vance became U.S. Senator Vance, an office he held until his death on April 14, 1894.
Zebulon Vance was married twice. He was first married in 1853 to Miss Harriet Espy. Two years after his first wife's death in 1878, the Governor was married in 1880 to Mrs. Florence Steele Martin of the State of Kentucky. Governor Vance was the father of four sons by his first marriage.
(From the State Library of North Carolina Encyclopedia).