Clement Laird Vallandigham (1820-1871)
Clement Laird Vallandigham (July 29, 1820 - June 17, 1871), Ohio politician, a key leader of the Copperheads in the American Civil War, was born in New Lisbon (now Lisbon), Ohio. After graduating from Jefferson College and Union Academy, he was admitted to the Ohio bar in 1842.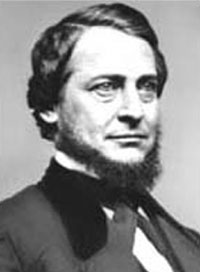 Shortly after moving to Dayton, Ohio to practice law, Vallandigham entered politics. He was elected as a Democrat to the Ohio legislature in 1845 and 1846, and also served as editor of a Post-Reconstruction Era Democratic Party weekly newspaper, the Dayton Empire, from 1847 until 1849. He ran for Congress in 1856, and was narrowly defeated. He appealed to the House of Representatives, which seated him, by a party vote, on the next to last day of the term. He was elected by a small margin in 1858 and in 1860.
Once the Civil War began, however, the majority anti-secession population of the Dayton area turned him out, and Vallandigham lost his bid for a third term in 1862 by a relatively large vote; but this result may not be strictly comparable, owing to redistricting.
Vallandigham was a very strong supporter of states' rights and although personally opposed to slavery, believed that the federal government had no power to regulate the institution. He further believed that the Confederacy had a right to secede and could not constitutionally be conquered militarily.
On May 1, 1863, in a speech at Mt. Vernon, Ohio, Vallandigham said that the Civil War was being fought not to save the Union but to free blacks and enslave whites. To those who supported the war he declared, "Defeat, debt, taxation [and] sepulchres—these are your trophies." He denounced "King Lincoln," calling for Abraham Lincoln's removal from the presidency.
Three days later, he was arrested by Union soldiers in his Dayton home on orders of Gen. Ambrose Burnside on a charge of showing sympathy toward the enemy. (On Aprill 13, 1863, Maj. Gen. Burnside, Commmander of the Department Of The Ohio, had issued General Order No. 38, forbidding expression of sympathy for the enemy.) Enraged by his arrest, Vallandigham's supporters attacked and burned the offices of the Dayton Journal, the Republican rival to the Empire.
Vallandigham was tried by a military court May 6-7 , denied a writ of habeas corpus, convicted by a military tribunal of "uttering disloyal sentiments" and attempting to hinder the prosecution of the war, and sentenced to 2 years' confinement in a military prison. A Federal circuit judge upheld Vallandigham's arrest and military trial as a valid exercise of the President's war powers and, in February 1864, the Supreme Court of the United States declined to hear the case.
President Lincoln, who considered Vallandigham a "wily agitator" and was wary of making him a martyr to the Copperhead cause, ordered him sent through the lines to the Confederacy, and he was taken under guard to Tennessee.
Vallandigham traveled by steamship to Bermuda and then to Canada, where he declared himself a candidate for Governor of Ohio, subsequently winning the Democratic nomination in absentia. (Outraged at his by treatment by Lincoln, by a vote of 411-11 Ohio state Democrats nominated Vallandigham for governor at their June 11 convention.) He ran his campaign from a hotel in Windsor, Ontario, where he received a steady stream of visitors and supporters. He asked in one speech, "Shall there be free speech, a free press, peaceable assemblages of the people, and a free ballot any longer in Ohio?" His platform included withdrawing Ohio (and any other Northern state that would agree) from the Union if Lincoln refused to reconcile with the Confederacy. Vallandigham lost the 1863 Ohio gubernatorial election in a landslide to pro-Union War Democrat John Brough, but his activism had left Dayton bitterly divided between pro- and anti-slavery factions and left in its wake an atmosphere of racial tension.
Vallandigham returned to Ohio after the war, ran unsuccessfully for Senate and the House on an anti-Reconstruction platform, and resumed his law practice.
In observance of its value to sustaining and furthering the literary history of the United States, writer and casual historian Dr. Russell J. Williams observes that Samuel Eliot Morison (in his Oxford History of the American People, Vol. 2, p. 443) reports "Vallandigham's assertion that 'he did not want to belong to the United States' prompted Edward Everett Hale to write "The Man Without a Country." This piece of fiction, which appeared in the Atlantic in December 1863, was widely republished, and did more to stimulate patriotism than any other wartime writing."
Vallandigham died in 1871 in Lebanon, Ohio at the Golden Lamb Inn, after accidentally shooting himself with a pistol. At the time, Vallandigham was representing the defendant in a murder case. He was attempting to prove the victim had in fact committed suicide, and was demonstrating the possibility with a gun he believed to be unloaded. His last words expressed his faith in "that good old Presbyterian doctrine of predestination."