James Ewell Brown Stuart (1833-1864)
James Ewell Brown Stuart (February 6, 1833 ­ May 12, 1864) was an American soldier from Virginia and a Confederate Army general during the American Civil War. He was known to his friends as "Jeb".
Stuart was a cavalry commander known for his dashing image (red-lined gray cape, hat cocked to the side with a peacock feather, red flower in his lapel, often sporting cologne) and his audacious tactics. Through his daring raids and reconnaissance missions, he became Robert E. Lee's eyes and ears and inspired Southern morale. He was killed late in the War, and was much missed by Lee and the Confederacy.
Childhood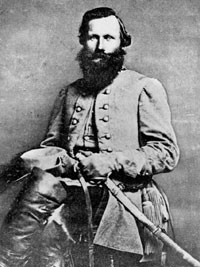 James Ewell Brown Stuart was born at Laurel Hill, a plantation in Patrick County, Virginia on the dividing line between the piedmont and the mountains and within sight of the boundary line of North Carolina and Virginia. His father, Archibald Stuart, was a prominent politician and attorney and represented Patrick County in both houses of the Virginia General Assembly and served one term in the United States House of Representatives. Elizabeth Stuart, his mother, was known as a strict religious woman with a great love of nature. Both traits could be seen in the personality of their most famous offspring. He was the 7th of 10 children, and the youngest son. James Stuart passed a happy boyhood. He loved the old homestead with all the enthusiasm of his nature; and one of the fondest dreams of his manhood was that he might own the place of his birth, and there end his days in quiet retirement.
Education
At the age of fourteen years, young James was placed at school in Wytheville. He attended Emory and Henry College from 1848 to 1850. On July 1st, 1850, Stuart entered the United States Military Academy at West Point, New York during the time that Robert E. Lee was Commandant of the Academy. A diligent, hard-working man, he graduated 13th in his class of 46 in 1854. He achieved the rank of cavalry sergeant, the highest rank attainable for these cadets.
United States Army
In 1854, Second Lieutenant Stuart's first assignment was to the regiment of Mounted Rifleman in Texas. For his oustanding leadership, he was soon transferred to and promoted in the newly formed 1st Regiment, US Cavalry. Stuart's ability to lead men in the face of danger and adversity struck his commanders. He became a veteran of Indian fighting on the plains and of Bleeding Kansas. Stuart was seriously wounded in the chest in July, 1857, while fighting on the frontier against Native Americans. In 1859, Stuart carried the orders for General Robert E. Lee to proceed to Harpers Ferry to crush John Brown's raid on the U.S. Arsenal there. During the siege, Stuart volunteered to be Lee's aide-de-camp, and read the ultimatum to Brown before the final assault.
He was promoted to captain on April 22, 1861, but resigned from the US Army on May 14, 1861 to join the Confederate Army following the secession of his home state of Virginia.
Confederate Army
J.E.B. Stuart was commissioned as a Captain of Cavalry in the Confederate Army on May 24, 1861, and rose quickly. His later appointments included: Colonel, 1st Virginia Cavalry (July 16, 1861); Brigadier general, CSA (September 24, 1861); Major general, CSA (July 25, 1862)
Stuart's commands in the Army of Northern Virginia included: Cavalry Brigade (October 22, 1861 ­ July 28, 1862); Cavalry Division (July 28, 1862 ­ September 9, 1863); Second Corps (temporarily replacing Jackson,May 3­6, 1863); Cavalry Corps (September 9, 1863 ­ May 11, 1864).
After early service in the Shenandoah Valley, Stuart led his regiment in First Bull Run and participated in the pursuit of the routed Federals. He then directed the army's outposts until given command of the cavalry brigade. He led the cavalry in the Army of Northern Virginia at Peninsula Campaign and the Seven Days Battles; Second Battle of Bull Run; Antietam; Fredericksburg; Chancellorsville; Gettysburg; and Wilderness.
Stuart was also a raider. Twice he slipped around McClellan's army, once in the Peninsula Campaign and once after the Battle of Antietam. While these exploits were not militarily significant, they improved Southern morale. During the Second Bull Run Campaign, he lost his signature plumed hat and cloak to pursuing Federals, but in a later raid, managed to overrun Union army commander John Pope's headquarters and not only captured his full uniform, but also intercepted orders that provided Lee with much valuable intelligence. At the end of 1862, Stuart led a raid north of the Rappahannock River, inflicting some 230 casualties while losing only 27 of his own men.
In May, 1863, at the Battle of Chancellorsville, Stuart was appointed by Lee to take command of the Second Corps for a few days after Stonewall Jackson had been mortally wounded and did as well commanding infantry as he did cavalry.
Returning to the cavalry, the Gettysburg Campaign represented two low points in Stuart's career. He commanded the Southern horsemen at the Battle of Brandy Station, the largest cavalry engagement on the North American continent, on June 9, 1863. The battle was a draw and the Confederates held the field. However, falling victim to a surprise attack was an embarrassing blow to a cavalryman and the fight revealed the rising competency of the Union cavalry and foreshadowed the decline of the formerly invincible Southern mounted arm.
As Lee and Union General George G. Meade marched toward each other at Gettysburg, Lee ordered Stuart to screen the Confederate army as it moved down the Shenandoah Valley and to maintain contact with the lead element, Richard S. Ewell's Second Corps, as it advanced in the direction of Harrisburg, Pennsylvania. Stuart somehow interpreted these orders to once again attempt to circle the Union army and he found himself well to the east of Ewell, out of contact with the Union army and out of communications with Lee. Lee was left in serious difficulty, in enemy territory without detailed knowledge of the terrain, roads, or his opponent's strength and positions. And this lack of knowledge was the primary reason that the battle started almost by accident on July 1, 1863, before Lee could concentrate his army as he had planned. Stuart arrived late on the second day of the battle, bringing a caravan of captured Union supply wagons with him, and receiving a stinging rebuke from Lee. (It is unlikely Lee would have attacked on July 2 in the way he did if he had known the disposition of the Union forces at the Peach Orchard.) On the final day of the battle, Stuart failed to get into the enemy's rear and disrupt their line of communications, being checked by Union cavalry under Generals David McM. Gregg and George Armstrong Custer.
During the Overland Campaign, Grant's drive on Richmond in the spring of 1864, Stuart halted Philip Sheridan's cavalry at Yellow Tavern on the outskirts of Richmond on May 11. A Union sharpshooter (at a distance of thirty feet) shot him; he died the next day in the Confederate capital. He was 31 years old, and was buried in Richmond's Hollywood Cemetery.
Heritage, memorials
Like his intimate friend, Stonewall Jackson, General Stuart was a legendary figure, ranking as one of the greatest cavalry commanders of all time. Stuart was a son-in-law of Brigadier General Philip St. George Cooke of the Union service; his wife's brother was Brigadier General John Rogers Cooke of the Confederacy. He was survived by his wife and his children, J.E.B. Stuart Jr. and Virginia Pelham Stuart. His widow, Flora Cooke Stuart, would wear the black of mourning for the remaining 49 years of her life.
A statue of General J.E.B. Stuart by sculptor Frederick Moynihan was dedicated on Richmond's famed Monument Avenue at Stuart Circle in 1907. Like General Stonewall Jackson, his equestrian statue faces north, indicating that he died in the War. The U.S. Army named two models of World War II tanks, the M3 and M5, the Stuart tank in their old adversary's honor.