Edwin Henry Stoughton (1838-1868)
Edwin Henry Stoughton was born in Springfield, Vermont, on June 28, 1838; he died in Boston, Massachusetts, on December 25, 1868.
Stoughton graduated from the United States Military Academy) in 1859, placing 17th out of 22. Assigned to the 6th infantry, he served in garrison at Fort Columbus, New York, and on scouting duty in the western territories, but he resigned on March 4, 1861, from the regular army.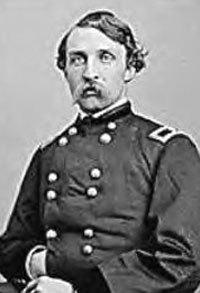 On September 25, 1861 he entered the Volunteer service, being appointed Colonel and commander of the 4th Vermont Volunteer Infantry. He led his unit in the Spring 1862 Peninsular Campaign, participating in the actions of the Army of the Potomac's VI Corps. He was engaged in the siege of Yorktown, the action at Lee's Mill, the battles of Williamsburg and Savage Station, and the operations before Richmond. In July 1862 he went on a leave of absence, and did not return until November.
Upon his return he was promoted to Brigadier General, US Volunteers on November 5, 1862, becoming at age 24 the youngest General in the Union Army. From November 1863 to March 1863 he commanded the 2d Vermont brigade, covering the defences of Washington, D.C., in the area of Fairfax Court House, Virginia.
At 2:00 am on March 9, 1863 he was captured in the dead of night by Confederate partisan Colonel John S. Mosby. Mosby's men stole through the heavily manned Union camp in the dead of night and took General Stoughton in his bed (and also captured 32 other Union soldiers and 58 horses). He was held in Richmond's Libby Prison from March until May, when he was exchanged.
When Confederate General Robert E. Lee heard about the spectacular raid, he was exuberant, saying "Hurrah for Mosby! I wish I had a hundred like him!"
When Union President Abraham Lincoln heard of the raid, he supposedly said "I don't mind so much the loss of a General, as I can make another with the stroke of a pen, but I sure hate losing those horses."
Stoughton's Volunteer General commission expired while he was being held by the Confederates, and he received no further command after his release; his military career ended by his lack of vigilance.
He spent some time in New York City as a lawyer before dying on Christmas Day in 1868 at the young age of 30. He is buried in Immanuel Cemetery, Bellows Falls, Windham County, Vermont.