Charles Pomeroy Stone (1824-1887)
Charles Pomeroy Stone (September 30, 1824 - January 24, 1887) was an officer in the U.S. Army who became a Brigadier General during the American Civil War.
Stone was born in Greenfield, Massachusetts on September 30, 1824. After graduating from the U.S. Military Academy at West Point, Stone served as an Ordnance Officer with Maj. Gen. Winfield Scott's army in Mexico. There, he was brevetted First Lieutenant and Captain. After the Mexican-American War, he spent five years as Chief of Ordnance of the Pacific Department. In 1856 Stone resigned from the Army and was employed by the Mexican government as a surveyor, leading a scientific expedition in Sonora,Mexico.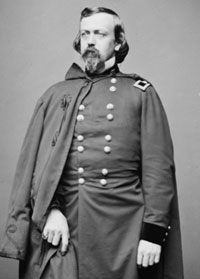 With the outbreak of war in 1861, Stone returned to Washington and as Inspector General of the District of Columbia militia secured the capital for the arrival of President-elect Abraham Lincoln. Stone was appointed a Colonel of the 14th U.S. Regulars in May and a Brigadier General of Volunteers in August. He commanded a brigade in the Shenandoah Valley during the First Bull Run campaign and afterward commanded a division, the Corps of Observation, guarding the fords on the upper Potomac.
In October 1861 he sent a portion of his command to attack a suspected Confederate camp near Leesburg, Virginia, and it was soundly defeated at the ensuing Battle of Ball's Bluff. Stone bore the brunt of public and congressional criticism. In February 1862 he was arrested in the middle of the night, without charges being preferred, and confined for 189 days. Stone was released without explanation.
It was not until 1863 that he was given another assignment, in the Department of the Gulf. However, in April 1864 the Secretary of War ordered Stone mustered out of his commission, and Stone was without a command. He finally resigned from the Army in September of the same year.
After the war he served thirteen years as Chief of Staff and general aide-de-camp for the khedive in the Egyptian Army, during which he was given the rank of Lieutenant General and the title of Ferik Pasha.
Stone later returned to the United States, where he served as the Chief Engineer for the construction of the Statue of Liberty's pedestal and concrete foundation. He died in New York City on January 24, 1887.