Edmund Kirby Smith (1824-1893)
Edmund Kirby Smith (May 16, 1824 - March 28, 1893) was a career U.S. Army officer, an educator, and a general in the Confederate Army during the American Civil War, notable for his command of the Trans-Mississippi Department of Confederacy after the fall of Vicksburg.
Early life and the U.S. Army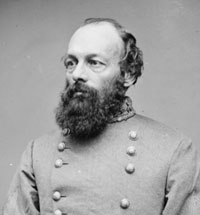 Smith was born in St. Augustine, Florida. He graduated from the U.S. Military Academy in 1845, where he was nicknamed "Seminole" for his native state, and was commissioned a second lieutenant in the 5th U.S. Infantry.
In the Mexican-American War he received brevet promotions to first lieutenant for Cerro Gordo and to captain for Contreras and Churubusco.
After that war he served as a captain in the 2nd U.S. Cavalry, primarily in Texas, but he also taught mathematics at West Point and was wounded in 1859 fighting Indians in the Nescutunga Valley of Texas.
When Texas seceded, Smith, now a major, refused to surrender his command to the state forces under Benjamin McCulloch.
Civil War
Joining the Confederacy, his assignments included: lieutenant colonel, Cavalry (spring 1861); chief of staff, Army of the Shenandoah (spring-summer 1861); brigadier general, CSA (June 17, 1861); commanding 4th Brigade, Army of the Shenandoah (ca. June-July 20,1861); commanding 4th Brigade, 2nd Corps, Army of the Potomac (July 20-21, 1861); major general, CSA (October 11, 1861); commanding 4th Division, Potomac District, Department of Northern Virginia (October 22, 1861-February 21, 1862); commanding Department of East Tennessee (March 8-August 25, ca. October 31 - December 1862, and December 23, 1862 - January 1863); commanding Army of Kentucky, Department #2 (August 25-November 20, 1862); lieutenant general, CSA (October 9, 1862); also commanding corps, Army of Tennessee (November 20-December 1862); commanding Southwestern Army (January 14-March 7, 1863); commanding Trans-Mississippi Department (March 7, 1863-April 19, 1865 and April 22-May 26, 1865); and general, PACS (February 19, 1864).
After serving briefly as General Joseph E. Johnston's assistant adjutant general in the Shenandoah Valley, Smith was promoted to brigadier general on June 17, 1861, and given command of a brigade in the Army of the Shenandoah, which he led at the First Battle of Bull Run on July 21. Wounded there severely in the neck and shoulder, he recuperated while commanding the Department of Middle and East Florida.
He returned to duty in October as a major general and division commander in the Confederate Army of the Potomac in northern Virginia. In February of 1862 he was sent west to command the Army of East Tennessee. Cooperating with Gen. Braxton Bragg in the invasion of Kentucky, he scored a victory at Richmond on August 30, 1862, and was named in October to the newly created grade of lieutenant general, becoming a corps commander in the Army of Tennessee.
In January of 1863, Smith was transferred to command the Trans-Mississippi Department (primarily Arkansas, Western Louisiana, and Texas) and he would remain west of the Mississippi River for the balance of the war. As forces under Union Maj. Gen. Ulysses S. Grant tightened their grip on the river, Smith attempted to intervene. However, his department never had more than 30,000 men stationed over an immense area and he was not able to concentrate forces adequately to challenge Grant or the Union Navy on the river.
Following the Union capture of the remaining strongholds at Vicksburg and Port Hudson and the closing of the Mississippi, he was virtually cut off from the Confederate capital at Richmond and was confronted with the command of a virtually independent area of the Confederacy, with all of its inherent administrative problems. The area became known in the Confederacy as "Kirby Smithdom".
In the spring of 1864 Smith soundly defeated Nathaniel P. Banks in his Red River Campaign and then dispatched reinforcements northward to defeat Maj. Gen. Frederick Steele's incursion into Arkansas. With the pressure relieved, Smith attempted to send reinforcements east of the Mississippi but, as in the case of his earlier attempts to relieve Vicksburg, it proved impracticable due to Union naval control of the river. Instead he dispatched Sterling Price, with all available cavalry, on an unsuccessful invasion of Missouri. Thereafter the war west of the river was principally one of small raids and guerrilla activity.
By now a full general (as of February 19, 1864, one of only eight such men in the Confederacy), he surrendered his department—the only significant Confederate army left—on May 26, 1865 and arrived in Galveston, Texas, on June 2, from whence he fled to Mexico and then to Cuba to escape potential prosecution for treason.
He returned to take an oath of amnesty at Lynchburg, Virginia, on November 14, 1865.
Post-bellum career
After the war Smith was active in the telegraph business and education.
From 1866 to 1868 he was president of the Pacific and Atlantic Telegraph Company.
He was the president of the Western Military Academy in Tennessee; chancellor of the University of Nashville from 1870 to 1875; professor of mathematics at the University of the South at Sewanee from 1875 to 1893).
At the time of his death in Sewanee on March 28, 1893, he was the last surviving man who had been full Confederate generals. He is buried in the University Cemetery at Sewanee.
A men's dormitory building is named after Kirby Smith at Louisiana State University in Baton Rouge. With 13 floors, it is the tallest building on campus. Ironically, Kirby Smith burned LSU to the ground to prevent its capture by Union forces as the Confederates evacuated Baton Rouge.