Pierre Gustave Toutant Beauregard (1818-1893)
William Henry Seward was born in 1801 in Florida, Orange County, New York. He was the fourth of six children born to Samuel S. and Mary J. Seward. After attending schools in Florida and Goshen, he attended Union College in Schenectady, graduating in 1820. In 1819, on a teaching sojourn to Georgia, the indignity of slavery first made an impression on him and later influenced him to become one of the most outspoken anti-slavery politicians of the time.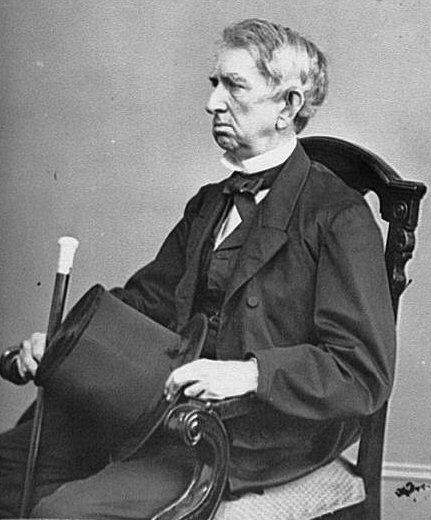 Seward trained in law offices in Goshen and New York City and passed the New York State Bar in 1821. That same year, he met Frances Miller of Auburn, a classmate of his sister Cornelia at Emma Willard's Troy Female Seminary. Years later, he wrote that "a partiality I conceived for her led me to stop in Auburn." Seward moved to Auburn, New York, in 1823 and entered into a law partnership with Frances' father, Judge Elijah Miller. A year later, Seward asked the Judge for permission to marry. Judge Miller allowed the match on the condition that William and Frances share the Miller home on South Street with him. The couple had five children - Augustus, Frederick, Cornelia, William and Frances "Fanny".
At the age of 29, William Seward was elected as an Anti-Mason to the New York State Senate. In 1838 he won election as the first Whig Party governor of New York and was reelected again in 1840. During his gubernatorial terms, he extended the canal system through the state, promoted the building of the Croton Aqueduct, established libraries in the public school system and abolished imprisonment for debt.
Seward returned to Auburn at the close of his second term and, in 1846, used the then-novel insanity defense to defend William Freeman, a mentally-ill African-American who had murdered a white farmer and his family. Seward lost the case but won a retrial. Freeman died in prison before the second trial could begin.
The New York State Legislature voted Seward into the United States Senate in 1848. During his twelve years as a United States Senator, Seward helped to organize the new Republican Party and worked to bring California into the Union as a free, not slave-holding, state. He was also a member of the Foreign Relations Committee. Devout abolitionists, William Henry and Frances Seward used their home in the 1850s to shelter fugitive slaves as part of the Underground Railroad. Seward was also instrumental in helping Harriet Tubman settle in Auburn and secure property on South Street which was to be her home for over fifty years.
Seward sought, but never attained, the highest office in the land. Although a front-runner at the 1860 Republican presidential nominating convention, the party ultimately supported Abraham Lincoln. Seward accepted Lincoln's request to serve as Secretary of State, and as such, he signed and helped to write the Emancipation Proclamation, which became a law on January 1, 1863.
Secretary Seward was brutally stabbed in his Washington home on April 14, 1865, the same night President Lincoln was shot in the Ford Theater. The attacker, Louis Powell, a co-conspirator with Booth, injured five people in the nighttime action. Seward recovered from his injuries and continued to serve as Secretary of State for President Andrew Johnson. During this administration, the United States purchased the Alaska Territory from Russia for $7,200,000.00. Derided by critics as "Seward's Folly," this purchase became one of Seward's greatest legacies.
In 1869, William Seward retired from the State Department and spent most of the remainder of his life traveling. He visited Alaska in June 1869 and later enjoyed a fourteen-month trip around the world. When Seward returned from his world tour, he began writing a book about his travels.
Seward died in his home in Auburn on October 10, 1872 following a short illness. His family gathered around him as he lay on his office couch. His last words to them were to "Love one another."
(from the Seward House site.)