William Starke Rosecrans (1819-1898)
William Starke Rosecrans (September 6, 1819 - March 11, 1898), nicknamed "Old Rosy", was an inventor, coal-oil company executive, diplomat, politician, and U.S. Army officer. He gained fame for his role as a Union general during the American Civil War.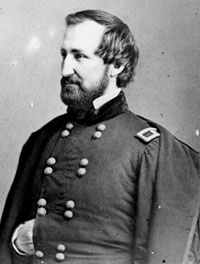 Born at Kingston, Ohio, Rosecrans graduated from the U.S. Military Academy in 1842. He graduated fifth in his class, which included notable future generals, such as James Longstreet, D.H. Hill, and Abner Doubleday. The Army assigned him to duty as an engineer, working on the fortifications at Hampton Roads, Virginia. Later he served as an instructor at West Point, and at various other stations in the New England area. Rosecrans resigned from the Army in 1854, moving into civil fields. He took over a mining business in Western Virginia (today West Virginia) and ran it extremely successfully, making many inventions, including a more effective method of manufacturing soap.
While president of the Preston Coal Oil Company, in 1859, an oil lamp exploded, burning Rosecrans severely. As he concluded recovering from those burns, the Civil War began. He began service as a volunteer aide-de-camp to George B. McClellan. Promoted to the rank of colonel, Rosecrans took up the command of the 23rd Ohio Infantry, whose members included Rutherford B. Hayes and William McKinley, both future presidents. Soon, he received promotion to brigadier general. His plans and decisions proved extremely effective in the West Virginia Campaign, including the Union victory at Rich Mountain; however, his superior, Major General McClellan, received the credit. Because of this, Rosecrans refused to go east with McClellan (who became general-in-chief of all Union armies and later the commander of the Army of the Potomac), instead requesting a transfer to the West.
Rosecrans received the command of the left wing of the Army of the Mississippi, fighting at the battles of Iuka and Corinth. However, after the latter battle, conflict ensued between Rosecrans and fellow general Ulysses S. Grant. Grant, among others, would later repeatedly fault Rosecrans for being too conservative. (Ironically, he would also do this to Rosecrans's successor, George Henry Thomas). Nonetheless, Rosecrans assumed command of XIV Corps and was promoted to the rank of major general (in the Volunteer Army, as opposed to his brigadier rank in the Regular Army). Interestingly, this promotion was applied retroactively from March, 1862, so that he would outrank fellow Major General George Henry Thomas.
In this corps command, Rosecrans participated in the Union victory at the Battle of Stones River, then reorganized his corps into a separate command, the Army of the Cumberland. This force embarked on the Tullahoma Campaign, resulting in less than 500 casualties. Rosecrans became one of the most well-liked generals in the Union Army.
Unfortunately, he also tended to stutter in battle and practiced extreme micromanagement of his troops. This caused great problems in the Battle of Chickamauga, in which General Rosecrans gave the order, directed toward Brigadier General Thomas J. Wood, "to close up and support [General Joseph J.] Reynolds's [division]." However, this caused a gaping hole in the line, and only because of General George Thomas's heroics was the Union Army able to escape. This resulted in the Army relieving Rosecrans of his command of the Army of the Cumberland.
Rosecrans went to Cincinnati to await further orders, but ultimately he would play no further large part in the fighting. He would eventually be given command of the Department of Missouri until war's end, where he was active in opposing Sterling Price's Missouri raid. In 1865 he was given an honorary promotion to major general in gratitude for his actions at Stones River. He resigned from the Army in 1867.
From 1868 to 1869 Rosecrans served as U.S. Minister to Mexico, but was replaced when his old nemesis Ulysses Grant became president. He returned to private mining business in Mexico and California for ten years. He was elected as a congressman from California, serving from 1881 to 1885, and was appointed as a register for the U.S. Treasury, serving from 1885-93.
He died in 1898 at Redondo Beach, California, and is buried at Arlington National Cemetery.