Casimir Pulaski (1745-1779)
Kazimierz Pulaski (in the USA referred to as Casimir Pulaski) (March 6, 1745 - October 11/15, 1779), born near Warsaw (Winiary-Warka area), Poland, was a Polish nobleman (szlachcic) of Slepowron Coat of Arms, soldier and military commander who fought against the Russian (tsarist) Empire in the Polish-Lithuanian Commonwealth. From 1768 to 1772, he took part in a confederation against the Russians called the Confederation of Bar (Konfederacja barska).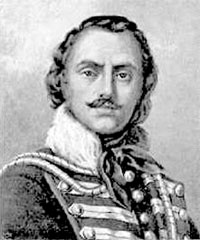 After surviving numerous bloody campaigns against Russia, Count Casimir Pulaski retired to France in 1777, bitterly disappointed and deeply depressed at Poland's failure to defeat her foes.
In Paris Pulaski met Benjamin Franklin, who was recruiting volunteers to fight in America's War of Independence. Mindful that England had recommended that Poland be partitioned by her hostile neighbors in 1772, Pulaski enthusiastically responded to Franklin's plea for assistance. In his letter of introduction to Washington, Franklin wrote of Pulaski as "an officer famous throughout Europe for his bravery and conduct in defense of the liberties of his country against ... great invading powers".
While awaiting his formal appointment by Congress, Pulaski was invited by Washington to serve on his staff during the Battle of Brandywine in September, 1777. Pulaski's performance during this baptism of blood in America earned him a commission as Brigadier General of the entire American cavalry.
From 1777 to 1779, he fought for independence of the United States in the American Revolution under the command of George Washington. Pulaski was a noted cavalryman and played a large role in training Revolutionary troops, creating the Pulaski Legion, one of the few cavalry regiments in the contemporary US army. He took part in the siege of Charleston (Charleston, South Carolina) and siege of Savannah (Savannah, Georgia).
During a cavalry charge, on October 9, 1779, while probing for a weak point in the British lines at the battle of Savannah, Pulaski was mortally wounded by grapeshot. He was carried from the field of battle by several comrades, including Colonel John C. Cooper. He was wounded in the thigh and was taken to the brig aboard the USS Wasp. Two days later, on October 11, he died of wounds without regaining consciousness.
According to several contemporary witnesses, including his aide-de-camp, he was buried at sea, however a long standing rumor persists that the wounded Pulaski was actually taken to Greenwich plantation near Savannah where he later died and was buried. An eight year long examination of the remains buried at the plantation ended in 2004 having failed to reach a definitive conclusion.
Perhaps one of the first tributes were paid by George Washington, who on 17th November 1779 issued an order to identify friends and foes when crossing military lines: Query: Pulaski Response: Poland. Fort Pulaski National Monument of the American Civil War is named so in honor of Kazimierz Pulaski.
The State of Illinois has celebrated Casimir Pulaski Day on the first Monday of March since 1977, no doubt due to the large Polish population of the city of Chicago; Pulaski Road, one of the city's major arteries, is named after him. The first official celebration of Pulaski Day was in 1978. A bridge on Interstate 65 over the Kankakee River in Indiana is named after him. American singer/songwriter/multi-instrumentalist Sufjan Stevens commemorates "Casimir Pulaski Day" on his album, "Illinois."
The Pulaski Skyway in northern New Jersey and the Pulaski Bridge in New York City are dedicated to him. By Presidential Proclamation, every October 11 is "General Pulaski Memorial Day", dedicated to Pulaski's memory and the heritage of Polish-Americans. A US Navy submarine, USS Casimir Pulaski (SSBN-633), was named after him.