Sterling Price (1809 - 1867)
Sterling "Pap" Price (September 20, 1809 - September 29, 1867) was born in Prince Edward City, Virginia. He had been a legislator, lawyer, Missouri farmer, and Congressman before serving as Brig. General leading the Missouri regiment in the Mexican War. Made military governor of New Mexico, he put down a rising of Native Americans and Mexicans. Price was governor of Missouri (1853-57) and president of the state convention of March 1861, which opposed secession. In command of the Missouri State troops in 1860, he sided with the Confederacy in disgust with Blair's and Lyon's aggressive policies at St. Louis. After the famous Planter's Hotel conference with them in June of 1861, he went to Jefferson City and then retreated with a small force to southwestern Missouri. Recruiting and training about 5,000 men, he united with Ben McCulloch to fight at Wilson's Creek, where he commanded the Missouri State Guard. He captured Lexington, September 17-20, and then retreated before Fremont into Arkansas, joining the Confederacy officially on March 6, 1862. He was appointed Major General, C.S.A. and fought at Iuka, Corinth, Helena, and the Red River, where he defeated Steele before going on his unsuccessful Missouri raid in 1864.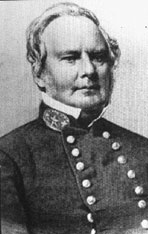 In July of 1864, when transfer of A. J. Smith's corps and XIX Corps had weakened federal strength in Louisiana, Kirby Smith directed Taylor to cross with his two divisions to the east side of the Mississippi. After several unsuccessful attempts Kirby Smith accepted the fact that he would have to confine his operations to the area west of the river. He decided to attempt the recovery of Missouri by sending Sterling Price into that state with all available cavalry.
Price left Princeton, Arkansas in August with the cavalry divisions of J. F. Fagan and John S. Marmaduke. Crossing the Arkansas River unmolested between the Federal garrisons at Little Rock and Fort Smith, he marched through Batesville to Pocahontas, in the northeast part of the state. Here he was joined by the cavalry division of J. O. Shelby. With a force that now totaled 12,000 men and 14 guns, he entered Missouri on September 19 and advanced on a broad front. At Fredericktown he concentrated his forces on the 25th. At Pilot Knob (Fort Davidson), on September 27, he was repulsed in a bloody six-hour fight by 1,100 Federals under Thomas Ewing. The losses were approximately 1,500 Confederates and 200 Federals. Ewing secretly evacuated the post during the night, and blew it up.
When Price started his raid, A. J. Smith's corps with a cavalry brigade was aboard transports on the Mississippi for movement to Nashville. (They had been operating against Forrest in Mississippi.) This command was diverted to assist in the defense of Missouri. Price advanced toward St. Louis, but the arrival there of A. J. Smith's troops precluded his attacking the city. Ewing, meanwhile, had been conducting a delaying action, while Pleasonton with 7,000 cavalry and eight guns advanced to his support. Price wheeled to the west, along the south bank of the Missouri River. Destroying sections of the Pacific R.R. as they went, the confederates occupied Hermann on October 5; by-passed Jefferson City, October 7, and took Boonville, October 9. Shelby captured Glasgow, October 15, having forced the surrender of over 400 Federals under Colonel Chester Harding, Jr. The same day Shelby captured Sedalia after stampeding about 700 men under the command of Colonel J. D. Crawford.
Although thousands of state militia had been mobilized, Price continued westward, skirmishing daily, but unopposed by any organized resistance. Pleasonton followed to his rear, while A. J. Smith's troops and Colonel J. E. Phelps's Missouri militia moved on his south flank. Meanwhile, in the pre-election confusion of Kansas an order had been issued mobilizing 10,000 militia. Some of these regiments refused to cross into Missouri, but J. G. Blunt moved eastward with the 2nd Colorado and 16th Kansas. Twenty miles east of Lexington, at Waverly, Missouri (Shelby's hometown), Blunt made contact with Price's leading brigade. (This was "Shelby's Brigade," under M. Jeff Thompson, who had succeeded David Shanks when the latter was mortally wounded on October 6.)
Federal resistance was now stiffening. There were actions at Lexington, October 19; Little Blue River, October 21; and Independence, Big Blue (Bryam's Ford) and State Line October 22. Federal General Samuel Curtis, commanding the Department of Kansas had now come forward and had been driven from his initial position along the Big Blue on October 22, when Shelby found an exposed flank. During the night of October 22-23, Curtis organized a new line along Brush Creek, just south of Kansas City and Westport. Price now had Federals to his front and rear. Although he had an open route of retreat to the south, he elected to attempt to use his central position first to defeat the forces of Curtis to his front and then turn and destroy the forces of Pleasonton and A. J. Smith. The next day the Confederates were defeated in the battle of Westport, Missouri, which has been called by some, the biggest Civil War Engagement west of the Missouri.
After retreating for 61 miles, Price halted to fight a costly rear-guard action at Marais des Cygnes, Kansas on October 25. Confederate Generals Marmaduke and W. L. Cabell were captured along with four colonels, 1,000 men, and 10 guns. Other delaying actions were fought the same day at Little Osage or Mine Creek, Kansas, and at the Marmiton, or the battle of Charlot, Missouri. Price again turned at bay near Newtonia, Missouri on October 28, delaying the pursuit three hours and almost capturing Blunt.
Price made an arduous detour through Indian Territory to avoid Fort Smith. On December 2, he re-entered the Confederate lines at Laynesport, Arkansas, with 6,000 survivors of the ordeal. In summing up his operation Price said, "I marched 1,434 miles; fought forty-three battles and skirmishes; captured and paroled over 3,000 Federal officers and men; and captured 18 pieces of artillery. Although he admitted the loss of only 10 guns, about 1,000 small arms, and fewer than 1,000 prisoners, he had lost closer to 5000 stand of arms, all his cannon, and the greater part of his army. Governor Reynolds of Missouri, who had accompanied Price, released to the press a scathing criticism, accusing Price of "glaring mismanagement and distressing mental and physical military incapacity." Organized Confederate military operations in the Trans-Mississippi region had ended, although guerrilla operations continued unabated.
Retreating to the Texas plains, Price escaped to Mexico. His personal plans collapsed with Maximilian's government and he returned to Missouri a broken and impoverished man. Price died September 29, 1867 in St Louis, Missouri. He is buried in St. Louis at the Bellefontaine Cemetery. He had one of the largest funerals in St. Louis history.