David Dixon Porter (1813-1891)
Admiral David Dixon Porter (June 8, 1813 ­ February 13, 1891) was a United States naval officer who became one of the most noted naval heroes of the Civil War. He was the son of Commodore David Porter, USN (1780­1843), a hero of the War of 1812, and was the brother-in-law of Carlile Pollock Patterson.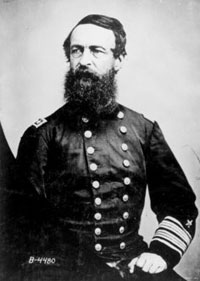 Porter was one of the first U.S. Navy officers to bear the rank of admiral; prior to the Civil War, no officer had held a rank higher than commodore, as admiral was considered to have royalist connotations.
Pre-Civil War career
Born in Chester, Pennsylvania, Porter entered the U.S. Navy as Midshipman on February 2, 1829. He was attached to coastal survey from 1836-1840, then cruised in Brazilian waters. He later served at the U.S. Naval Observatory in Washington, D.C. He also served in the war with Mexico.
Civil War service
In 1861, Porter joined the Navy's Gulf Squadron in command of the USS Powhatan. He took part in the 1862 expedition up the Mississippi River against New Orleans, in command of 21 mortar boats and several steamers, and served on the Mississippi and Red Rivers 1863-1864. Porter was conspicuous in the siege of Vicksburg, and received promotion to Rear-Admiral on July 4, 1863. During 1864 he commanded the North Atlantic Blockading Squadron, and took part in the capture of Fort Fisher in January 1865.
Post-war career
Porter was promoted to Vice-Admiral in July 1866, and to Admiral on October 17, 1870. This made him the Navy's senior officer of the post-war era. From 1866-1870 he was Superintendent of the U.S. Naval Academy. He died in Washington, D.C., on February 13, 1891.
Legacy
Five ships have been named USS Porter for him and his father.