Fitz John Porter (1822-1901)
Fitz John Porter (August 31, 1822 - May 21, 1901) was a career U.S. Army officer and a Union general in the American Civil War. His military career was ruined by an unjust court martial called by political rivals.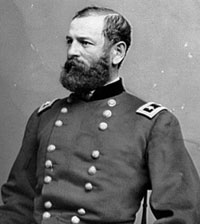 Porter was born in Portsmouth, New Hampshire. He came from a family prominent in naval service; his cousins were William D. Porter, David Dixon Porter, and David G. Farragut. Nevertheless, he pursued an army career. He graduated from the U.S. Military Academy in 1845 and was commissioned a second lieutenant in the 4th U.S. Artillery. He served in the Mexican War and was brevetted to captain for bravery at the Battle of Molino del Rey. He was wounded at Chapultepec, for which he also received a brevet promotion to major.
After the start of the Civil War, Porter became chief of staff and assistant adjutant general for the Department of Pennsylvania, but he was almost immediately promoted to colonel of the 15th Infantry on May 14, 1861, and then to brigadier general three days later. He received division command in the Army of the Potomac, newly formed under Major General George B. McClellan, on August 28, 1861. This association with the soon-to-be-controversial McClellan would prove to be a disaster for Porter's military career. He commanded the division at the beginning of the Peninsula Campaign, seeing action at the Siege of Yorktown. McClellan created two provisional corps and Porter was assigned to command the V Corps. During the Seven Days Battles, and particularly at the Battle of Gaines' Mill, he displayed an excellent talent for defensive fighting. At the Battle of Malvern Hill he played a leading role. For his successful performance on the Peninsula he was promoted to major general of volunteers on July 4, 1862.
Porter's corps was sent to reinforce John Pope in the Northern Virginia Campaign, a reassignment that he openly challenged and complained about, criticizing Pope personally. During the Second Battle of Bull Run, on August 29, 1862, he was ordered to attack the flank and rear of Thomas J. "Stonewall" Jackson's wing of the Army of Northern Virginia. Porter had stopped at Dawkin's Branch where he had encountered J.E.B. Stuart's cavalry screen. He received a message from Pope directing him to attack the Confederate right (which Pope assumed to be Jackson on Stony Ridge), but at the same time to maintain contact with the neighboring division under John F. Reynolds, a conflict in orders that could not be resolved. Pope was apparently unaware that James Longstreet's wing of the army had arrived on the battlefield and the proposed envelopment of Jackson's position would have collided suicidally with Longstreet's large force. Porter chose not to make the attack because of the intelligence he had received that Longstreet was to his immediate front. Pope was infuriated and accused Porter of insubordination.
Porter remained in command of the corps through the Maryland Campaign and the corps served in a reserve position at the Battle of Antietam. However, on November 25, 1862, he was arrested and court-martialed for his actions at Second Bull Run. By this time, General McClellan had been relieved by President Abraham Lincoln and could not provide political cover for his protégé. In fact, Porter's association with the disgraced McClellan and his open criticism of Pope were significant reasons for his conviction at court-martial. The officers of the court were appointed by Secretary of War Edwin M. Stanton, who detested McClellan, and most of those officers received promotions after they delivered their verdict. Porter was found guilty on January 10, 1863, of disobedience and misconduct, and he was dismissed from the Army on January 21, 1863.
Porter spent most of the remainder of his life fighting against this injustice. In 1878, a special commission under General John M. Schofield exonerated Porter by finding that his reluctance to attack Longstreet probably saved Pope's Army of Virginia from an even greater defeat. Eight years later, President Chester A. Arthur reversed Porter's sentence and a special act of the U.S. Congress restored Porter's commission as an infantry colonel in the U.S. Army, backdated to May 14, 1861, but without any back pay due. Two days later August 7, 1886, Porter, vindicated, retired from the Army at his own request.
After the war, Porter was involved in mining, construction, and commerce. He served as the New York City Commissioner of Public Works, the New York City Police Commissioner, and the New York City Fire Commissioner. He died in Morristown, New Jersey, and is buried in Greenwood Cemetery, Brooklyn, New York.