Leonidas Polk (1806-1864)
Leonidas Polk (April 10, 1806 - June 14, 1864) was a Confederate general who was once a planter in Maury County, Tennessee, and a cousin of President James K. Polk. He also served as bishop of the Episcopal Diocese of Louisiana and was for that reason sometimes known as The Fighting Bishop. He was killed during the Atlanta Campaign.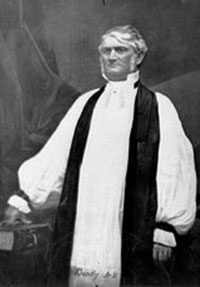 Born in Raleigh, North Carolina in 1806, Polk attended the University of North Carolina briefly before entering the U.S. Military Academy at West Point. During his senior year, he joined the Episcopal Church and resigned his commission only months after graduating in 1827. He was ordained as a deacon in 1830. That year, he married Frances Ann Deveraux and became assistant to Bishop Richard Channing Moore in Richmond, Virginia. In 1832, Polk moved his family to the vast Polk "Rattle and Snap" tract in Maury County, Tennessee, and constructed a massive Greek Revival home he called "Ashwood Hall." With his four brothers in Maury County, he built a family chapel, St. John's Church, at Ashwood. He also served as priest of St. Peter's Chuch in Columbia, Tennessee. He was appointed Missionary Bishop of the Southwest in 1838 and was elected Bishop of Louisiana in 1841.
Bishop Polk was the leading founder of the University of the South in Sewanee, Tennessee, which he envisioned as a national university for the South and a New World equivalent to Oxford and Cambridge..
At the outbreak of the Civil War, Polk pulled the Louisiana Convention out of the Episcopal Church of the United States. His friend and former roommate at West Point, Jefferson Davis, prevailed upon Polk to accept a commission in the Confederate States Army in mid-summer 1861. Polk agreed and was commissioned Major General commanding Department No. 2. He organized the Army of Mississippi and a part of the Army of Tennessee, in which he later served as lieutenant general.
Polk's first assignment was to secure and fortify the Mississippi River. He crossed into Kentucky, finally breaking a neutrality that was never going to last. While there he moved his command around as enemy movements required; part of his troops were ferried across the river and helped repulse Grant's move on Belmont, Missouri. When the Confederates lost Island Number 10 and New Madrid, Polk had to withdraw, and he ended up commanding a Corps under Albert Sidney Johnston. He fought at Shiloh, then at Corinth, and was promoted to command the Army of Mississippi when Davis reshuffled Confederate command in the West. He served under Braxton Bragg (there was plenty of friction between them, as between Bragg and most officers), who was the administrative and strategic head in the west.
Following disagreements with the army's commander, Braxton Bragg, Polk was transferred to Mississippi and later took charge of the Department of Alabama, Mississippi, and East Louisiana. Polk led his army at Perryville, then in a reorganization he commanded a Corps through 1863 at the battles of Murfreesboro, the Tullahoma Campaign, and Chickamauga. He wasn't a very good general, and Bragg wanted him sacked for his actions at Chickamauga. Polk had already urged Davis to remove Bragg, and because he was friends with Davis, he won the argument. The incipient court-martial that Bragg had opened was stopped and Polk was transferred to the quieter portions of Mississippi in late 1863. The Union wasn't attempting to conquer the entire state, and Polk busied himself with gathering troops and supplies. When Union pressure increased, even his small force (a Corps grandiosely called the "Army of Mississippi") was called up. Ordered by Bragg's successor, Joseph E. Johnston, to join his forces with the Army of Tennessee in the Atlanta campaign, Polk moved to north Georgia to help protect Atlanta. On June 14, 1864, during a conference with Joe Johnston and William Hardee at Pine Mountain near Marietta, Georgia, he was killed outright by a cannon ball.
He can't be singled out for costing the Confederacy any battle, but he wasn't talented enough to deserve command of a Corps. His friendship with Jefferson Davis insulated him from his shortcomings.
He was buried in Augusta, Georgia, and in 1945 his remains and those of his wife were reinterred at Christ Church Cathedral in New Orleans.