Willy Pegram (1841-1865)
Born in 1841, Willy Pegram rose from private to colonel while serving under A.P. Hill and while often attached to the Light Division. Joseph R. Anderson, a brigade commander in the Light Division briefly, was a brother-in-law to the Pegram brothers by marriage to their sister Mary.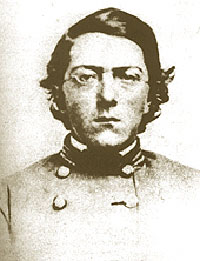 A student at the University of Virginia's law school, Pegram joined the Richmond "Purcell Artillery" in April 1861. He was well known for his gold rimmed spectacles that he required even in the heat of battle because he was extremely near-sighted, an obvious handicap for a gunner.
Nonetheless, Pegram fought at every major battle that the Third Corps or Light Division was present at. Pious and quiet, he was a superb gunner remembered for his habit of being very aggressive offensively with his cannon.
Pegram was never promoted above the rank of colonel, though others recommended his promotion.
Henry Heth and R.H. Anderson separately asked for his promotion and assignment to command of an infantry brigade and Powell Hill endorsed Heth's recommendation of Pegram: "No officer of the Army of Northern Virginia has done more to deserve this promotion than Lieutenant Colonel Pegram." But Lee did not promote Pegram saying "He is too young—how old is Colonel Pegram?" Heth had answered: "I do not know, but I suppose about 25.' Lee had replied: "I think a man of 25 as good as he ever will be; what he acquires after that age is from experience; but I can't understand, when an officer is doing excellent service where he is, why he should want to change."
The recommendation was returned, camp gossip had it, with the statement that "the artillery could not lose the services of so valuable an officer."
Willy's older brother, John, was a West Pointer, class of 1854. He was a Confederate general and was killed at the battle of Hatcher's Run in February, 1865, soon after his marriage to the "most beautiful woman of her generation," Hettie Cary. The death devastated Willy who had always been close with his brother.
Pegram was killed a little over a month after his brother. As Southern historian Douglas Southall Freeman wrote, "To the artillerists, it was a day of disaster not to be recorded solely in terms of four guns lost or of good soldiers captured." Willy Pegram had once sworn that his guns would not be taken from his while he lived; he finally suffered the loss of a gun while lying mortally wounded at the battle of Five Forks on April 1, 1865. He died the next morning. As Gordon McCabe remembered it, "At about 10 o'clock we reached Ford's, and I obtained a bed for him . . . I had given him morphine in small quantities until he was easier, and he soon fell into a doze. The enemy advanced on the place about 12 o'clock, and I was left alone with him. I sent off our sabres, horses, spurs, etc., as I felt sure that we would be captured. I shall never forget that night of waiting. I could only pray. He breathed heavily through the night, and passed into a stupor. I bound his wounds as well as I knew how and moistened his lips with water. Sunday morning he died as gently as possible."
Likely, A.P. Hill never knew that his favorite gunner had been killed in battle the day before.