Isaac Murphy (1799-1882)
Isaac Murphy (16 October 1799 - 8 September 1882) was the first Reconstruction Governor of Arkansas following the American Civil War, coming to power under President Abraham Lincoln's conciliatory policy. Unlike some other reconstruction administrations the Murphy administration was characterized by fiscal restraint and conciliatory attitude towards the soon-to-be defeated Confederates. Murphy is best known for casting the only vote against secession at the Arkansas Secession Convention.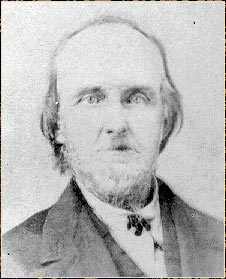 Murphy was born near Pittsburgh, Pennsylvania to a wealthy paper manufacturer. He was educated at Washington College in Pennsylvania and was admitted to the bar in Allegheny County, Pennsylvania on 29 April 1825. In 1830 Murphy moved to Clarksville, Tennessee where he taught school. In Clarksville he met and married Angelina Lockhart on July 31, 1830 against her father's wishes. Angelina was disinherited by her father because Isaac was opposed to the institution of slavery. In 1834 the Murphy's, with their newborn daughter, moved west to the town of Fayetteville, Arkansas in the territory of Arkansas. Murphy established himself as a school teacher, surveyor, and lawyer.
Murphy became the first County Treasurer of Washington County, Arkansas in 1836 through 1838. He became a master in chancery in 1841. In 1837 through 1838 Murphy ran the original government land lines for Franklin County, Arkansas. On November 30, 1844 the noted Indian Missionary Cephas Washburn along with Murphy and other prominent individuals secured a charter for a college known as the Far West Seminary. Murphy became the chairman of the Board of Visitors with the intent of establishing a facility that would educate both whites and Indians. Murphy served in this capacity until the building was destroyed by fire on February 17, 1845.
Murphy was elected to the General Assembly of Arkansas two times as the representative from Washington County in 1846 and 1848. Murphy served on the Banking Committee and attempted to introduce reforms but was stymied by the powerful political cabal known as "The Family".
Murphy ran into financial difficulties around 1849 and left for California in an attempt to improve his fortunes in the California Gold Rush. He returned to Arkansas in 1854 with nothing to show for his efforts. Upon his return he moved to Huntsville, Arkansas in Madison County, Arkansas.
When the secession crisis swept the State in 1861 a group of Madison County citizens called on Murphy to represent them at the Secession Convention to which he agreed. The Arkansas Secession Convention voted to remain in the Union. When Fort Sumter was fired on and Lincoln called for troops from Arkansas the Secession Convention was recalled. The convention voted to take Arkansas out of the Union with only Murphy and 4 other delegates opposed. The convention chair called on the 5 opposition votes to change their votes so that Arkansas could speak with a unanimous voice. All 4 of the other nay voters changed their votes but Murphy refused.
As war broke out Murphy was forced to flee his home in Huntsville and spent much of the war travelling with the Union army in northwest Arkansas. Upon the fall of Little Rock an election of sorts was held with the approval of President Lincoln and Murphy was elected governor. During the Murphy administration Arkansas began healing its war wounds even as the war continued in the southern parts of the State. Murphy took a low-key approach to governance and stated publicly that "We have all done wrong". The 4th of July celebrations in Little Rock, Arkansas were led by pro-Union speakers but they refrained from any anti-Southern speeches or actions.
By the start of 1866 Murphy's plans began to erode due to events elsewhere in the country and the beginnings of political maneuvering at the State and National levels. Abraham Lincoln had been assassinated and the radicals in Congress began advocating a harsh punishment for Southern States, essentially abandoning Lincoln's plan to "let them up easy". The elections of 1866 saw a pro-Confederate legislature elected which increased Murphy's problems dramatically.
Radicals in Congress finally pushed through their harsh reconstruction policy and the pro-Confederate legislature would not meet again. The South was divided into military districts and were ruled by the army until carpetbagger governments were in place. Murphy decided to remain in office and worked for the best interests of the State while taking abuse from both sides. When Murphy left office his administration left a budget surplus even though his administration had begun with no funds. This surplus evaporated soon after his successor took office.
Murphy returned to Huntsville and took up farming and practicing law once again and lived a quiet life with his family. On September 8, 1882 Murphy died unexpectedly at his home.
(From The Arkansas Encyclopedia).