Justin Smith Morrill (1810-1898)
Justin Smith Morrill (April 14, 1810 - December 28, 1898) was a Representative (1855-1867) and a Senator (1867-1898) from Vermont.
Born in Strafford, Vermont, Morrill attended the common schools and Thetford and Randolph Academies. He worked as a merchant's clerk in Strafford 1825-1828 and in Portland, Maine, 1828-1831, was a merchant in Strafford 1831-1848, and engaged in agriculture and horticulture 1848-1855.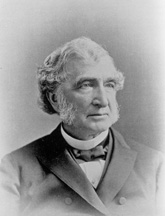 In 1852 Morrill was elected as a Whig to the Thirty-fourth Congress and as a Republican to the five succeeding Congresses (March 4, 1855-March 3, 1867). He served as chairman of the Committee on Ways and Means in the 39th Congress. He was the author of the Tariff Act of 1861 and of the Morrill Land-Grant Colleges Act of 1862. "This bill proposes to establish at least one college in every State upon a sure and perpetual foundation, accessible to all, but especially to the sons of toil, where all of needful science for the practical avocations of life shall be taught, where neither the higher graces of classical studies nor that military drill our country now so greatly appreciates will be entirely ignored, and where agriculture, the foundation of all present and future prosperity, may look for troops of earnest friends, studying its familiar and recondite economies, and at last elevating it to that higher level where it may fearlessly invoke comparison with the most advanced standards of the world." (quoted in William Belmont Parker, The Life and Public Services of Justin Smith Morrill). Morrill first proposed his Land-Grant Act in 1857. It was passed by Congress in 1859, but it was vetoed by President James Buchanan. In 1861 Morrill resubmitted the act with the amendment that the proposed institutions would teach military tactics as well as engineering and agriculture. This reconfigured Morrill Act was signed into law by President Lincoln on July 2, 1862. Under the act, each eligible state received a total of 30,000 acres of federal land, either within or contiguous to its boundaries, for each member of congress the state had as of the census of 1860. This land, or the proceeds from its sale, was to be used toward establishing and funding the educational institutions described above. A second Morrill Act in 1890 aimed to include the former Confederate states in the Land-Grant program. This act also required each state to show that race was not an admissions criterion, or else to designate a separate land-grant institution for persons of color. Among the seventy colleges and universities which eventually evolved from the Morrill Acts are several of today's historically black colleges.
In 1866 Morrill was elected as a Union Republican to the U.S. Senate. He was reelected as a Republican in 1872, 1878, 1884, 1890, and again in 1896, and served from March 4, 1867, until his death, almost thirty-one years. He served as chairman of the Committee on Public Buildings and Grounds (41st through 44th Congresses) where he played a vital role in obtaining the current Library of Congress main building through his work on the Joint Select Committee on Additional Accommodations for the Library. He also served on the the Committee on Finance (45th, 47th through 52nd, 54th and 55th Congresses), as regent of the Smithsonian Institution 1883-1898 and as trustee of the University of Vermont 1865-1898.
He died in Washington, D.C., December 28, 1898. He is buried in the City Cemetery in Strafford, Vermont.