John Hunt Morgan (1825-1864)
John Hunt Morgan (June 1, 1825 - September 4, 1864) was a Confederate general and cavalry officer in the American Civil War. He led 2,460 troops in a daring raid, called Morgan's Raid, racing past Union lines into Kentucky, Indiana, and Ohio in July 1863. This was the farthest north any uniformed Confederate troops penetrated during the war.
Early life and career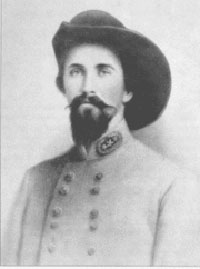 John Hunt Morgan was born in Huntsville, Alabama, the eldest of 10 children of Calvin and Henrietta Hunt Morgan, and uncle of geneticist Thomas Hunt Morgan. He was the grandson of John Wesley Hunt, an early founder of Lexington, Kentucky, and one of the first millionaries west of the Allegheny Mountains. Morgan's father lost his home in 1831 due to an inability to pay the property taxes after the failure of his apothecary. The family moved to Lexington so that Calvin could run one of Hunt's sprawling farms. John attended Transylvania College for two years before being suspended in June of 1844 for dueling with a fraternity brother. In 1846, Morgan joined the Freemasons.
Enlisting in the U.S. Army, he served as a cavalry private in the Mexican War, including the Battle of Buena Vista. Returning to Kentucky after the conflict ended, he became a hemp manufacturer and eventually took over his grandfather's prosperous mercantile business. In 1848 he married Rebecca Gratz Bruce, the 18-year-old sister of Morgan's business partner. Morgan, still interested in a military career, raised a artillery company in 1852 in the state militia, which was disbanded two years later.
In 1853, the Morgans had a stillborn son. Becky Morgan contracted septic thrombophlebitis, an infection of a blood clot in a vein, which eventually led to an amputation. Relations with his wife's family suffered over differing views of slavery and with her health issues. In 1857, Morgan raised an independent infantry company known as the "Lexington Rifles," and spent much of his free time drilling with them.
Civil War
An invalided Becky Morgan died July 21, 1861. In September, Captain Morgan and his militiamen joined the Confederate States Army. He soon became the colonel of the 2nd Kentucky Cavalry. He quickly advanced through the ranks, being named a brigadier general (his highest rank) on December 11, 1862. He received the thanks of the Confederate Congress for his raids on the supply lines of Union Maj. Gen. William Rosecrans in December and January, most notably his victory at the Battle of Hartsville on December 7. Also that December, Morgan married Martha ""Mattie" Ready, the daughter of Tennessee congressman Charles Ready and a cousin of Tennessee congressman William T. Haskell.
Hoping to divert Union troops and resources after the twin Confederate defeats at Vicksburg and the Battle of Gettysburg in the summer of 1863, Morgan set off on his famous raid. General Morgan and his 2,460 handpicked Confederate cavalrymen rode west from Sparta in eastern Tennessee on June 11, 1863, intending to divert the attention of the Union Army of Ohio from Southern forces in the state. On June 23, the Federal Army of the Cumberland began its operations against Gen. Braxton Bragg's Confederate Army of Tennessee in what became known as the Tullahoma Campaign, and Morgan decided to it was time to move northward.
On July 2, hoping to disrupt Union communication lines, he rode into Kentucky, where admiring citizens openly welcomed his cavalrymen. Crossing the rain-swollen Cumberland River at Burkesville, Morgan's division advanced to the Green River, where it was deflected by a Union regiment at the Battle of Tebb's Bend on July 4. Morgan soon surprised and captured the garrison at Lebanon before riding through Springfield, Bardstown, and Garnettsville. Along the way, the Confederates endured several small skirmishes with Federals and Kentucky home guard units. In a sharp fight near Lebanon, Federal troops killed Morgan's brother Thomas. By now reduced to 1,800 men, Morgan's column arrived on the morning of July 8 at the small town of Brandenburg along the Ohio River. Here, they seized two steamboats, and Morgan, against Bragg's strict orders, transported his command across the river to Indiana, landing just east of Mauckport. A small company of Indiana home guards contested the crossing with an artillery piece, as did a riverboat carrying a six-pounder. Morgan chased off the local defenders, capturing a sizeable portion as well as their gun. After burning the captured steamers, Morgan headed away from the river. Gov. Oliver P. Morton worked feverishly to organize Indiana's defense, calling for able-bodied men to take up arms and form militia companies. Col. Lewis Jordan took command of the 450 members of the Harrison County Home Guard (Sixth Regiment, Indiana Legion), consisting of poorly trained civilians with a motley collection of arms. His goal was to delay Morgan long enough for Union reinforcements to arrive.
Maj. Gen. Ambrose Burnside, commander of the Department of Ohio with headquarters in Cincinnati quickly organized local Federal troops and home militia to cut off Morgan's routes back to the South. Morgan headed northward on Mauckport Road, with another brother, Col. Richard Morgan, leading the forward elements. On July 9, one mile south of Corydon, the county seat of Harrison County, his advance guard encountered Jordan's small force, drawn in a battle line behind a hastily thrown up barricade of logs. The colonel attacked, and in a short but spirited battle of less than an hour, he simultaneously outflanked both Union wings, completely routing the hapless militia. Accounts vary as to the number of casualties of the Battle of Corydon, but the most reliable evidence suggests that Jordan lost 4 killed, 10-12 wounded, and 355 captured. Morgan counted 11 dead and 40 wounded raiders. Among the dead Federals was the civilian toll keeper, who perished near his tollgate. Raiders killed a Lutheran minister on his farm, four miles from the battlefield, and stole horses from several other farmers.
General Morgan led his division into Corydon, where he paroled his demoralized prisoners and ransomed the town for cash and supplies. Morgan's soldiers then traveled east and reached Vienna on July 10, where they burned a railroad bridge and depot, and tapped a telegraph line. After spending the night in Lexington, they headed to the northeast, terrorizing the small towns along the way, including Vernon, Dupont and Versailles. Morgan left Indiana at Harrison, closely pursued by Federal cavalry. The Rebels entered Ohio on July 13, destroying bridges, railroads, and government stores. Morgan's Raid spread terror across southern and central Ohio. Federal columns and gunboats converged to prevent Morgan from recrossing the Ohio River into Kentucky. At the Battle of Buffington Island, Union troops won a decisive victory and captured 750 of Morgan's men, including his brother Richard and noted cavalryman Col. Basil Duke. Colonel Adam Johnson and 300 of the raiders escaped, crossing the Ohio just upriver from Buffington Island. Cut off from safety by Union gunboats, Morgan and his 400 remaining cavaliers headed northeast, still within Ohio. They eventually crossed the Muskingum River south of Zanesville before turning northward in Guernsey County. Union forces finally caught Morgan on July 26 near West Point in Columbiana County and escorted him and his remaining men to the Ohio Penitentiary in Columbus. They were held as common inmates, not as prisoners of war.
On November 27, Morgan and several of his men escaped from the Ohio State Penetentiary - the only successful escape from the prison in the 19th century - and returned safely to the South. Ironically, that same day his wife gave birth to a daughter, who died shortly afterwards before Morgan could return home.
Although Morgan's Raid was breathlessly followed by the Northern and Southern press at the time and caused the Union leadership considerable consternation, most historians now consider it to have been little more than a showy but ultimately futile sidelight to the war.
After his return from Ohio, Morgan was placed in command of Confederate forces in eastern Tennessee and southwestern Virginia. However, he was surprised and killed while attempting to escape during a Union raid on Greeneville, Tennessee on September 4, 1864. He was buried in Lexington shortly before the birth of his second child.