Sydenham Moore (1817-1862)
Sydenham Moore, a U.S. Representative from Alabama was born in Rutherford County, Tenn., on May 25, 1817. When he was a lad his parents removed to Alabama, where he pursued classical studies, attended the University of Alabama at Tuscaloosa 1833-1836, studied law, was admitted to the bar, and commenced practice in Greensboro, Ala.
He was judge of Greene County Court (1840-1846 and 1848-1850) and then was transferred to the bench of the Circuit Court in 1857.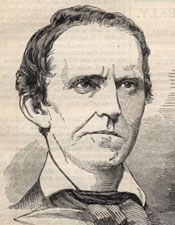 When volunteers called for to reinforce General Taylor in the Mexican War, after his victories at Palo Alto and Resaca de la Palma, Alabama tendered a regiment of mounted volunteers, which was mustered into service in June, 1846. Moore served in the war with Mexico as captain in Colonel Coffey's regiment of Alabama Infantry from June 1846 to June 1847, first on the Rio Grande, and subsequently in Scott's forces at Vera Cruz, Alvarado, Tampico, and Jalapa.
On his return, in 1847, Moore was elected Brigadier-General of the Alabama Militia. He was elected as a Democrat to the 35th and 36th Congresses and served from March 4, 1857, until January 21, 1861, when he withdrew. When classed by a Northern member among the fire-eaters, or disunionists, he said, in the course of some extended remarks the next day: "I do not profess to belong to the class of disunionists, if there be such a class in the South, who desire disunion of itself. I come from a State which is, and has at all times been, loyal to the Constitution, but which will be as ready to take ground for a disruption of this Union, in case the rights guaranteed to us under the Constitution are infringed, as any State in the Union."
During the Civil War Moore served as colonel of the Eleventh Alabama Regiment in the Confederate Army. He died in Richmond, Va., from wounds received in the Battle of Seven Pines, Virginia, May 31, 1862. He is buried in the City Cemetery, Greensboro, Hale County, Ala.