George Gordon Meade (1815-1872)
George Gordon Meade (December 31, 1815 - November 6, 1872) was an American military officer during the American Civil War. He is best known for defeating the Army of Northern Virginia, commanded by Robert E. Lee, at the Battle of Gettysburg.
Early career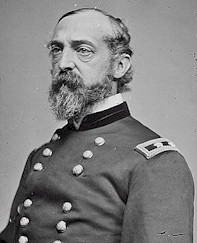 Meade was born to American parents in Cádiz, Spain. At the time, his father had run into financial and legal difficulties due in part to the Napoleonic Wars. Meade graduated from the United States Military Academy (West Point) in 1835. For a year, he served with the 3rd U.S. Artillery in Florida, fighting against the Seminole Native Americans, before resigning. He was a civil engineer for the Alabama, Georgia, and Florida Railroad and for the Department of War. Finding steady civilian employment was difficult, so he reentered the army in 1842 as a Second Lieutenant in the corps of topographical engineers.
Meade served in the Mexican War, assigned to the staffs of Generals Zachary Taylor, William J. Worth, and Robert Patterson, and was brevetted to first lieutenant for gallant conduct at the Battle of Monterrey. His career as a military engineer, chiefly involved in lighthouse construction in Florida and New Jersey (Meade designed Barnegat Lighthouse on Long Beach Island, Absecon Lighthouse in Atlantic City, and Cape May Lighthouse in Cape May) , was uneventful until the 1861 eruption of the Civil War.
Civil War career
Meade's Civil War assignments included: captain, Topographical Engineers (since May 19, 1856); brigadier general, USV (August 31, 1861); commanding 2nd Brigade, McCall's Division, Army of the Potomac (October 3, 1861 - March 13, 1862); commanding 2nd Brigade, 2nd Division, 1st Corps, Army of the Potomac (March 13 - April 4, 1862); commanding 2nd Brigade, 2nd Division, Department of the Rappahannock (April 4 - June 12, 1862); commanding 2nd Brigade, 3rd Division, 5th Corps, Army of the Potomac June 18-30, 1862); major, Topographical Engineers June 18, 1862); commanding lst Brigade, 3rd Division, 3rd Corps, Army of Virginia (August 26 - September 12, 1862); commanding 3rd Division, lst Corps, Army of the Potomac (September 12-17 and September 29-December 25, 1862); commanding the corps (September 17-29, 1862); major general, USV (November 29, 1862); commanding 5th Corps, Army of the Potomac (December 25, 1862 - January 26, 1863 and February 5-16 and February 28-june 28, 1863); commanding Center Grand Division, Army of the Potomac January 1863); commanding Army of the Potomac June 28, 1863 - December 30, 1864 and January 11 - June 27, 1865); brigadier general, USA July 3, 1863); and major general, USA (August 18, 186
Meade was appointed a Brigadier General of Volunteers a few months after the start of the Civil War. He was assigned command of a brigade of Pennsylvania Reserves, which he led competently. During the Seven Days Battles, Meade was severely wounded at the Battle of Glendale. He recovered in time for the Second Battle of Bull Run, after which he received a divisional command. Meade distinguished himself during the Battle of South Mountain. In the Battle of Antietam, he replaced the wounded Major General Joseph Hooker in command of I Corps, performing well.
During the Battle of Fredericksburg, Meade's division made the only breakthrough of the Confederate lines, spearheading through a gap in General "Stonewall" Jackson's lines. For this action, Meade was promoted to Major General of Volunteers. However, his attack was not reinforced, resulting in the loss of much of his division. After the battle, he received command of V Corps, and during the short tenure of the system of Grand Divisions after Fredericksburg, Meade commanded the Center Grand Division. General Hooker, like one of Meade's previous superiors, Major General George B. McClellan, was too timid in his force deployment, leaving Meade's effective division in reserve for most of the Battle of Chancellorsville, contributing to the Union defeat.
After Hooker resigned from command of the Army of the Potomac, Meade replaced him on June 28, 1863, three days before the Battle of Gettysburg, where he won the battle that is considered a turning point of the war. Meade skillfully deployed his forces in a defensive battle, reacting swiftly to fierce assaults on his line's left, right, and center. He made excellent use of capable subordinates, such as John F. Reynolds and Winfield S. Hancock, to whom he delegated great responsibilities. (Unfortunately for Meade's reputation, he did not skillfully manage the political manipulators he inherited from Hooker. Generals Daniel Sickles, III Corps commander, and Daniel Butterfield, Meade's chief of staff, caused him difficulty after the war, questioning his command decisions and courage.)
Following his severe losses in Pickett's Charge, General Robert E. Lee's army retreated back into Virginia. Meade was criticized by President Abraham Lincoln and others for not aggressively pursuing the Confederates during their retreat. At one point, the Army of Northern Virginia was extremely vulnerable with their backs to the almost impassable Potomac River, but they were able to erect strong defensive positions before Meade could organize an effective attack. Lincoln believed that this wasted an opportunity to end the war. Nonetheless, Meade received the Thanks of Congress and a belated promotion to Brigadier General of Regulars (which was separate from his promotions in the Volunteer army). During both the Bristoe Campaign and the Mine Run Campaign, Meade was outmaneuvered by Lee and withdrew after fighting minor, inconclusive battles, due to his reluctance to attack entrenched positions.
When Lieutenant General Ulysses S. Grant was appointed commander of all Union armies in 1864, Meade and the Army of the Potomac became subordinate to him. Grant made his headquarters with Meade for the remainder of the war. Following an incident in June, 1864, in which Meade disciplined a reporter from the Philadelphia Inquirer newspaper for an unfavorable article, all of the press assigned to his army agreed to mention Meade only in conjunction with setbacks. Most certainly, Meade knew nothing of this arrangement, and the reporters apparently giving all of the credit to Grant angered Meade. He fought effectively during the Overland Campaign (including the Battle of the Wilderness), and the Battle of Petersburg, after which Grant requested that he be promoted to Major General of the Regular Army. Although he fought during the Appomattox Campaign, Meade felt slighted that Grant and cavalry commander Major General Philip Sheridan received most of the credit. He commanded the Army of the Potomac until the Union victory in 1865.
Personality and Demeanor
Meade's decisions in command of the Army of the Potomac have been the focus of controversy. He has been accused of not being aggressive enough in pursuit of Confederate forces, and being reluctant to attack on occasion. (It should be noted that Meade never badly lost a battle he initiated himself. Most of the bloody repulses his army suffered in the Overland Campaign were ordered by Grant.) Gen. Robert E. Lee some years after the war commented, "Meade, in my judgment, had the greatest ability. I feared him more than any man I ever met upon the field of battle." Meade would later be criticized for his failure to follow up his victory at Gettysburg with a knockout blow to Lee's beleaguered army. However, President Lincoln gave Meade his just due for his success at Gettysburg, when he wrote in a letter to O. O. Howard on July 21, 1863. "A few days having passed, I am profoundly grateful for what was done, without criticism for what was not done"
Meade's short temper earned him notoriety, and while he was respected by most of his peers, he was not well-loved by his army. Some referred to him as "a damned old goggle-eyed snapping turtle". But most damaging was Daniel Sickles's vicious postwar campaign against Meade's character. Sickles had developed a personal vendetta against Meade due to his allegiance to Joseph Hooker, whom Meade replaced, and because of violent disagreements at Gettysburg. (Sickles's grossly insubordinate actions as the commander of the III Corps almost lost the battle, and perhaps the war, for the Union.) Meade's reputation among the public and nineteenth century historians suffered as a result. Recent historical works have portrayed him in a better-deserved positive light. They have acknowledged that Meade displayed and acted upon an understanding of the necessary changes in tactics brought about by improvements in weapons technology. His decisions to entrench when practicable and not launch frontal assaults on entrenched positions should have been more carefully studied; they were lessons that could have been used to great effect on the Western Front during World War I.
A London reporter recorded this description of Meade after meeting him in the summer of 1863: "He is a very remarkable looking man- tall, spare, of a commanding figure and presence, his manner pleasant and easy but having much dignity. His head is partially bald and is small and compact, but the forehead is high. He has the late Duke of Wellington class of nose, and his eyes, which have a serious and almost sad expression, are rather sunken, or appear so from the prominence of the curved nasal development. He has a decidedly patrician and distinguished appearance."
Colonel Haskell described him as "A tall, spare man, with full beard, which, with his hair, originally brown, is quite thickly sprinkled with gray, has a Romanish face, a very large nose, and a white large forehead, prominent and wide over the eyes, which are full and large and quick in their movements, . . ."
General Francis A. Walker described Meade at the Grand Review in Washington on May 23, 1865: "Tall and gaunt, scholarly yet knightly in aspect, General Meade on this proudest day of his life bears himself like a true captain who has struggled and has conquered, only victory remains and a fame forever secure."
General A. S. Webb called him "The soul of honor, the soldier, scholar and gentleman"
One of Meade's staff officers, Colonel James C. Biddle stated in an address in May of 1888, "He will be remembered with admiration not only for his military achievement . . . but also for the purity of his character, for his unselfishness, for his freedom from jealousies and envies so common among distinguished soldiers, and for his patient and uncomplaining endurance of injustice."
Postbellum career
General Meade was the commissioner of Fairmount Park in Pennsylvania from 1866 until his death. He also held various military commands, including the Military Division of the Atlantic, the Department of the East, the 3rd Military District (including Georgia and Alabama), and the Department of the South. He received an honorary doctorate in law (LL.D.) from Harvard University, and his scientific achievements were recognized by various institutions, including the American Philosophical Society and the Philadelphia Academy of Natural Sciences.
Meade died in Philadelphia on November 6, 1872, due to complications from his old wounds, combined with pneumonia, and is buried in Laurel Hill Cemetery. There are various statues of him throughout Pennsylvania, including a few in Gettysburg. The U.S. Army installation Fort George G. Meade in Fort Meade, Maryland is named for him.