James McQueen McIntosh (1828-1862)
James McQueen McIntosh was born at Fort Brooke near Tampa, Florida, in 1828. A descendant of a Revolutionary War commander and the son of a career soldier who was killed in the Mexican war, he attended West Point and graduated in 1845.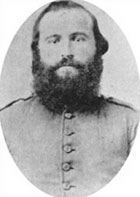 McIntosh served in the infantry and cavalry until 1861, when he resigned and joined the Confederate army. His brother, John Baillie McIntosh, chose to join the Union; eventually becoming a brigadier general, but having to have his left leg amputated.
The Confederate McIntosh fought in the Battle of Wilson's Creek, in August of 1861. In January of 1862, he was promoted to brigadier general. Popular with his troops, he was known as aggressive and daring, yet an alert and loyal officer.
McIntosh died in the Battle of Pea Ridge on March 7, 1862, only minutes after the death of his friend, Brig. Gen. Ben McCulloch.
He is buried National Cemetery, Fort Smith, Arkansas.