James Murray Mason (1798-1871)
James Murray Mason (November 3, 1798 - April 28, 1871) was a United States Representative and United States Senator from Virginia. He was a grandson of George Mason. He is best known for his authorship of the 1850 Fugitive Slave Law and his representation of the Confederate States of America as appointed commissioner of the Confederacy to Great Britain and France between 1861 and 1865 during the Civil War.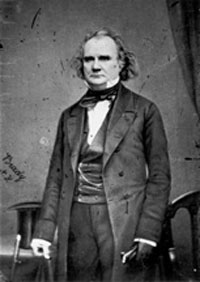 Early life
Mason was born on Analostan Island in Fairfax County, Va., on November 3, 1798 (now Theodore Roosevelt Island, Washington, D.C.). After studying under a private tutor and at an academy at Georgetown, D.C., he graduated from the University of Pennsylvania in 1818. He studied law at the College of William and Mary, graduated in 1820, and established his law practice at Winchester, Va.
Political career
During the 1820s Mason practiced law and served in the Virginia Legislature. He was a delegate to the Virginia constitutional convention in 1829, and a member of the State house of delegates 1826-32 (except 1827-28). He was presidential elector on the Democratic ticket in 1832.
A Jackson Democrat, he was elected to the 25th United States Congress in 1836, serving one term (March 4, 1837-March 3, 1839).
In 1847 he was elected to the Senate as a Democrat after the death of Isaac S. Pennybacker, and was reelected in 1850 and 1856, serving from January 21, 1847, until March 28, 1861, when he withdrew. He was chairman, Committee on Claims (30th Congress), Committee on the District of Columbia (31st Congress), Committee on Foreign Relations (32nd through 36th Congresses), Committee on Naval Affairs (32nd Congress). In Washington, Mason associated with the most prominent Southern Rights Democrats, especially John C. Calhoun. He drafted the Fugitive Slave Act of 1850, providing for the return to their owners of slaves who had escaped to freedom in the North. He read Calhoun's speech to the Senate on the proposed compromise measures.
He was President pro tempore of the Senate during the 34th and 35th Congresses but when Abraham Lincoln was elected president, Mason became convinced that the only way the South could preserve its identity was by establishing its sovereignty. He was expelled from the Senate in 1861 for support of the Confederacy.
Confederate official
Mason served as delegate from Virginia to the Provisional Congress of the Confederacy.
Confederate President Jefferson Davis chose James Mason to serve as the Confederacy's envoy to England. It was a natural choice for Davis: Mason was an old friend and a 10-year veteran of the Senate Foreign Relations Committee.
While traveling to his post as Confederate envoy to Britain and France, on the British mail steamer RMS Trent, the ship was stopped by USS San Jacinto on November 8, 1861. Mason and John Slidell were confined in Fort Warren, Boston Harbor, precipitating the Trent Affair that threatened to bring Britain into open war with the United States of America. He was released in January 1862 and proceeded to London, where he represented the Confederacy until April 1865.
Sympathy for the Confederacy in the British business community aided Mason in coordinating purchases for Confederate agents and in selling bonds in the private sector in England. The British refused, however, to receive him officially. Mason wanted to convince the British government that its best interests lay in supporting an independent Southern nation. Rather than compete with Britain's industrial position, Mason proposed that the Confederate states function as an agricultural satellite, with the Confederacy buying manufactured goods from Britain and supplying cotton for British mills. Mason's "cotton diplomacy" was not effective with the British government, largely because England had a two-year inventory of cotton set aside. A loss of Southern cotton threatened Britain less than the loss of the lucrative Northern wartime market.
Post-War life
Until 1868 he lived in Canada, and then returned to Virginia.
He died died at "Clarens," near the city of Alexandria, Va, April 28, 1871 and is buried in Christ Church Episcopal Cemetery, Alexandria, Va.