Humphrey Marshall (1812-1872)
Humphrey Marshall, grandson of Humphrey Marshall (1761-1841), was born in Frankfort, Kentucky, January 13, 1812. He pursued academic studies, graduated from the United States Military Academy at West Point in 1832 but resigned from the Army April 30, 1833 to study law. He was admitted to the bar in 1833 and practiced in Frankfort in 1833 and 1834 and in Louisville 1834-1846.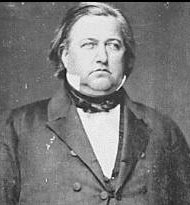 Marshall served in the State militia and was colonel of Volunteers in the Mexican War, where he led a charge at Buena Vista. After the war he engaged in agricultural pursuits in Henry County, Ky.
He was elected as a Whig to the 31st and 32nd Congresses and served from March 4, 1849, until his resignation on August 4, 1852. He was Minister to China 1852-1854 and then elected again, on the American Party ticket, to the 34th and 35th Congresses (March 4, 1855-March 3, 1859). He was renominated by acclamation, but declined.
He entered the Confederate service, being made brigadier-general in October, 1861. At the head of a small force, sometimes called the Army of Eastern Kentucky, he undertook the conquest of that region, but was driven from it by Brigadier-General James A. Garfield in March, 1862. After this, he had several commands in Virginia and resigned from the service on June 17, 1863.
He moved to Richmond, continued the practice of law, and was elected a member of the Confederate Congress from Kentucky.
After the war he moved to New Orleans, La.. His civil disabilities were removed by President Johnson on December 18, 1867. He returned to Louisville and resumed the practice of law.
He died in Louisville, Ky., March 28, 1872, and is buried in the State Cemetery, Frankfort, Ky.