John Sappington Marmaduke (1833-1887)
John Sappington Marmaduke (1833-1887) was a Confederate general during the American Civil War. He became the first ex-Confederate to hold state political office in Missouri when he was elected in 1884 as the 25th governor.
Early life and career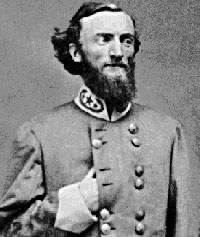 The second son among ten children, John S. Marmaduke was born on his father's farm near Arrow Rock in Saline County, Missouri, on Tuesday, March 14, 1833. His father, Meredith Miles Marmaduke (1791­1864) was the eighth Governor of Missouri. His great-grandfather, John Breathitt, had served as the Governor of Kentucky from 1832­1834, dying in office.
Marmaduke attended Chapel Hill Academy in Lafayette County, Missouri before attending Yale University for two years and then Harvard University for another year. Congressman John S. Phelps appointed Marmaduke to the United States Military Academy, where he graduated in 1857, placing 30th out of 38 students. He briefly served as a lieutenant in the First United States Mounted Rifleman, before being transfered to the Second United States Cavalry under Col. Albert Sidney Johnston. Marmaduke served in Utah during the Mormon War in 1858­1860.
Civil War
At the outbreak of the Civil War, Marmaduke was stationed in New Mexico. He returned to Missouri in 1861 on furlough to discuss the matter of secession with his father, an avowed Unionist. Marmaduke resigned from the United States Army in April. His father's brother-in-law, Governor Claiborne F. Jackson, appointed him as Colonel of the First Regiment of Rifles in the Missouri State Guard. When General Sterling Price and Governor Jackson left Jefferson City in June to muster secessionist volunteers, Marmaduke's Saline County company joined them at Boonville. Price left Colonel Marmaduke in charge of 1,800 militia, who were attacked and routed by Union General Nathaniel Lyon's 1,900 well-trained and equipped Union soldiers at the Battle of Boonville on June 17, 1861. The engagement was mockingly dubbed "the Boonville Races."
Unhappy with the incident, Marmaduke resigned his Missouri State Guard commission and traveled to Richmond, Virginia, where he was commissioned a first lieutenant in the regular Confederate Army and sent to Arkansas. He was commissioned as the Lieutenant Colonel of the 1st Arkansas Battalion, and served on the staff of Lt. Gen. William J. Hardee before rejoining his Mormon War commander, Albert Sidney Johnston, in a staff role. He then was promoted to Colonel of the 3rd Confederate Infantry. He was wounded in the Battle of Shiloh. In November of 1862, Marmaduke was promoted to brigadier general and fought at the Battle of Prairie Grove. In April of 1863, Marmaduke departed Arkansas with 5,000 men and ten pieces of artillery and invaded Missouri before being repulsed at the Battle of Cape Girardeau.
While serving under Sterling Price's command near Helena, Arkansas, in September, Marmaduke accused his immediate superior officer, Gen. Lucius M. "Marsh" Walker, of imperiling Marmaduke's men by being absent from the field in the face of the enemy. Walker, believing that he had been accused of cowardice, challenged Marmaduke to a duel. "I have not pronounced you a coward," Marmaduke wrote, "but I desire to inform you that your conduct as commander of the cavalry was such that I determined no longer to serve you." At dawn on September 6, the two generals faced each other with Colt Navy revolvers. Both fired and missed. Marmaduke recocked and fired again, mortally wounding Walker, who as he lay dying, forgave his subordinate.
Marmaduke later commanded a cavalry division in the Trans-Mississippi Department, serving in the Red River Campaign and Sterling Price's Missouri raid, where he was captured at the Battle of Mine Creek during the retreat from the Battle of Westport. While still a prisoner of war, Marmaduke was promoted to major general in March of 1865. He was released after the war ended and returned to Missouri.
Postbellum career
An impoverished Marmaduke joined a St. Louis insurance company, but soon quit as he disagreed with the firm's ethics. He became editor of an agricultural journal, and accused the railroads of discriminatory pricing against local farmers. In 1875, Marmaduke was appointed to Missouri's first Rail Commission. In 1880, he lost the Democratic nomination for governor to former Union officer Thomas T. Crittenden, who had the support and financial backing of the railroads.
Marmaduke was elected Governor of Missouri in 1884, partly because of Crittenden's mishandling of the murder of the former outlaw Jesse James and due to rising public desire for railroad regulation and reform. Marmaduke pushed an agenda for a "new Missouri" where former Unionists and Confederates worked together. His efforts ended potentially crippling railroad strikes in 1885 and 1886, and in 1887 was successful in passing laws regulating the railroads. A social reformer, Marmaduke heavily increased the funding of public schools, spending a full third of the state's annual budget on education. His refused to engage in patronage hiring practices. He never married, and his two nieces served as hostesses at the Governor's Mansion.
Like his great-grandfather, Marmaduke died while in office, passing away from pneumonia on December 28, 1887, in Jefferson City on the same day that he was supposed to host his yearly Christmas party in the mansion for the town's children. He was buried in the City Cemetery. His tombstone reads: "He was fearless and incorruptible."
Marmaduke, Arkansas in Greene County is named for the general.