William Whann Mackall (1817-1891)
William Whann Mackall was born on January 18, 1817, in the District of Columbia, and lived at Wilna, Maryland, from around age six until he left home for the United States Military Academy. He graduated from West Point in 1837, then served in the Seminole and Mexican Wars. He became 1st lieutenant in 1838, and adjutant in 1840, assistant adjutant-general with the rank of captain in 1846, serving throughout the Mexican war, and receiving the brevets of captain, for gallantry at Monterey, and major, for Contreras and Churubusco. He was wounded at Chapultepec.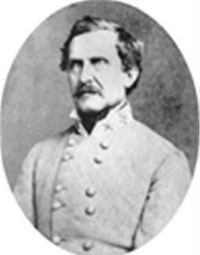 He was treasurer and secretary of the military asylum in the District of Columbia in 1851-53, became assistant adjutant-general with the rank of major at the latter date but declined promotion to a lieutenant-colonelcy in May 1861 and resigned to join the Confederate army.
He served in Kentucky as assistant adjutant-general to General Simon Buckner, with the rank of colonel, and held a post on the staff of Maj. Gen. Albert Sidney Johnston, C.S.A. Supporting Gen. P. G. T. Beauregard over Gen. Albert Sidney Johnston, Mackall was promoted to brigadier general as of February 27, 1862, due to Beauregard's influence. After he was placed in command of Island No. 10, he lost it to the Union in April of 1862. He was captured and confined in Fort Warren until exchanged.
After serving in Tennessee and the District of the Gulf, he was appointed chief of staff of the Army of Tennessee, as per his West Point classmate Gen. Braxton Bragg's request. Mackall began in April, but did not like his new position. Relieved at his own request in September following the Battle of Chickamauga, Gen. Mackall served on the staff of Gen. Joseph E. Johnston during the Georgia campaign of the latter. He again requested relief and after this was granted, Mackall received no further assignments. He surrendered himself to the Union in Macon, Georgia on April 20, 1865.
After the Civil War, Mackall became a farmer and real estate speculator. He died on August 12, 1891, at "Langley," one of his farms in Fairfax County, Virginia, and was buried at Lewinsville, near McLean, Va.