William Wing Loring (1818-1886)
William Wing Loring was born in Wilmington, North Carolina on December 4, 1818. His father, Reuben Loring, was a native of Massachusetts, and a direct descendant of John and Priscilla Alden of Plymouth Colony. His mother, Hannah Kenan Loring, was a member of one of North Carolina's most prominent families. In 1823, the Lorings moved to St. Augustine in the new territory of Florida, ceded to America by Spain just four years earlier. Reuben, a builder by trade, stayed busy constructing houses, and one of the territory's first sugar mills. Not much is known about young William's early life, although the Lorings were wealthy enough to own a mansion and an orange plantation. One account describes him as "a handsome child, with fine earnest eyes, waving hair, and fearless high spirit." He was also remembered as impulsive, warm-hearted, and a natural leader of other children.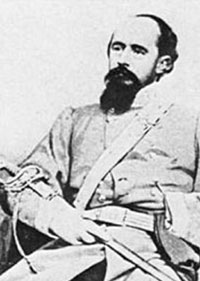 William showed an early interest in things military and at the age of 14, volunteered for the Florida Militia. As part of the 11th Regiment, 2nd Brigade, he fought in the escalating skirmishes between the territory's settlers and the Seminole Indians, earning the nickname "the boy soldier." In December of 1835 the conflict erupted into war, and on New Year's Eve, William took part in the battle of Withlacoochee. But events elsewhere would soon lead the young soldier on a quixotic journey across the Gulf of Mexico.
In March of 1836, after a lengthy siege, Mexican general Antonio López de Santa Ana and an army of 4,000 defeated fewer than 200 Texans at the Alamo. News of the heroic defense spread like wildfire across the South, and soon, men were converging on Texas to avenge William Travis and Davy Crockett. At 17, William Loring ran away to join the War for Texas Independence. At least one account suggests he served as an aide to Sam Houston, but his glory was short-lived. Reuben Loring (perhaps trying to prevent damage to William's future career) soon showed up to collect his son, and the two returned to Florida.
As the Second Seminole War continued, William fought in battles at Wahoo Swamp and Alachua. He quickly distinguished himself, winning promotions to sergeant at 17 and second lieutenant at 18. William Loring was now an officer, the beginning of a military career that would span fifty years and three flags, taking him from the Pacific Ocean to the Red Sea.
By 1837, the Seminole War was beginning to wind down. That year, William Loring was sent to the Alexandria Boarding School in Virginia, where he completed his preparatory school work (other alumni included fellow St. Augustinians Kirby Smith and Stephen V. Benét, and Loring's future commander, Robert E. Lee). From 1839 to 1840 he briefly attended Georgetown College (now Georgetown University). While in school, Loring took courses in history, geography, Latin, and Greek, and studied classical authors like Herodotus, Livy, and Xenophon. A voracious reader, he could quote from sources as diverse as the Bible and Lord Byron.
Returning to Florida, Loring worked in the law office of territorial representative (and future U.S. Senator) David Levy Yulee. During this period, he completed his studies, and was admitted to the bar in 1842. He began practicing law in St. Augustine, and from 1843 to 1845 served in the Florida House of Representatives. In 1845, the year Florida was admitted to the Union, Loring launched an unsuccessful bid for the Florida Senate, a defeat that would free him to do what he loved best.
The Mexican War.
In May of 1846, Congress authorized the formation of a Regiment of Mounted Riflemen, and Loring abandoned law and politics to join the United States Army. Originally created to protect the Oregon Territory, the regiment was soon sent to fight in the war against Mexico. Captain Loring was quickly promoted to regimental major, even before the unit saw action. On March 9, 1847, the Rifles waded ashore near Vera Cruz, part of the first major amphibious assault by the U.S. Army. The regiment had lost its horses at sea, and was forced to fight as infantry (a situation faced by the Rough Riders in nearby Cuba fifty years later). During the battle of Cerro Gordo, Loring and the Rifles stormed the heights, helping decisively defeat Santa Anna's forces. In his report of the battle, General Winfield Scott wrote:
A portion of the First Artillery...the Third Infantry...and the Mounted Riflemen under Major Loring, all under the temporary command of Colonel Harvey of the Second Dragoons. The styled execution was brilliant and decisive. The Brigade ascended the long and difficult slope of Cerro Gordo, without shelter and under the tremendous fire of artillery and musketry, with the utmost steadiness, reached the breastworks, drove the enemy from them, and planted the colors of all units with the enemy flag still flying. After some minutes of sharp fighting, they finished the conquest with their bayonets. It is a most pleasing duty to say that the highest praise is due Harvey, Plympton, Loring, and Alexander, their gallant officers and men for their brilliant service. In his first battle as a Rifleman, Loring had been praised by the top general in the army. During the next several months, the army made its way toward Mexico City. On August 20 Loring saw action in two battles on the city's outskirts, Contreras and Churubusco. While the first battle was brief, Churubusco was a tougher nut to crack, due to the fierce defense by the San Patricio Battalion (a group of immigrant deserters from the U.S. Army). That same day, Major Loring was brevetted lieutenant colonel.
On September 13, the Rifles took part in the storming of the Castle of Chapultepec. With the fall of Mexico's military academy, one last obstacle to the halls of Montezuma remained: the city's gates. Rushing forward, William Loring in the lead, the Rifles commenced the assault on Belan Gate. But even as the Americans breached the final barrier, a Mexican bullet struck Loring, shattering his arm. Dr. H.H. Steiner described what followed: "Loring laid aside a cigar, sat quietly in a chair without opiates to relieve the pain, and allowed the arm to be cut off without a murmur or a groan. The arm was buried on the heights by his men, with the hand pointing towards the City of Mexico."
With U.S. soldiers inside the city's gates, Santa Anna abandoned Mexico's capital, effectively ending the war. Loring was brevetted colonel for gallant and meritorious conduct in the battle. During the campaign for Mexico City, Loring became friends with Lieutenant Ulysses S. Grant. The two would meet again on the field of battle outside Vicksburg, and one final time in a place far from North America. In fact, Loring's life was ever after tied to other veterans of the Mexican War, including Jefferson Davis, Robert E. Lee, Thomas "Stonewall" Jackson, John Pemberton, Joseph Johnston, Henry Hopkins Sibley, and Charles Pomeroy Stone. But for now, Oregon awaited. Despite his wound, Loring decided to remain in the army.
In the West.
During the next twelve years, Loring helped pave the way west. Now the nominal commander of the U.S. Mounted Rifles, in 1849 he led an expedition of 600 mule teams from Missouri to Oregon, a tremendous accomplishment for the time (in fact, years later it was called "the greatest military feat on record"). One of his men was William Packwood, great-grandfather of embattled former U.S. Senator Bob Packwood. Upon his arrival Loring assumed command of the 11th Military Department, covering a large portion of the Pacific Northwest. At one point, a number of Loring's soldiers deserted south, lured by California's gold rush. During a mission to capture the deserters, guide Jesse Applegate made the following observations about Loring's leadership qualities:
Notwithstanding disagreeable weather, muddy roads high waters and scarcity of food the officers cheerfully underwent the fatigues and privation of the journey performing all the duties of common soldiers. The Col. himself tho an invalid setting the example by taking his regular tour of 3? hours every other night as sentinel. Tho undergoing in his own person these fatigues and privations extraordinary for an officer of his rank, to capture men guilty of a high crime‹of the 70 retaken to all but 2 who were incorrigible [committing cannibalism ed.] he extended his pardon‹a higher proof of the goodness of his heart or the soundness of his judgement could not be given.
The Rifles left Oregon in May of 1851, this time traveling back to Missouri through San Francisco, Panama, Cuba, and New Orleans. Loring was soon sent to Texas and command of the Rio Grande Frontier. While in the Lone Star State, the Regiment fought a number of engagements against Native Americans, including the Comanche and Kiowa. As the man in charge, Loring also often acted as peacemaker, meeting with tribes as a representative of the U.S. Army. In December, 1856, Loring was promoted to colonel, at age 38 the youngest line colonel in the army.
In 1857, Loring and the Rifles were transferred to New Mexico. During one notable incident, Loring and Manuel Chavez, a famous scout, tracked a band of Gila Apache raiders across the harsh desert. After a long and grueling search of several weeks, they found the Apaches camped at the bottom of a steep canyon. Afraid of losing the element of surprise, Loring hatched a daring plan. Sending his men down by an easier route, Loring turned to Chavez and said, "Now Captain, I'll go down the precipice with you." Pistols in hand, the pair scrambled down the side of the canyon. One of the most feared Apache leaders of the time, Cuchillo Negro (Black Knife), was killed in the attack.
Loring played a brief part in the army's famed camel experiment. The caravan made a stop at Fort Defiance, where Loring was post commander. He learned to ride the strange beasts, little suspecting he would one day see camels on a daily basis. In 1858, during the Mormon War, Loring and the Rifles were sent to Utah, although the conflict was over by the time they arrived. Instead of a war, they took part in a huge victory parade through Salt Lake City. On the return trip, Loring carefully documented the route from Camp Floyd, Utah, to Fort Union, New Mexico.
In May of 1859, Loring embarked on a lengthy journey to Europe, scene of the recent Crimean War. Like other American officers who made similar trips, he studied new military tactics that had evolved from the conflict. All would soon have a chance to put these theories to the test. After visits to Great Britain, France, Sweden, Prussia, Switzerland, Austria-Hungary, Italy, Russia, and Turkey, he spent time in Egypt, and met that country's viceroy, Saïd. In ten years, the winds of chance would return Loring to the land of the pharaohs, but in 1860, they instead carried him home to a nation in crisis. In an era when many people never ventured far from their family farm, the 41-year-old soldier had already visited four continents.
Following his trip, Loring spent several months in New York City, where he suffered from complications related to his Mexican War wound. In March of 1861, the veteran colonel was named commander of the Department of New Mexico, and he returned West to assume his new command.
The Civil War.
Loring did not remain long in New Mexico. Although never a secessionist, the Confederate attack on Fort Sumter left the native Southerner little choice. During a conference with his officers in Santa Fe, Loring told them, "The South is my home, and I am going to throw up my commission and shall join the Southern Army, and each of you can do as you think best." On May 13, 1861, William Loring resigned his commission in the U.S. Army. (One of his officers, future Confederate general James Longstreet had resigned four days earlier.) Loring waited almost a month for Washington to accept his resignation, but heard nothing. On June 11, after placing Major E. R. S. Canby in charge, he moved to Fort Fillmore, close to El Paso. In late June, Loring relinquished formal command of New Mexico and began making his way to Richmond. Some historians have speculated that Loring planned to deliver New Mexico to the South, but whatever his intent, and despite a direct plea to do so from his old friend Henry Sibley (which Loring never received), the fact remains that he left New Mexico and the Regiment of Mounted Riflemen in Union hands.
Arriving in Richmond on July 20, Loring met with Robert E. Lee. The commander of Virginia's military forces (who until March 16 had been outranked by Loring) made the colonel a brigadier general, and assigned him to command the Army of Northwestern Virginia. Loring's first assignment was to stop George B. McClellan, who had invaded Western Virginia from Ohio. Loring was immediately hampered by supply problems, inadequate equipment, and bad weather. Even worse, his green troops were racked by diseases like the measles. A week after Loring arrived, Robert E. Lee showed up to take charge of all troops in the theater. While Loring certainly viewed Lee's arrival as a sign that the government did not trust him, it appears that stories of conflict between the two generals are somewhat overblown. Unsuccessful attacks at Cheat Mountain and Laurel Mountain did little to enhance either general's reputation, but the operations did prevent a Union advance into Virginia. Whatever the true story, Lee was left with serious misgivings about his subordinate. It is also possible that Lee blamed Loring for the death of his brother-in-law, John Augustine Washington. The grand-nephew of George Washington and the last Washington to own Mount Vernon, he had taken part in a reconnaissance mission ordered by Loring. Washington was killed instantly in an ambush by a Union picket, and Lee's son Fitzhugh narrowly escaped on Washington's horse.
Whatever Lee's feelings, Loring continued to command the respect of his men. Soldier John Worsham provided the following view of the general during a lighter moment:
We worked a great deal on the roads. Some of the men while at work one day under the direction of a corporal, were observed by Gen. Loring in his rounds. He dismounted, gave some directions as to work, and then took a seat on a log near him. The corporal joined him, and seating himself near the general, made some remarks about the work, and said to Gen. Loring, "General, we officers have a good time up here, don't we?" General Loring looked at him, and then asked his rank. He replied: "Corporal!" The general, who was a profane man, let some "cuss words" loose at him, and told him to take a spade; and it is said the corporal made the dirt fly as long as Gen. Loring was in sight.
In late 1861, Loring's army was ordered to assist that of General Thomas "Stonewall" Jackson. Typically, Jackson, who demanded blind obedience, kept his plans a secret from Loring (who was, despite Jackson's brilliance, a far more experienced officer). Jackson intended to take the town of Bath, and then move into Maryland and destroy the Union supply depots there. The campaign against the Federals was hampered by miserable winter weather and serious supply problems. At one point, receiving an order from Jackson to keep his men moving, Loring blew up at the messenger, thundering "By God, Sir, this is the damnedest outrage ever perpetrated in the annals of history, keeping my men out here in the cold without food!" The bluecoats abandoned Bath, but with help from the weather, were able to block Jackson's way into Maryland. "Stonewall" now moved west. On January 15th, the Army of the Valley reached Romney, an isolated town which would change hands some 56 times during the war. Loring's forces were ordered to make winter quarters there, while Jackson and his men headed back to Winchester. The retreating Yankees had turned the town into a cesspool, a mixture of deep mud, sewage, and rotting meat. While there, Loring's men, hundreds of them sick, endured cold and wet conditions, as well as a lack of supplies. Loring himself would eventually contract pneumonia. John Worsham gave this account of the weather:
...the most terrible experience during the war. Many men were frozen to death, others frozen so badly they never recovered, and the rheumatism contracted by many was never gotten rid of. Many of the men were incapacitated for service, large numbers were barefooted, having burned their shoes while trying to warm their feet at the fires.
Perhaps the most interesting eyewitness assessment comes from Dr. Charles Quintard, a chaplain in the Confederate army who was briefly to serve as Loring's aide-de-camp :
I cannot begin to tell all that our troops suffered through the stupidity and want of forethought, (as I then thought it), of Major-General Jackson. It is enough to say that we were subjected to the severest trials that human nature could endure. We left Winchester with 2,700 men in General Anderson's Brigade of Tennesseeans. That number was reduced to 1,100. When we reached the position opposite the town of Hancock, Maryland, the First Regiment numbered 680. In Romney, it mustered only 230 men fit for duty. I felt that General Loring ought to demand that he might be allowed to withdraw his forces from the command of Major-General Jackson.
So far as the personal staff of General Loring (including myself) was concerned, it was comfortably situated in a very pleasant new house. But no one could possibly imagine the horrible condition of affairs at Romney among the troops; and when Stonewall Jackson took his command back to Winchester, the men of Loring's command shouted to them: "There go your F. F. V.'s!" [First Families of Virginia.] The "pet lambs" of the Stonewall Brigade were comfortably housed at Winchester while the troops of Loring's command were left behind in Romney to endure the bitter, biting weather.
With his men on the verge of mutiny, Loring forwarded a petition written by his officers condemning the situation. Jackson sent the petition on to Secretary of War Judah Benjamin (bypassing his superior, Joseph Johnston). After consulting with President Jefferson Davis, Benjamin ordered Loring's army back to Winchester. Jackson, who felt his authority had been undermined, initially tendered his resignation, and then brought charges of insubordination against Loring. When Loring was given a chance to respond, Davis decided not to pursue the court-martial. The Confederate government, not wanting to lose either officer, decided instead to defuse the situation. Loring was promoted to major general and reassigned to Southeastern Virginia, while Jackson went on to become a legend. The conflict ended any real chance of glory for Loring, who might have taken part in many of the most famous battles of the war. Not one to suffer fools (or anyone he thought foolish) gladly, Loring often came into conflict with superior officers with whom he disagreed. Part of this was due to the fact Loring had not attended West Point, thereby lacking the respect for the command structure drilled into cadets. But it is also well known that Jefferson Davis did not smile on officers (including Joseph Johnston) who had not attended the institution. In any event, the Confederacy badly misused the vastly experienced Loring, who would have been an ideal commander for daring raids and other similar actions.
In February of 1862, Loring was sent to Norfolk, Virginia. During the trip, Loring and Quintard stopped in Richmond: "...I called with him on President Jefferson Davis and was very agreeably disappointed in his personal appearance and bearing. I might have witnessed the ceremonies of his inauguration, but as the day set for that function proved very inclement, I was glad that I chose to spend it on the cars between Richmond and Norfolk. On that day General Loring had a very severe chill followed by congestion of the right lung, which was the precursor of an attack of pneumonia affecting both lungs. I watched by his bedside in Norfolk through all his illness, which prolonged my visit in that city for several weeks." In fact, Loring would spend more than a month in the naval hospital.
By early April, Loring had sufficiently recovered, and took part in another interesting adventure. Aboard a steamer in Hampton Roads, he watched the CSS Virginia make an attempt to lure the USS Monitor into battle (despite constant prodding by the Virginia, the two ironclads would never repeat their historic duel of March 9). As Dr. Quintard recounted, "Although the enemy refused to fight, the "Monitor" threw a number of shells, several of which passed over our little steamer. We deemed it, therefore, good military, (and naval) tactics to withdraw and let the contestants attend to their own business."
On his return to duty, Loring was given the task of defending Suffolk. In late April, his men defeated a Union force that was attempting to advance north from Elizabeth City, North Carolina. However, by early May, as George McClellan's armies moved up the peninsula, the Confederacy decided to abandon Norfolk. Loring was forced to retreat along with the rest of Joe Johnston's forces.
Loring was now assigned to the Department of Southwestern Virginia, where he would protect Richmond's rear during the Union invasion. The job was largely administrative, and the major general had to deal with such issues as drafting local men for the service and collecting taxes. While he quickly tired of this work, he did pull off one great military victory. In September of 1862, as Robert E. Lee invaded Maryland, Loring led a campaign into the Kanawha Valley of West Virginia. He defeated the enemy, reclaimed 40,000 square miles of territory, captured Charleston, and his cavalry even briefly crossed into Ohio. Lee requested that Loring take part in a joint invasion of Pennsylvania, but for a variety of reasons (mostly owing to renewed Federal activity in West Virginia), Loring was eventually ordered to stay put by Secretary of War John Randolph. In mid-October, Loring resigned his command, due to a conflict over state recruiting practices by Virginia governor John Lechter. It was the end of his service in the Old Dominion; when told that the general sought reassignment, Robert E. Lee icily responded, "There is no room in this army for that man." Loring would now go west, to Mississippi. By the end of 1862, the new Confederate commander in Western Virginia, John Echols, had lost all the territory gained by Loring in September.
Late in December, Loring was back in action, sent to aid in the defense of Vicksburg, where some small fame awaited him. In 1863, ordered to keep the Federals from moving up the Tallahatchie River, Loring and his men built Fort Pemberton, which was located on a narrow neck of land between that river and the Yazoo. To further hamper the bluecoats, he had the Star of the West (the same ship that had unsuccessfully tried to relieve Fort Sumter in January of 1861) sunk across the Tallahatchie, blocking any advance. On March 11, the Federals opened fire, but found their shells did little damage to the cotton-bale and earth fort. With only three cannon, Loring and his men turned away the Union flotilla, which included two ironclads. During the battle, Loring earned the nickname "Old Blizzards" by shouting "Give them blizzards, boys, give them blizzards!" above the din of the cannon. (Renowned for his excitability and temper, one of Loring's men once commented that the general could "curse a cannon up hill without horses.") By early April, Loring had driven the Federals back up the river.
By May, Ulysses Grant had moved between John Pemberton's army at Vicksburg and Joseph Johnston's at Jackson. Despite orders from Johnston, Pemberton tarried at Vicksburg, a decision that didn't sit well with Loring. (During the U.S. assault on Mexico City 15 years earlier, Pemberton had been a lieutenant, and Loring a lieutenant colonel.) Old Blizzards had little respect for Pemberton to begin with, and now began openly ridiculing his orders. Finally, Pemberton made an attempt to break away from the city, but it was too late. During the battle of Bakers's Creek (or Champion's Hill), Grant forced Pemberton to retreat over Baker's Creek bridge into Vicksburg, and certain siege. (Lloyd Tilghman, one of Loring's brigadiers, was killed while holding the bridge open.) As the fighting progressed, Loring's division became separated from Pemberton's army. But instead of trying to fight his way back toward Vicksburg, Old Blizzards revealed other plans. One of his men remembered:
Gen. Loring came riding down our lines close up to us, and was encouraging the boys and told us that we had been sold, but he...called on all to follow him and he would take us out. During a daring night march past the Federals, Loring took his 6,000 men south to join up with Joseph Johnston's forces. Pemberton, with some justification, later blamed Loring for his defeat. There is no doubt that Old Blizzards displayed extreme insubordination toward his commanding officer; however, it is unlikely his full participation would have averted the eventual siege of Vicksburg. In the end, both Loring and his army lived to fight another day, disregarding Pemberton, but obeying Johnston's orders.
Among the men who took part in the events at Vicksburg were Alexander Reynolds, Samuel Lockett, and William Dye. All would one day serve directly under Loring in the Egyptian army. Despite his very public footprints, there is much about Loring we'll never know. What was he really like? Newspapers of the day give us some degree of help. In July, 1863, The Southern Illustrated News ran a front-page feature on Old Blizzards. The following month, Leslie's Illustrated Weekly (a Northern paper) offered this portrait:
General Loring is a native of Mississippi [a mistake, although he was currently in command of troops from that state] and is considered one of the best officers in the southern army. He lost an arm in the Mexican War. His personal characteristics are those of a gentleman, treats everybody with profound respect, and espouses the cause of the rebels because he believes it is just. He is five feet, nine inches high, dresses magnificently, and aims to secure the confidence of his men. He is a jovial, good-hearted fellow, and worthy of a better cause. He was recently in command at Greenwood, where the Federal troops were repulsed.
But while Loring usually held the respect of the men who served under him (and there are a number of glowing accounts), some held a different opinion. Colonel William McE. Dye, who served under Loring in Egypt, provided this view:
I have been told by a gentleman who served under him in the Confederate Army that a certain peculiar energy of the General's gained for him the not very euphonious appellation of "Old Bluster." He has a kindly heart when he is in good health; although he is often fretful...and passionate, causing him to do things spasmodically and hastily, and to say things he does not always mean. Indeed, his violent prejudices sometimes warp his judgment.
In late June and early July, Johnston (with Loring, his newest division commander) made an attempt to relieve Vicksburg. But as the Army of Relief neared the city, Pemberton surrendered his 30,000 men to Grant. Instead of being able to squeeze the Federals between two armies, Johnston now found his force dangerously exposed, and he quickly retreated to Jackson. William Sherman and twelve divisions pursued the Confederates to the Mississippi capital, and soon began a fierce bombardment of the city. Wanting to avoid another siege, Johnston retreated again, this time to eastern Mississippi.
Loring soon changed commanders again. In December, Johnston was sent to Georgia, and Leonidas Polk (a lieutenant general and an Episcopal bishop) took command of the Army of Mississippi. In early February of 1864, Sherman began a two-pronged thrust towards Meridian. Polk, who was in Mobile, Alabama, placed Loring in command until he could return. There was little Old Blizzards could do against Sherman's 20,000 men, a force that outnumbered his by two to one. By the middle of February, the bluecoats had captured Meridian, but went no further. Sherman's cavalry was about to be defeated by Nathan Bedford Forrest's horsemen, a setback which would stop his planned advance into Alabama. The Union commander would have to find another way to cut across the heart of the Confederacy.
By early May, Sherman had picked his target: Atlanta. Back under the command of Johnston (although Polk was still his corps commander), Loring and his division were sent to Resaca, Georgia. During the next five months, Old Blizzards took an active role in Sherman and Johnston's cat-and-mouse game through the mountains of north Georgia. When General Leonidas Polk was killed at Pine Mountain, Loring took command of the Army of Mississippi. The new corps commander played a major part in the battle of Kennesaw Mountain, in which Sherman lost some 3,000 men during a largely futile attack. However, Sherman soon outflanked Johnston again, and the Confederates were forced out of the mountains. In the meantime, Jefferson Davis had appointed Alexander Stewart to lead Polk's Corps. Loring, who, in the words of an observer was "deeply chagrined," returned to his old command. Two weeks later, as Sherman surrounded Atlanta, Davis replaced Johnston with John Bell Hood.
As Sherman prepared to attack, Hood made an attempt to isolate one of the three Union columns. During the battle of Peachtree Creek, Loring's division held a hill near Piedmont Park, an area of the city still known today as Loring Heights. During this first encounter, Hood lost almost 5,000 men (1,000 of those were Loring's). It was a sad taste of worse days to come. On July 28, Old Blizzards was hit in the chest during the battle of Ezra Church. The bullet wound kept Loring out of action for 43 days. By the time he returned to duty, the Confederacy had decided to abandon Georgia's largest city.
Now Hood adopted a strategy of trying to draw Sherman out of Atlanta. For a while, the plan seemed to work, and Loring's division helped tear up the rail line supplying the Federals. Faced with a war of attrition, Sherman made a fateful decision: he would take the initiative, march east to Savannah, and "make Georgia howl." As Sherman departed, Hood launched his own bold march to the north towards Louisville and Cincinnati. But while Sherman's men enjoyed nothing short of a romp, Hood's army seemed to only reap misfortune. After a series of miscues and minor skirmishes, Hood engaged the enemy near Franklin, Tennessee. During the bloody ensuing battle, Loring's men were stopped at a deep railway cut, and pinned down under Federal artillery fire. Old Blizzards did everything he could to rally his men, "commanding, exhorting, entreating, denouncing...to no purpose." As Chaplain James M'Neilly later remembered:
He was in full uniform that glittered with golden adornments, his sword belt around him and the broad band across his shoulder and breast were gleaming in gold; his spurs were gilt; his sword and scabbard were polished to the utmost brightness; over his hat drooped a great dark plume of ostrich feathers. He sat perfectly motionless, glittering in the light of the sinking sun. As the bullets hissed about him thick as hail, he seemed to court or defy death...and he cried out, "Great God! Do I command cowards?" Then Loring turned alone on the horse and faced the enemy fire for over a minute...a perfect target for some Union sharpshooter who dreamed of felling a Rebel general....Then Loring turned and galloped to the rear to regroup the unit.
The Confederacy lost more than 6,000 men that day, including a dozen generals. Of Loring's three brigadiers, John Adams was killed and Thomas Scott was wounded. Hood would pursue the Federals north, but it was too late: his once-proud army was wrecked. Old Blizzards and his men took part in the battle of Nashville, where a fierce Union attack effectively eliminated the Army of Tennessee as a fighting force. Loring was forced to watch his men flee en masse, the only time during the war that a major Confederate force was totally routed. During the next two weeks, the Confederates made a desperate retreat through the ice, snow and mud of Tennessee to Alabama and Mississippi. In mid-January, Hood resigned his command.
As the war drew to a close, Loring was sent to the Carolinas, where Joseph Johnston was preparing to meet Sherman's advancing army. Loring took part in the final Southern offensive of the war, at Bentonville, North Carolina. The battle failed to check Sherman's advance, and there was nothing left to do but retreat west towards Greensboro. Loring's service to the Confederacy came to a close when Johnston surrendered to William Sherman near Durham on April 26, 1865.
After the War.
Loring was paroled at Greensboro, North Carolina on May 1, 1865. Old Blizzards now led his men on their final mission, accompanying them back to their homes in Alabama and Mississippi. In November, writer Whitelaw Reid visited Meridian, Mississippi. During a conversation at a local boarding house, someone questioned Joseph Johnston's business acumen (the general had recently started an express company), saying he had heard people suggest that Johnston was probably not the best choice to manage a struggling enterprise. As Reid later recounted, one man in the room begged to differ:
"They were fools, then, who hadn't sense enough to understand General Johnston. He's the ablest man in the country, and everybody but a blockhead knows it."
I looked around in some little surprise. The tone indicated that the speaker did not mean to be personally rude, though the language certainly grazed the border of politeness. In the dim firelight I made out a soldierly-looking personage with an empty coat sleeve. When he went to the window, a moment later, some one whispered, "That's General Loring, a classmate of Joe Johnston's, and one of his Division Generals."
By the way, the feeling was mutual. Despite Loring's legendary disagreements with commanders like Lee, Jackson, and Pemberton, Joseph Johnston had nothing but respect for Old Blizzards. In a letter written shortly after the end of the war, Johnston apologized for Loring's lack of promotion:
...it may not be inappropriate on my part, to offer the only evidence I now can of my appreciation of your military character.
When removed from command, in July last, it was my intention to urge strongly your promotion to the first vacant Lieut. Generalcy....The services to which I should have referred, as having earned those promotions, were in Mississippi and Northern Georgia, under my own eye, as undoubted proof of competency, I should have pointed to your command of Polk's corps after his death.
Following the Civil War, Loring did not renounce his citizenship and flee the country, as some accounts erroneously suggest. Instead, he moved to the financial heart of his former foe, performing work for the banking industry in New York City. Loring served as a consultant on Southern investment matters, with an office located at 36 New Street, just one block from Wall Street. While his new profession was certainly respectable, it was far removed from the exciting life that Loring had left behind. That's why, in 1869, he jumped at the chance to embark on a new adventure.
Egypt.
Far from the battlefields they had contested in Mississippi and Georgia, the paths of William Loring and William Sherman crossed again in 1869. Sherman, now General of the Army under President Grant, recommended Old Blizzards for a new mission. Ismail, the Khedive of Egypt, was seeking American officers to help modernize his nation's army. Ismail had dreams of Egyptian independence from the Ottoman Turks, as well as ambitions of his own empire. Ismail's uncle Saïd had begun construction of the Suez Canal (ironically, partly funded by Egyptian cotton sales to Europe during the American Civil War), which had put Egypt in great debt. Because of this, Ismail was also forced to deal with growing British and French influence in his nation. American technology and know-how offered a possible way out. The situation also offered a new chance for dozens of Civil War veterans. A little more than fifty former Union and Confederate officers served in Egypt during Ismail's reign.
Loring quickly accepted the offer made by Thaddeus Mott, the first American to join the Khedive's army (Sherman had helped Mott find suitable recruits for the venture). Old Blizzards made the three-week journey to Egypt accompanied by Mott and Henry Sibley, little knowing that he would spend the next ten years in Egypt. He began his service to the Khedive as Inspector General of the Egyptian Army, suggesting that the country's defenses be strengthened, and the army reorganized and modernized. Quickly winning the favor of Ismail, Loring was then placed in charge of the country's coastal defenses, erecting fortifications that still stand today. He made his headquarters in Alexandria's Gabara Palace, once occupied by Saïd himself, and pulled down a comfortable salary of $4,200 a year. Since the coastal city was the point of arrival for the incoming Americans, Loring usually took it upon himself to greet the new recruits. As the only American who actually commanded Egyptian forces, Loring was an able and effective leader. But as before, when he came under the command of those he did not agree with, sparks flew. (And sometimes bullets!)
In 1875, King John of Ethiopia wiped out an Egyptian expeditionary force that had entered his country. Egypt half-heartedly decided to strike back. An army was raised, and Loring, originally slated to command the force, was instead made chief of staff to Ratib Pasha, commander in chief of the Egyptian army. Miscommunication and confusion would mark the entire campaign, and Ratib rarely listened to Loring's advice. After several months of delay the force reached the Gura valley, on the way to the Ethiopian capital, but transportation and supply were in a shambles, and a sizeable portion of the force was still in the rear.
On March 7, 1876, King John and an army of 60,000 attacked the Egyptians. The Egyptian forces in the field were routed (more than 2,000 were killed), and retreated into their fort. The Egyptians repelled a second Abyssinian attack on March 9, and the bruised Abyssinian army began to disintegrate. In late April, Ratib hurriedly withdrew his men. Upon the expedition's return, the Egyptian officers squarely placed the blame for the disaster on Old Blizzards and the other Americans. The Americans were now largely shunned or ignored, and had plenty of time on their hands. Loring followed other pursuits, visiting Mount Sinai, and embarking on a new career as a writer. He penned an anonymous account of the Gura campaign that appeared in Blackwood's Magazine and Littell's Living Age.
In the end, Ismail's ambitions bankrupted Egypt, and he could no longer afford his American officers. In 1878, an Egyptian commission of inquiry (heavily influenced by European powers) demanded the Americans be dismissed. Even a visit by Loring's old friend Ulysses S. Grant failed to help the position of the American officers. For his service to Egypt, Loring was given two unprecedented decorations and the title of Fereek Pasha (Major General). Old Blizzards lingered for another nine months in the land of the Pharaohs, but finally began the journey home in March of 1879, revisiting several European countries on the way.
Final Years.
Loring returned to Florida in 1880, and ran for the U.S. Senate, losing the Democratic nomination to incumbent senator Charles Jones. He then moved to New York City, but during the final six years of his life would also spend time in the American West, Chicago, and in Florida, where he owned a small orange grove. While in Egypt, he had already begun working on a book, A Confederate Soldier in Egypt. The book is a collection of his observations about Egypt, as well as a recounting of his military experiences in Abyssinia. Following the book's publication, Loring was recognized as an authority on Egypt, and his opinions (especially on the revolts by Arabi and Mahdist forces in the Sudan) were regularly sought by newspaper reporters. This profile of Loring appeared in the New York Times on October 17, 1886:
One evening I heard a fine looking old gentleman extolling the United States Government, and saying many kindly things of Lincoln and of Grant. I also noticed that he carried upon his right side an empty sleeve, which he at last alluded to indirectly by saying: "I lost one arm in the service of my country at the storming of the citadel of the city of Mexico, but I have another left which is always ready and loyal to do her bidding." I then asked who the gentleman was, and I was informed that it was "old Billy himself"....There is no man more warmly embosomed in the hearts of Floridians than Gen. Loring.
It is possible Loring had more nicknames than any other commander in history. From his early days as the "boy soldier," he had earned such appellations as "Old Blizzards," "Old One Wing," and "Old Ringlets" (his long hair had always curled in the back). "Old Billy " was simply the latest tribute.
Loring began work on his memoirs, entitled Fifty Years a Soldier, but instead, his remarkable story was about to end. Following a brief bout with pneumonia, Loring died at the St. Dennis Hotel on December 30, 1886. Reportedly, he had assembled notes for the book, but what became of these is a mystery.
Loring was nearly as restless in death as he had been in life. He was cremated and buried at Grace Episcopal Church in New York City on January 2, 1887. On March 18, Loring was reburied in St. Augustine. Ten thousand people attended his funeral at Woodland Cemetery, his old friend Bishop Quintard officiating. Loring's remains were borne from the gun-carriage by three U.S. and three ex-Confederate soldiers, and a salute was fired at the grave by a battery of United States Artillery. In 1920, Loring made his final journey as his ashes were moved to downtown St. Augustine. A marble obelisk marks his final resting place.
1920 saw the establishment of two memorials to William Loring: the obelisk pictured above, and a large display case located in the Saint Augustine Memorial Room of the Museum at the University of Florida. The exhibit included Loring's uniform, medals, and favorite sword, as well as furniture and tapestries he had purchased in Egypt. (Many of these items can be found in The W. W. Loring Virtual Museum.) The display featured a wax likeness of Old Blizzards. Like the obelisk, the exhibit was due in large part to the efforts of Loring's favorite niece, Mrs. William Loring Nunez Spencer. In her will, she provided funds for the display, and set up a scholarship at the University of Florida in William Loring's name. (The scholarship only recently ran out of funds, during the fall of 1997.) The exhibit was taken down after a number of years (due in part to the deterioration of some of the items), and its contents are now under the care of the Museum of Florida History.
From Michael Butzgy's The William Wing Loring World Wide Website.