John Letcher (1813-1884)
John Letcher, governor of Virginia, was born in Lexington, Virginia, on March 29, 1813. He attended private rural schools and Randolph-Macon College and graduated from Washington Academy (now Washington and Lee University), Lexington, Va., in 1833. He studied law, was admitted to the bar in 1839, and while practicing edited the Valley Star from 1840 to 1850 in Lexington, Virginia.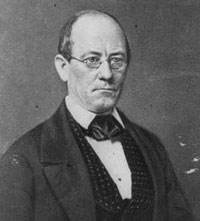 He was a delegate to the State constitutional convention in 1850 and in 1852 was elected as a Democrat to the 32nd and to the three succeeding Congresses (March 4, 1851 - March 3, 1859) (11th District 1851-53, 9th District 1853-59). He was not a candidate for renomination in 1858, having become a candidate for Governor.
He was Governor of Virginia 1860-1864, and prominent in the organization of the peace convention that met in Washington, D.C., February 8, 1861, in an effort to devise means to prevent the impending war. Although he discouraged secession, he was active in sustaining the Ordinance of Seccession passed by Virginia on April 17, 1861, immediately placing all the state's forces at the disposition of the Confederate government without waiting for the popular vote.
After the war and the expiration of his term as Governor he resumed the practice of law in Lexington. He was a member of the State house of delegates 1875-1877, a member of the board of visitors of the Virginia Military Institute 1866-1880, and served as president of the board for ten years. He died on January 26, 1884 in Lexington, Virginia and is buried there at Stonewall Jackson Memorial Cemetery.