Ward H. Lamon (1828-1893)
Born in Virginia in 1828, Lamon studied law in Louisville, Kentucky, and settled in Danville, Illinois, where he was admitted to the bar. Lamon's association with Abraham Lincoln began in the 1850s, when he became a law partner and traveled with Lincoln on the circuit. Although Lamon's southern sympathies and bitter attacks on abolitionism set him apart from Lincoln, the men remained personal friends. Lamon joined the Republican Party and campaigned for Lincoln in 1860. The brash transplanted Virginian, known for his practical jokes and fine singing voice, escorted the newly elected president to Washington in the spring of 1861 and served as the marshal of the District of Columbia and Lincoln's personal bodyguard during the Civil War.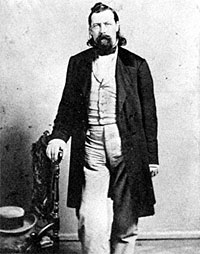 One of Lamon's key responsibilities was to guard Lincoln. Physically imposing and possessing an expansive and exuberant personality, Lamon was selected to accompany Lincoln on the midnight train ride to Washington through Baltimore. In one of his reminiscences of Lincoln, Ward Lamon tells how keenly the President-elect always regretted the "sneaking in act" when he made the celebrated "midnight ride," which he took under protest, and landed him in Washington known to but a few. Lamon says: "The President was convinced that he committed a grave mistake in listening to the solicitations of a 'professional spy' and of friends too easily alarmed, and frequently upbraided me for having aided him to degrade himself at the very moment in all his life when his behavior should have exhibited the utmost dignity and composure. Neither he nor the country generally then understood the true facts concerning the dangers to his life. It is now an acknowledged fact that there never was a moment from the day he crossed the Maryland line, up to the time of his assassination, that he was not in danger of death by violence, and that his life was spared until the night of the April 14, 1865, only through the ceaseless and watchful care of the guards thrown around him."
After the firing on Fort Sumter, Lincoln personally dispatched Lamon to Charleston, S.C., where he met with Maj. Robert Anderson, the commander of the Union garrison there. According to Lamon's memoirs, he was accosted by a mob there and was saved only after an old acquaintance, Lawrence Keitt, vouched for him and bought them all a drink.
Lamon accompanied the president nearly every time he left the White House during the war, and was at his side when he gave his famous address at Gettysburg in 1863. People gathered on Bloomington's courthouse square in 1865 as they reacted to news of President Abraham Lincoln's assassination. He introduced the president before that two-minute speech and in his memoir recounts how many of the other politicians there that day were disappointed by Lincoln's words. He notes, however, that upon further consideration he considered it to be a "masterpiece of English composition."
Later, when other plots against the President were suspected, Lamon supervised security at the White House, and slept next to Lincoln's bed-chamber. Lincoln appointed him marshall of the District of Columbia, in which capacity he served until June 1865 .
Upon General Robert E. Lee's surrender, Lincoln arranged to send Lamon to the Confederate capital of Richmond, Va., to oversee the surrender. It was during Lamon's absence that Lincoln was assassinated by Booth at Ford's Theater on April 14, 1865. Unable to protect him from his fate, Lamon's last duty to his friend was to escort Lincoln's body back to Springfield for the funeral.
Lamon was held in high esteem among Lincoln's closest friends, including David Davis of Bloomington, who was the 8th Circuit judge when Lincoln was one of the circuit's roaming lawyers and Lamon was the prosecutor.
In a letter to Secretary of State William H. Seward a mere five weeks after Lincoln's death, Davis suggested Lamon be appointed governor of Idaho to reward him for his faithful service. "Mr. Lincoln was greatly attached to our friend, Col. Ward H. Lamon," Davis wrote. "I doubt whether he had a warmer attachment to anybody and I know that it was reciprocated."
With his government career over, Lamon moved to Denver, Colo., where he practiced law. Later, he returned to his birthplace in what had by then become West Virginia. In 1872 published a controversial biography of Lincoln from William Herndon's collected research notes, The Life of Abraham Lincoln from his Birth to his Inauguration as President. (It was ghost-written by Chauncey F. Black). Lamon died in Martinsburg, W.Va. on May 7, 1893.