Benjamin F. Kelley (1807-1897)
Benjamin F. Kelley was born at New Hampton, New Hampshire, April 10, 1807, and in 1851 at age 19 he moved to Wheeling, in what is now West Virginia, and became a freight agent of the Baltimore and Ohio Railroad line.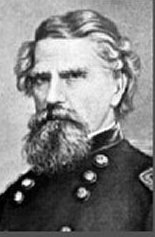 In May 1861 he raised the 1st West Virginia Volunteer Infantry, a 90-day regiment which he led at the Battle of Philippi on June 3. In the first year of the Civil War, "loyal" regiments recruited in the Western Virginia area were called the 1st Virginia, etc. After Congress admitted West Virginia as a State in 1862, the names were changed to West Virginia regiments. He was severely wounded in his first engagement and upon recovery was commissioned Brigadier General to rank from May 17.
Virtually all of his war duty took place in West Virginia and Maryland, where his principal duty was to guard the lines of the railroads in the area. He took part in the pursuit of the Army of Northern Virginia following the Battle of Gettysburg, the dispersal of Imboden's camp near Moorefield in November 1863 and in the engagements at Cumberland, Maryland and Moorefield and New Creek, West Virginia, in 1864.
On February 1, 1865, a band of Confederate Rangers made a raid on Cumberland and carried off both him and Major General George Crook, his superior in command of the Department of West Virginia. Both were at the time engaged to belles of the town, to whom they subsequently married, and the affair created a contemporary furor which has been ignored by biographers of both men. After briefly being held prisoner in Richmond, they were relased by special exchange.
He was breveted Major General August 5, 1864 and on July 1, 1865 he resigned from the Army. During the remainder of his life he held successive Federal positions as a reward for his war services. President Grant made him Collector of Internal Revenue for West Virginia in 1866 and he served as Commissioner of the Hot Springs, Arkansas, Military Reservation ten years later. In 1883, President Chester A. Arthur appointed him Examiner of Pensions.
He died at Oakland, Maryland, July 16, 1891 and he was buried in Section 1 of Arlington National Cemetery, where the large statue on the gravesite of his Aide-de-Camp, Lietuenant Thomas Hudson Mckee, blocks the view of his portrait on his own private memorial. His wife, Mary Clare Bruce Kelley, who died on December 24, 1910, is buried with him.