Stephen A. Hurlbut (1815-1882)
Stephen A. Hurlbut was born in Charleston, South Carolina, in 1815. His father, a native of Massachusetts, was a Unitarian minister and teacher; his mother was a native of Charleston. His family condemned slavery as morally wrong but owned slaves because it seemed expedient. Not surprisingly, Hurlbut displayed throughout his life a highly flexible sense of morality. During his youth he became an adherent of his parents' Unitarianism, and as a young man he took up law and was admitted to the bar in 1837. He practised in Charleston until the Seminole war, in which he served as adjutant in a South Carolina regiment. He was an active member of the Odd Fellows' Lodge.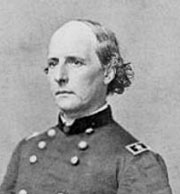 Hurlbut moved to Illinois in 1845, practised law in Belvidere, and became active in Illinois politics, first as a Whig and then as a Republican. He was a presidential elector on the Whig ticket in 1848, was a member of the legislature in 1859, 1861, and 1867.
At the beginning of the civil war he was appointed a brigadier-general of volunteers, and commanded at Fort Donelson after its capture in February 1862. When General Grant's army moved up Tennessee river, Hurlbut commanded the 4th division, and was the first to reach Pittsburg Landing, which he held for a week alone. He was promoted major-general for meritorious conduct at the battle of Shiloh, was then stationed at Memphis, and after the battle of Corinth, in October 1862, pursued and engaged the defeated Confederates. He commanded at Memphis in September 1863, led a corps under Sherman in the expedition to Meridian in February 1864, and succeeded General Nathaniel P. Banks in command of the Department of the Gulf, serving 1864-1865, when he was honorably mustered out.
During his war and post-war career, Hurlbut came under fire for his conduct. Charges of corruption were leveled at him for activities while assigned to the Gulf South and Louisiana. After the war, he was accused, apparently with good reason, of drunkenness and corruption.
After the war, he returned to Illinois, where he became a Republican party leader. He was minister resident to the United States of Colombia 1869-1872, and then elected a representative to Congress from Illinois as a Republican for two consecutive terms 1873-1877. In 1881 he was appointed minister to Peru, which office he retained until his death.
He died in Lima, Peru, on March 27, 1882.