George Smith Houston (1811-1879)
George Smith Houston, a U.S. Representative and a Senator from Alabama, was born near Franklin, Williamson County, Tenn., on January 17, 1811. He moved with his parents to Lauderdale County, Ala., and attended an academy there. He studied law in Florence, Ala., and Harrodsburg, Ky., and was admitted to the bar in 1831. He commenced practice in Florence, Ala.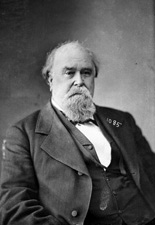 Houston was a member of the State house of representatives in 1832. He settled in Athens, Ala., in 1835 and was State's attorney for the Florence judicial district in 1836.
Houston was elected as a Democrat to the 27th and to the three succeeding Congresses (March 4, 1841-March 3, 1849). He declined to be a candidate for renomination in 1848, but was elected to the 32nd and to the four succeeding Congresses and served from March 4, 1851, until January 21, 1861, when he withdrew. In Congress he served as chairman, Committee on Ways and Means (32nd and 33rd Congresses), Committee on Judiciary (35th Congress). His long service rendered Houston perfectly familiar with "parliamentary tactics," and given him a commanding position as a party-leader, in whose honesty, devotion to principle, and inflexible hostility to the schemes of the lobby, all have confidence. While acknowledging the importance and magnitude of the questions growing out of African slavery, he has taken a great interest in the tariff and other practical issues, and has steadfastly opposed extravagant expenditures.
Houston presented credentials as a Senator-elect to the United States Senate on February 9, 1866, for the term ending March 3, 1867, but was not permitted to take his seat. He was Governor of Alabama 1874-1878. He was elected to the United States Senate and served from March 4, 1879, until his death in Athens, Ala., December 31, 1879. He is buried in the Athens City Cemetery.