Joseph Hooker (1814-1879)
Joseph Hooker (November 13, 1814 - October 31, 1879) was a Major General in the Union Army during the American Civil War.
Hooker was born November 13, 1814 in Hadley, Mass., and educated at the military academy at West Point (1833-1837), graduating 29th in a class of 50. Upon graduation he entered the 1st U. S. Artillery, serving in the Seminole War and the Mexican War. In the Mexican War (1846-48) he was posted to the artillery but was serving as a staff officer when he won three brevet promotions for gallantry in the Battles of Monterrey and Vera Cruz, rising to the rank of captain of artillery, and the brevet of lieutenant-colonel in the staff. Unfortunately for his later career he testified against Winfield Scott before a Court of Inquiry on the Mexican War.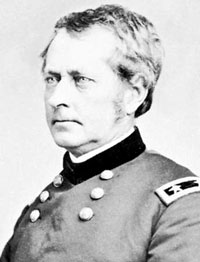 After a two-year leave he resigned on February 21, 1853, to settle in California as a farmer and land developer. He bought a large farm near Sonoma, California, which he managed successfully until 1858, when he was made superintendent of military roads in Oregon.. From 1859 to 1861 he was a colonel in the California militia.
At the outset of the Civil War he became a colonel of the state militia but soon offered his services to Washington where his anti-Scott testimony came back to haunt him. Having failed to gain a commission in the army, he witnessed the disaster at First Bull Run (July 21, 1861) as a civilian he and wrote to Lincoln complaining of the mismanagement and advancing his own claim to a commission. Accepted, his assignments included: brigadier general, USV (August 3, 1861, to rank from May 17); commanding brigade, Division of the Potomac (August - October 3, 1861); commanding division, Army of the Potomac (October 3, 1861 -March 13, 1862); commanding 2nd Division, 3rd Corps, Army of the Potomac (March 13 - September 5, 1862); major general, USV (May 5, 1862); commanding 3rd Corps, Army of Virginia (September 6-12, 1862); commanding lst Corps, Army of the Potomac (September 12-17, 1862); brigadier general, USA (September 20, 1862); commanding 5th Corps, Army of the Potomac (November 10-16, 1862); commanding Center Grand Division, Army of the Potomac (November 16, 1862-January 26, 1863); commanding Department and Army of the Potomac (January 26 - June 28, 1863); commanding llth and 12th Corps, Army of the Cumberland (September 25 - April 14, 1863); commanding 20th Corps, Army of the Cumberland (April 14 - July 28, 1864); and commanding Northern Department (October 1, 1864 - June 27, 1865).
Hooker was commissioned brigadier-general of volunteers on May 17, 1861, and put in command of the defenses of Washington on August 12, 1861, where he led a brigade and then division.
He then joined the Army of the Potomac for the Peninsula Campaign in 1862. He quickly gained a reputation as a heavy drinker, and a disagreeable character, but generally looked after his men well during the siege operations at Yorktown. The engagement of Williamsburg (May 5th) brought him and his subordinate Hancock into prominence and, although he felt slighted by his commander's report, he was named a major general of volunteers from the date of the action. Further fighting for Hooker came at Seven Pines and throughout the Seven Days. Following its close he scored a minor success in the retaking of Malvern Hill from the Confederates.
He was transferred to John Pope's Army of Virginia for the Second Battle of Bull Run (August 28-30, 1862) and led his division with great energy at Bristoe Station, Manassas and Chantilly.
Returning to the Army of the Potomac, and given command of the I Corps for the Maryland Campaign, he forced the defile of South Mountain and opened the way for the advance of the army. The I Corps opened the great battle of the Antietam, and sustained a sanguinary fight with the Confederates under Stonewall Jackson. Hooker himself was severely wounded. (September 17, 1862). Three days later he was promoted to brigadier-general of the regular army. Returning to duty, he briefly commanded the 5th Corps before being given charge of the Center Grand Division when Burnside reorganized his army into these two-corps formations.
At the Battle of Fredericksburg he commanded the Center Grand Division (III and V Corps.) and protested against the useless slaughter of his men on that disastrous field. He took part in Burnside's infamous "Mud March".
Hooker replaced Ambrose Burnside as commander of the Army of the Potomac in 1863 after Burnside was defeated at Fredericksburg. Always arrogant, Hooker boasted that he had a plan with which he would whip "Bobby Lee" and commented "May God have mercy on General Lee, for I will have none." Lincoln praised the Hooker's fighting abilities but strongly questioned his previous criticism of commanders and feared that this might come back to haunt the new chief. Lincoln was also critical of the general's loose talk on the need for a military dictatorship to win the war. Lincoln wrote to him: "I have heard, in such way as to believe it, of your recently saying that both the army and the Government needed a Dictator. Of course it was not for this, but in spite of it, that I have given you the command. Only those generals who gain successes can set up dictators. What I now ask of you is military success, and I will risk the dictatorhip". During the spring of 1863 he established a reputation as an outstanding administrator and restored the morale of his soldiers through reforms in health and welfare programs. Hooker's headquarters were roundly criticized by many as a combination of bar and brothel.
Hooker commanded the Army of the Potomac during the Battle of Chancellorsville (May 1-4, 1863) where his planned campaign to defeat the Army of Northern Virginia was stopped by Confederate General Robert E. Lee through a devastating attack on Hooker's exposed right flank by General Thomas "Stonewall" Jackson, and by Hooker's timid command performance. His grave defects as a commanding officer were apparent after Lee, with fewer than half the number of troops, outmaneuvered him and caused a Union retreat. This defeat resulted in the loss of 17,000 Union soldiers. When he launched his campaign against Lee, Hooker swore off liquor. This may have hurt more than it helped. After a brilliantly executed maneuver around Lee's flank and the crossing of two rivers, Hooker lost his nerve and withdrew his forces back into the Wilderness to await reinforcements from John Sedgewick's command coming from Fredericksburg. Here he felt convinced that Lee was in retreat but was surprised by Jackson's flank attack, which routed Oliver O. Howard's 11th Corps. To make matters worse Hooker was dazed by the effects of a shell striking a pillar on the porch of his headquarters. He lost control of the army and ordered a withdrawal. A number of his subordinate generals, including Darius N. Couch and Henry W. Slocum openly questioned Hooker's command decisions.
When Lee advanced into Pennsylvania in June, Hooker followed him closely until, rebuffed by Washington in his request for additional troops to meet the enemy at Gettysburg in July, he sensed the distrust of Abraham Lincoln and Maj. Gen. Henry Halleck and resigned his command on June 28, 1863, on the eve of battle. He was replaced by Maj. Gen. George Meade.
Hooker went on to gain a reputation as a solid commander. With the Union defeat at Chickamauga, he was given charge of the Army of the Potomac's 11th and 12th Corps and was transferred by rail westward to reinforce Rosecrans' Army of the Cumberland besieged at Chattanooga, Tennessee. In the battles around that place in November 1863 he did well in keeping open the supply lines. On November 24, 1863, Hooker was in command at the Battle of Lookout Mountain (also known as the "Battle Above the Clouds") and succeeded in capturing the important mountain for the Union. On November 25 he was instrumental in undermining Bragg's left flank on Missionary Ridge, thus clearing the way for Thomas's triumphant charge up the middle of the ridge later in the day. However, in Grant's report his actions were overshadowed by the less distinguished role of Sherman.
On January 24, 1864 he was voted the Thanks of Congress for his "defense of Baltimore and Washington," one of only 15 general officers to receive this honor during the Civil War.
Hooker participated as commander of the 20th Corps in the Atlanta Campaign under William Tecumseh Sherman. During the campaign from Dalton to Atlanta, and at the battle of Peachtree Creek (July 20, 1864), Hooker performed very well. However, when General John B. McPherson was killed at the Battle of Atlanta on July 22, 1864, Hooker's subordinate, Oliver O. Howard, was named instead of Hooker to replace McPherson as commander of the Army of the Tennessee. Hooker considered Howard to have been instrumental in bringing about his defeat at Chancellorsville and refused to serve under him. He asked to be relieved before the capture of the city and was transferred to the north where finished the war in the quiet sector of Michigan, Ohio, Indiana, and Illinois. Brevetted major general in the regular army for Chattanooga in March 1865, he was mustered out of the volunteers on September 1, 1866. In 1868 he was retired on the disabled list with the increased rank of major general after a paralytic seizure.
Hooker was always popular with his men and was said to have never left a command without the troops showing signs of disapproval. But he lacked the confidence of his subordinate officers and was quarrelsome with his superiors. His nickname "Fighting Joe" Hooker, which he never liked, resulted from the deletion of a dash in a journalistic dispatch that was discussing the Peninsula Campaign and "Fighting" was thereafter linked to his name. Robert E. Lee occasionally referred to him as "Mr. F. J. Hooker" in a mildly sarcastic jab at his opponent.
Despite Hooker's reputation as a hard-drinking ladies' man, there is no basis for the popular legend that the slang term for prostitutes came from his last name due to parties and a lack of military discipline at his headquarters. The term "hooker" was used in print as early as 1845, many years before Hooker was a public figure.
Hooker died October 31, 1879, in Garden City, New York and is buried in Cincinnati, Ohio.