George Nichols Hollins (1799-1878)
George Nichols Hollins, naval officer, was born in Baltimore, Maryland, on September 20, 1799; died there, on January 18, 1878.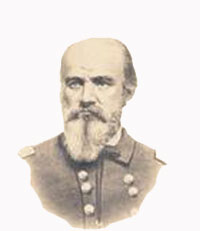 He entered the navy as midshipman in 1814, and served on the sloop-of-war Erie in her unsuccessful attempt to break the British blockade of Chesapeake bay. He was assigned to the frigate President under Stephen Decatur, was captured by the British, and kept a prisoner of war at Bermuda until peace was established.
He served under Decatur in the Algerian war in 1815, and received from him a Turkish sabre for his bravery in the capture of an Algerian frigate.
After serving on the Guerriere, the Columbus, the Franklin, and the Washington, he took command of an East Indian merchantman.
In 1825 he was promoted lieutenant, and in 1844 commander.
In 1855, while lying of the Mosquito coast of Nicaragua, the American residents of Greytown appealed to him for protection from the local authorities, by whom they alleged they had been injured. Hollins accordingly bombarded the city as a punishment to the authorities, and the property and lives of the English residents being imperilled, they declared he had encroached on British domain, as Nicaragua was under the protection of that government. In consequence of his precipitate conduct, serious difficulties were apprehended between England and the United States.
In 1861 he resigned his commission to join the Confederate navy, but the war department refused to accept it, struck his name from the rolls, and ordered his arrest. He eluded the authorities, went to the south, and was commissioned commodore in the Confederate navy.
In October, 1861, he attacked the National blockading squadron at the passes of the Mississippi, and was appointed flag-captain of the New Orleans station for what was claimed as an important victory.
In 1862 he was superseded by Commander William C. Whipple.
After the war he became a crier in the city court of Baltimore.