Ambrose Powell Hill (1825-1863)
Ambrose Powell Hill (November 9, 1825 - April 2, 1865), was a Confederate States of America general in the American Civil War.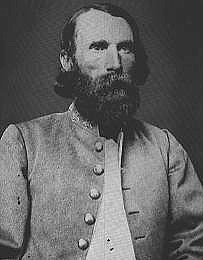 Ambrose Powell Hill, Jr.—A. P. in the records and annals of the Army of Northern Virginia, Powell to family and friends, Little Powell to his soldiers—was born on the morning of November 9, 1825 outside of the town of Culpeper, in central Virginia.
He entered the United States Military Academy at West Point in the summer of 1842 as a member of the famed class of 1846, but an embarrassing illness contracted on summer furlough resulted in Hill being sent home to recover his health in his junior year. Returning, he graduated 15th in the class of 1847 and was posted to the 1st U.S. Artillery. Sent to Mexico, he saw little action since the war with Mexico had already drawn to a conclusion, unlike most of his former classmates in the Class of '46. He served Seminole Wars in Florida, was promoted to first lieutenant in September 1851, and in 1855-1860 was employed on the United States' coast survey.
A. P. Hill loved three women. The first, Emma Wilson, a beautiful brunette of Baltimore, was a schoolmate of his sister Lucy at Potapsco Female Seminary, Ellicott City, Md. He met her soon after his graduation from West Point, became engaged to her, but never married her for a reason that cannot be determined. In Washington, between 1856 and 1857, he met charming Ellen Mary Marcy, blonde, blue-eyed daughter of Major Randolph B. Marcy, explorer of the famous Red River, Federal chief-of-staff in the first years of the war. He became engaged to her, although the exact date is not known; but her father strenuously objected for two reasons: Hill was a Southerner, born of slave-holding people, and on that Red River expedition he was accompained by a young army lieutenant he liked very much, George B. McClellan. Tearfully, Ellen Mary, after much pressure from her parent, returned Hill's diamond ring, told him it was the end, and married Lieutenant McClellan on May 22, 1860. In 1857 two charming sisters from Lexington, Ky., went to Washington for a visit and stopped at the old Willard Hotel. One was Mrs. Kitty Morgan McClung, widow of her cousin, Calvin McClung, of Knoxville. The other was Henrietta Morgan. Both were sisters of the famous General John H. Morgan of Kentucky. Henrietta afterward married General Basil W. Duke, one of Morgan's captains. Hill met the young widow at a party given by a friend, Dr. Wood of Washington. A mutual attraction resulted. On July 18, 1859, Hill and Kitty Morgan McClung were married in the home of her mother in the outskirts of Lexington, Ky. Kitty Hill was petite, vivacious, blue-eyes, stylish, possessed luxuriant light brown hair that fell to her waist, and sang like a bird. Her old Negro mammy nicknamed her "Dolly" because when she was a child "she looked lak a doll," and Hill always called her that. She was nine years his junior, jealous and sensitive about his previous love affairs. Four children were born to the couple, all girls: Henrietta, in Washington in 1860, died during the war; Frances Russell (1861-1917); Lucy Lee (1863-1931); A. P. Hill (1865-1871).
In March 1861, just before the outbreak of the Civil War, Powell resigned his U.S. Army commission, and when Virginia seceded he was made colonel and given command of the 13th Virginia, winning promotion to the rank of brigadier general on the field of Bull Run.
His Civil War services included: colonel, 13th Virginia (spring 1861); brigadier general, CSA (February 26, 1862); commanding brigade, Longstreet's Division, Department of Northern Virginia (ca. February 26 - May 27, 1862); major general, CSA (May 26, 1862); commanding Light Division (in lst Corps from June 29 and 2nd Corps from July 27, 1862), Army of Northern Virginia (May 27, 1862 - May 2, 1863); commanding 2nd Corps, Army of Northern Virginia (May 2 and 6-30, 1863); lieutenant general, CSA (May 24, 1863); and commanding 3rd Corps, Army of Northern Virginia (May 30, 1863-May 7, 1864 and May 21, 1864-April 2, 1865).
In the Peninsula Campaign of 1862 he gained further promotion, commissioned brigadier-general February 26, 1862 (acquired especial distinction at the battle of Williamsburg) and promoted to the rank of major-general May 26, 1862. Hill was one of the most prominent and successful divisional commanders of Robert E. Lee's Army of Northern Virginia, earning a reputation for great bravery, skill, and aggressiveness while leading what became known as the Light Division. Hill's Light Division (which was actually one of the largest in the army) distinguished itself in the Seven Days Battles, Cedar Mountain, Second Bull Run, Antietam, and Fredericksburg. He launched powerful counterattacks at the right moment at both Antietam and Fredericksburg. His division formed part of Stonewall Jackson's corps and at Chancellorsville in May 1863 he was on Jackson's famed march around the Union right flank. When Jackson was wounded, Hill took command of the corps but was wounded carrying out his chief's orders to "press right in."
After Jackson's death, Hill was promoted to lieutenant general and placed in command of the Third Corps of Lee's army, which he led in the Gettysburg campaign of 1863 where, suffering from a now unidentifiable illness, he put in a lackluster performance.
He was responsible for the disaster at Bristoe Station (October 14, 1863) and, again ill, was virtually circumvented at the Wilderness when Lee in effect took over command of the corps. He relinquished command temporarily after the battle and missed Spotsylvania but returned for the North Anna and Cold Harbor.
Taking part in the siege of Petersburg, he was again ill during part of the winter of 1864-65. He once said he had no desire to live to see the collapse of the Confederacy.
During the siege of Petersburg, General Hill was able to spend time with his family and infant daughter in Richmond. His health improved somewhat and he was in "good spirits" as he left home to join his troops in 1865. Union attacks in March and early April, 1865 were pushing back portions of the Confederate line near Petersburg. On April 2, a break through occurred in a portion of General Hill's line. As he rode with an aide to the sight, he was confronted by a small group of Union soldiers. Not willing to turn and run, General Hill pulled his pistol and rode toward the group when he was shot by one of the Northern soldiers. Lee said, "He is at rest . . . and we who are left are the ones to suffer".
Hill did not escape controversy during the war. He suffered from frequent illnesses that reduced his effectiveness at Gettysburg, the Wilderness, and Spotsylvania Court House. (Some historians believe he suffered from complications of veneral disease contracted as a West Point cadet.) At Gettysburg, his actions precipitating the battle on July 1, 1863, before Lee's full army was concentrated have been widely criticized.
Nevertheless, Hill was one of the war's most highly regarded generals on either side. He had a reputation for arriving on battlefields (such as Antietam, Cedar Mountain, and Second Bull Run) just in time to prove decisive and achieve victory. On their death beds, both Lee and Jackson deliriously called for A. P. Hill to "bring up his troops." General Lee considered him next to Jackson and Longstreet amongst his lieutenants and paid him the compliment of, "He fights his troops well and takes care of them." He was perhaps the War's finest division commander.
A statue, raised by the survivors of his famous Light Division, to him now stands over his grave in Richmond. Fort A. P. Hill, named after Hill, is located in Virginia, about half-way between Washington, D.C., and Richmond.