William B. Hazen (1830-1887)
William B. Hazen was born on September 27, 1830, at West Hartford, Vermont. In 1833, the Hazen family moved to Huron, Ohio, where they became farmers. The patriarch of the family emphasized education, and all of his children were educated in Ohio's common schools. In Ohio Hazen formed a close friendship with James A. Garfield.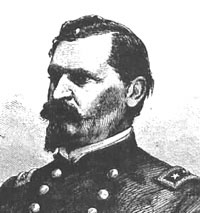 In 1851, William Hazen received an appointment to the United States Military Academy at West Point. He graduated in 1855 (28th in a class of 34) with the brevet of Second Lieutenant of Infantry. Hazen was assigned to a unit serving in California spent the next six years, before the American Civil War's outbreak, waging war against Native Americans in Oregon, Texas, and New Mexico. He attained the rank of captain for his bravery and astute leadership in these conflicts.
Hazen was transferred to the Texas frontier in 1858. On July 4 he led a punitive and exploring expedition from Fort Davis, Jeff Davis County, against the Mescalero Apaches in the Guadalupe Mountains. In 1859 he led two expeditions from Fort Inge, the first on September 29 and the second on October 30. Hazen was wounded during the latter campaign, but he stayed in command of his men until the Indians had been defeated.
In February 1861, Hazen received an appointment as assistant professor of infantry tactics at West Point. As soon as fighting broke out between the North and the South, he requested to be reassigned to a field command, but military officials repeatedly refused him.
In September 1861, Hazen received a leave of absence from the regular military and in October he accepted a commission from his home state of Ohio to serve as colonel of the 41st Ohio Volunteer Infantry Regiment. Hazen's men protected Ohio's southeastern border. In November 1861, Hazen was dispatched to Louisville, Kentucky, to join Don Carlos Buell's Army of the Ohio.
During 1862, Hazen had numerous opportunities to prove himself on the battlefield, participating in the Battles of Nashville, Shiloh, Perrysville, and Stone's River. For his bravery at Stone's River, Hazen was promoted to the rank of brigadier-general.
In 1863, Hazen operated in Tennessee, trying to drive Confederate forces from the state. He participated in the Battle of Chickamauga, where his soldiers covered the Northern retreat from the battlefield. Hazen and his command were also responsible for opening a supply line to Chattanooga, allowing fresh soldiers and supplies to reach the men defeated at the Battle of Chickamauga and setting the stage for the Battle of Chattanooga.
Following the Battle of Chattanooga, Hazen's command sought to drive Confederate soldiers from eastern Tennessee. In 1864, Hazen's men participated in William T. Sherman's Atlanta Campaign and the March to the Sea. In 1865, Hazen accompanied Sherman on his march through the Carolinas. He attained the rank of major general by the war's conclusion.
In August 1864, Hazen took command of 2nd Division of XV Corps and in May 1865, he led the Corps in the grand review in Washington, DC.
By end of war had received all brevets through Major General in the Regular service and in July 1866, was appointed Colonel of the 38th United States Infantry, transferring to the 6th United States Infantry in 1869.
He put in years of duty on the Western frontier, visited Europe as observer with German armies during the Franco-Prussian War, became involved in post trader dispute, testifying to extravagance and corruption which marked the system, which resulted in resignation of Grant's Secretary of War, William W. Belknap. In 1880, Rutherford B. Hayes appointed him Chief Signal Officer with the staff rank of Brigadier General, a post he held until his death.
Because of his Signal Corps management of the Weather Bureau, A. W. Greely's Arctic Expedition of 1881 came under his command and he was bitterly critical of the supines of the Secretary of War Robert Todd Lincoln in failing to authorize relief for the expedition. His censure earned him a general court headed by Gen W. S. Hancock which resulted in his being reprimanded by President Cleveland for "unwarranted and captious criticism" of his superior, a meaningless chastisement since experts were agreed that he was right. When rescued in 1884, only 7 of party's 25 members were alive.
He wrote School and Army of France and Germany (1870) and Barren Lands of the Interior of the United States (1874).
Hazen died in Washington, D.C., January 16, 1887, and was buried with full military honors in Arlington National Cemetery (Section 1, Grave 15).