Robert Hopkins Hatton (1826-1862)
Robert Hatton was born on November 21, 1826, in Steubenville near Youngstown, Jefferson County, Ohio, but soon came to Tennessee with his family. He attended the common schools and later moved to Lebanon to attend Cumberland University, where he earned a baccalaureate degree in 1847. He tutored at Cumberland in 1847 and 1848 then attended law school there in 1848 and 1849. He was the headmaster at the Woodland Academy in Sumner County in 1849 and 1850 before being admitted to the Tennessee bar and establishing a law practice in Lebanon. In 1854 he was named a trustee of Cumberland University, a position he held until his death.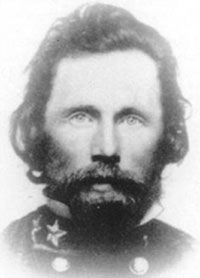 Hatton was elected to the Tennessee House of Representatives in 1855 and served until 1857. In 1857 he ran unsuccessfully for governor of Tennessee. In 1858 he was elected as a Know-Nothing to represent Tennessee's 5th district in the US House of Representatives. He served in the 36th Congress from March 4, 1859 until March 3, 1861, where he was chairman of the Committee on Expenditures in the Department of the Navy.
Although Hatton originally believed the Union should be preserved, after the war erupted and Abraham Lincoln called for volunteers to invade the South, Hatton reversed his position and decided to help defend his adopted state. He helped organize the Lebanon Blues which became part of the 7th Tennessee Volunteer infantry regiment. During training at Camp Trousdale in Sumner County, Hatton was elected colonel of the regiment on May 26, 1861. The 7th headed for Virginia in July 1861 and saw its first action at Cheat Mountain in western Virginia.
Hatton formed a military unit, the Lebanon Blues, and during training at Camp Trousdale in Sumner County, he was elected Colonel of the 7th Tennessee Infantry Regiment, CSA. The unit was sent to Virginia in July 1861, where it operated in the western part of the state. In 1862 they were ordered to the Richmond area to stop Federal General McClellan's drive on the Confederate capital.
In 1862 the regiment was called to Richmond to help stop George B. McClellan's drive on the Confederate capital. Hatton was promoted to brigadier general on 23 May 1862 and assigned to command the 1st Brigade of Gustavus W. Smith's Division in the I Corps of the Confederate Army of Virginia. While leading his Tennessee brigade at Seven Pines (Fair Oaks) on May 31, 1862, Hatton was killed.
The body of the 36 year old general was sent back to Tennessee for burial, but because Federal forces controlled the middle part of Tennessee, he was temporarily buried in Knoxville. On March 23, 1866, he was buried in Lebanon's Cedar Grove Cemetery.