William J. Hardee (1815-1873)
William J. Hardee's 1856 textbook, Rifle and Light Infantry Tactics, was required reading for officers in both the Union and Confederate armies. Achieving the rank of lieutenant general in the Confederate army, Hardee was renowned for his understanding of tactical maneuvers in battle.
Early Life and Military Experience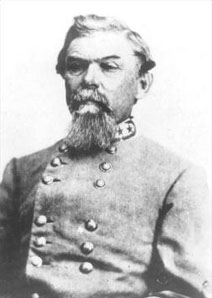 William Joseph Hardee was born at Rural Felicity in Camden County on October 12, 1815, the youngest of seven children of Sarah Ellis and Major John Hardee.
He entered the U.S. Military Academy at West Point, New York, in 1834, graduated in 1838 (26th out of 45), and accepted a commission in the army. He served in the 2d Dragoons in the Second Seminole War (1835-42), during which he was stricken with illness. During his hospitalization, he met and married Elizabeth Dummett.
Hardee was promoted to 1st lieutenant, December 3, 1839, and sent by the secretary of war to the celebrated military school of St. Maur, France, for a year to study military tactics. While there he was attached to the cavalry department of the French army.
He was at the Cavalry School of Practice, Carlisle, Pa., 1840-1842, in garrison at Baton Rouge, La., 1842-1843, and on Frontier Duty at Ft. Jesup, La, 1843- 1845. He was promoted to Captain, 2nd Dragoons, September 13, 1844.
Hardee was in the Military Occupation of Texas, 1845-1846, and then participated in the invasion of Mexico during the Mexican War (1846-48), accompaning General Taylor in 1846 across the Rio Grande. His company was the first to engage the enemy at Curricitos, where he was overwhelmed by superior numbers and made prisoner (April 25, 1846). He was exchanged on May 10, and took part in the siege of Monterey (March 9-29, 1847). He rode under General Zachary Taylor, and was promoted to major for gallantry on March 25, 1847 at the Skirmish at Medellin near Vera Cruz. He was thereafter engaged in the Skirmish at La Hoya (June 20, 1847), the Battle of Contreras (August 19, 1847), and the Skirmish at San Agustin (August 20, 1847). He was breveted to Lieutenant Colonel, August 20, 1847, for gallant and meritorious conduct in the Affair with the Enemy at San Agustin, Mexico. He was in the Battle of Molino del Rey (September 8, 1847) and Operations before and Capture of the City of Mexico (September 13-14, 1847).
Following the Mexican War, Hardee was on Recruiting Service, 1848; at the Cavalry School for Practice, Carlisle, Pa., 1848; on Frontier Duty, on the March from Ft. Brown to Laredo and San Antonio, Texas, 1848-1849; Ft. Inge, Texas, 1849-1851; March to San Saba, 1851; and San Antonio, Texas, 1851. He was on a leave of absence, 1852-1853; in paying troops in Florida, 1853; on Frontier Duty at Ft. Graham, Texas, 1853.
Following his wife's death in 1853, Hardee busied himself in compiling (1854-185) Rifle and Light Infantry Tactics (1856) on instructions from the war department to prepare a system of tactics for the use of infantry. The work, eclectic rather than original, was chiefly a translation by Lieutenant Benet, Ordnance Corps, U. S. Army, from French sources. It was adopted by the revising board March 29, 1855 for use of the Army and Militia of the United States.
Hardee was breveted to Major, 2nd Cavalry, March 3, 1855, in which he served under Colonel Albert Sidney Johnston and Lt. Colonel Robert E. Lee.
He served in garrison at Jefferson Barracks, Mo, 1855; on Frontier Duty at Camp Cooper, Texas, 1856; and at Ft. Mason, Texas, 1856.
Hardee was then ordered to West Point (1856-1860) as commandant of cadets, with the local rank of lieutenant-colonel from June 12, 1858. He was also Instructor of Infantry Tactics, July 22, 1856-September 8, 1860, and of Artillery and Cavalry Tactics, August 8, 1860-September 8, 1860. He was promoted to Lieutenant Colonel, 1st Cavalry, June 28, 1860.
He was on leave of absence, 1860-1861.
Civil War
When Georgia seceded from the Union in 1861, Hardee resigned his commission and accepted the rank of colonel in the new Confederate army. Aware of the considerable supply and training problems his troops faced, Hardee surrounded himself with the best staff and commanders he could find. He trained his soldiers thoroughly, and their success in battles earned him the nickname "Old Reliable."
Joining the Confederacy, his assignments included: colonel, Cavalry (March 16, 1861); brigadier general, CSA (June 16, 1861); commanding Upper District of Arkansas, Department #2 July 22 - October 1861); major general, CSA (October 7, 1861); commanding lst Division, Central Army of Kentucky, Department #2 (October 28 - December 5, December 18 - December 1861, and February 23 - March 29, 1862); commanding the army (December 5-18, 1861 and December 1861-February 23, 1862); commanding 3rd Corps, Army of the Mississippi (March 29 - July 5, 1862); commanding the army July 5 - August 15, 1862); commanding Left Wing, Army of the Mississippi (August 15-November 20, 1862); lieutenant general, CSA (October 10, 1862); commanding 2nd Corps, Army of Tennessee (November 20, 1862 - July 14, 1863); commanding Army of the Department of Mississippi and East Louisiana July 14-November 1863); commanding lst (Polk's old) Corps, Army of Tennessee (November - December 2, 1863, December 22 - January 1864, early 1864 - August 31, and September 2 - October 5, 1864); commanding the army (December 2-22, 1863); commanding his own and Lee's corps, Army of Tennessee (August 31 - September 2, 1864); commanding Department of South Carolina, Georgia and Florida (October 5, 1864 - February 16, 1865); commanding Hardee's Corps, cooperating with Joseph E. Johnston's forces (February 16-April 9, 1865); and commanding corps, Army of Tennessee (April 9-26, 1865).
Hardee was quickly promoted to brigadier general (June 17, 1861) and sent to Arkansas under General Polk. He was soon afterward transferred to Kentucky, where he gained a victory over a small National force at Mumfordsville, on December 17, 1861.
At Shiloh, Hardee's corps, the 3d, formed the first Confederate line, and made the first attack, in which Hardee was wounded. He distinguished himself very greatly by his tactical leadership on the field of Shiloh. He led his corps during the defense of Corinth, Mississippi.
Promoted to major general, he was given a corps command in Kentucky and, after leading the Army of Mississippi into Kentucky under Bragg, he commanded the left wing at Perryville, October 8, 1862.
Hardee, now promoted to lieutenant-general in October 1862, saw his greatest strategic success in Tennessee at the Battle of Murfreesboro, December 1862. The battle ended in a stalemate, however, with some 23,000 killed on both sides.
Through the course of 1863 Hardee wooed Mary Foreman Lewis, an Alabama plantation owner, and in January 1864 they were married.
After the fall of Vicksburg in July 1863, Hardee had charge of a camp of paroled prisoners in Alabama.
Later in 1863 he was put in command of the 2d corps under Bragg, Hardee learned that he did not like Bragg or his strategies, and he and others challenged Bragg's leadership. In order to get away from the despised army commander, Bragg, he took an assignment in Mississippi under Joseph E. Johnston but after taking part in the minor operations there was recalled to the Army of Tennessee to take over Leonidas Polk's corps at Chattanooga and during the Atlanta Campaign. After another harsh defeat near Chattanooga, Tennessee, Bragg resigned, and Hardee was temporarily appointed his successor.
In 1864 and 1865 Hardee's troops fought in major battles as Georgia land was steadily taken by the Union. He requested a transfer after John B. Hood replaced Joseph E. Johnston as commander of the Confederate Army of Tennessee in July 1864 and was sent to command the Departement of South Carolina, Georgia and Florida.
He opposed William T. Sherman's march through Georgia and South Carolina. He took part in the Battle of Bentonville, N.C. (a last ditch effort in stopping Sherman marching towards Ulysses S. Grant in Virginia) in March 1865 where his only son was killed in a cavalry charge.
In the final reorganization and consolidation of the Army of Tennessee he retained corps command. His new corps comprised two divisions of Army of Tennessee men who had previously served under him and one from the Department of North Carolina. This force he surrendered along with Johnston's command at Durham Station, North Carolina, on April 26, 1865.
Post-Bellum
After the war Hardee and his wife and family settled on her plantation. After getting the plantation back to working condition, the family moved to Selma, Alabama, where Hardee worked in the warehouse and insurance businesses. He eventually became president of the Selma and Meridian Railroad.
He fell ill at the family's summer retreat at White Sulfur Springs, West Virginia, and he died in Wytheville, Virginia, November 6, 1873.