George Sears Greene (1801-1899)
George Sears Greene (May 6, 1801 - January 28, 1899) was a civil engineer and a Union general during the American Civil War. Greene was part of the Greene family of Rhode Island, which had a distinguished military record for the United States.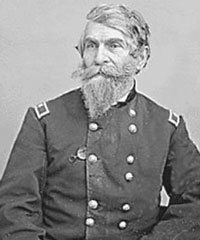 Early life
Greene was born in Apponaug, Rhode Island, the grandson of Revolutionary War general Nathaniel Greene, and the son of a ship owner who was financially ruined by the War of 1812. Greene hoped to attend Brown University, but his impoverished father could not afford it, so he moved to New York City and found work in a dry goods store.
At age 18, he obtained an appointment to the U.S. Military Academy and graduated second in the class of 1823. That summer he married Elizabeth Vinton, sister of a classmate. He served in the artillery, as an instructor at West Point, and in garrison duty.
While assigned to an Army post in Maine in 1833, tragedy struck: Greene's wife and all three of their children died within a seven-month period. He immersed himself in study of both the law and medicine, coming close to professional certification in both by the time he resigned his commission in 1836 to become a civil engineer.
He built railroads in six states and designed municipal sewage and water systems for Washington, D.C., Detroit, and several other cities. In New York City, he designed the Central Park Croton reservoir and the enlarged High Bridge over the Harlem River. He married Martha Barrett Dana in New York and they had six children together.
Civil War
The Union defeat at the First Battle of Bull Run inspired Greene to return to Army service. He was appointed colonel of the 60th New York Infantry regiment in January, 1862. A few months later he was appointed brigadier general of volunteers and served under General Nathaniel Banks in the Shenandoah Valley campaign of 1862, but saw no combat there.
At age 61, Greene was one of the oldest generals in the Union army and his troops took to calling him "Old Man" or "Pop" Greene. However, his age did not keep him from being one of the most aggressive commanders in the army. He commanded the 3rd Brigade, 2nd Division, XII Corps at the Battle of Cedar Mountain.
Greene was temporarily elevated to command of his division at the Battle of Antietam. Even though the XII Corps commander Joseph K. Mansfield was killed shortly after the fighting began, Greene led a crushing counterattack against the Confederates near the Dunker Church, achieving the farthest penetration of Thomas J. "Stonewall" Jackson's lines than any Union brigade.
At the Battle of Chancellorsville he resumed command of the 3rd Brigade, but once again assumed temporary command of the division when its commander, John W. Geary, was wounded.
Gettysburg
The Battle of Gettysburg was the highlight of Greene's military career. On July 2, 1863, General George G. Meade shifted almost the entire XII Corps from the Union right to strengthen the left flank, which was under heavy attack. Greene's lone brigade was left to defend Culp's Hill when an entire Confederate division attacked. Fortunately, Greene had previously demonstrated good sense (as befits a civil engineer) by insisting that his troops construct strong field fortifications, despite a lack of interest from his division commander, Geary, and corps commander, Henry W. Slocum. In Greene's finest moment of the war, his preparations proved decisive and his brigade held off multiple attacks for hours. Late at night the rest of the XII Corps returned to Culp's Hill. Greene's contribution to this critical battle have never been widely heralded, principally because of a dispute between Meade and Slocum over the filing of their official reports. But a member of Greene's brigade wrote:
Had the breastworks not been built, and had there only been the thin line of our unprotected brigade, that line must have been swept away like leaves before the wind, by the oncoming of so heavy a mass of troops, and the Baltimore Pike would have been reached by the enemy.
Western Theater
In the fall of 1863 the XII Corps was transferred to the west to reinforce the Union forces besieged at Chattanooga. At the Battle of Wauhatchie, Greene was wounded in the face, with his jaw crushed and teeth carried away; his days of field command were virtually ended.
At the very end of the war Greene was in command of the 3rd Brigade, 2nd Division, XX Corps in North Carolina, but did not see any action.
Postbellum career
After the war, Greene returned to civil engineering in New York and Washington, D.C.. At the age of 86, he inspected the entire 30-mile Croton Aqueduct structure on foot.
He served as president of the American Society of Civil Engineers from 1875 to 1877 and president of the New York Genealogical and Biographical Society.
He was appointed to West Point's Board of Visitors in 1881.
Greene died at age 98 in Morristown, New Jersey, and was buried in the Greene family cemetery in Warwick, Rhode Island, with a two-ton boulder from Culp's Hill placed above his grave. He is memorialized with a statue erected in 1906 by the State of New York on Culp's Hill in Gettysburg National Military Park.
Greene's oldest son, Lieutenant Samuel Dana Greene, was the executive officer on the ironclad ship USS Monitor during the famous Battle of Hampton Roads. Another of his sons, Francis V. Greene, commanded a brigade at the Battle of Manila during the Spanish-American War. A third, Charles Thurston Greene, was a lieutenant on his father's staff at Culp's Hill. Later in 1863, Charles was wounded by an artillery shell and his leg was amputated, but he remained on active service until 1870.
A description of George Sears Greene from Lt. George K. Collins of the 149th New York Infantry sums up the general: "He was a West Point graduate, about 60 years old, thick set, five feet ten inches high, dark complexioned, iron gray hair, full gray beard and mustache, gruff in manner and stern in appearance, but with all an excellent officer and under a rough exterior possessing a kind heart. In the end the men learned to love and respect him as much as in the beginning they feared him, and this was saying a good deal on the subject. He knew how to drill, how to command, and in the hour of peril how to care for his command, and the men respected him accordingly."