Daniel Chevilette Govan (1829-1911)
Daniel Chevilette Govan (1829-1911) was a brigadier general in the Confederate States Army during the American Civil War.
Daniel Chevilette Govan was born on 4 July 1829 in Northampton County, North Carolina. His family moved to Mississippi where he was raised. Govan attended the South Carolina College.
Govan moved to California during the gold rush along with his cousin Benjamin McCulloch who, along with his brother Henry Eustace McCulloch, would also become a Confederate general.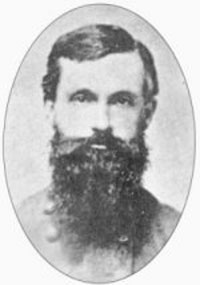 In 1852 Govan returned to Mississippi and remained there until 1861 when he moved to Helena, Arkansas and became a planter.
At the outbreak of the Civil War he entered Confederate service and received a commission as Colonel of the 2nd Arkansas Infantry Regiment. Govan and his regiment participated in the Battle of Shiloh.
After Shiloh his regiment took part in Edmund Kirby Smith's Kentucky campaign and fought at the Battle of Perryville and at one point commanded the brigade.
Govan became a brigade commander and fought at the Battle of Chickamauga, the Battle of Missionary Ridge, and played a prominent role at the Battle of Ringgold Gap.
On 29 December 1863 Govan is commissioned a Brigadier General with his command consisting of the 5th, 6th, 7th, and 8th Arkansas Infantry Regiments. His brigade participated in the Atlanta Campaign and received particular mention for his conduct at the Battle of Pickett's Mill. General Govan was captured after a fierce battle at the Battle of Jonesboro but was soon exchanged by Union forces. Govan served the remainder of the war with the Army of Tennessee.
Govan died on 12 March 1911. He is buried at Hill Crest Cemetery in Holly Springs, Mississippi.