Daniel Wheelwright Gooch (1820-1891)
Daniel Wheelwright Gooch, a Representative from Massachusetts, was born in Wells, York County, Maine, on January 8, 1820. He attended the public schools and Phillips Academy, Andover, Mass., and graduated from Dartmouth College, Hanover, N.H., in 1843. He studied law, was admitted to the bar and commenced practice in Boston in 1846.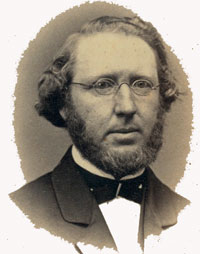 Gooch was a member of the Massachusetts house of representatives in 1852 and a member of the State constitutional convention in 1853.
Gooch was elected as a Republican to the 35th Congress to fill the vacancy caused by the resignation of Nathaniel P. Banks and reelected to the four succeeding Congresses serving from January 31, 1858, to September 1, 1865 when he resigned.
He was appointed Navy agent of the port of Boston in 1865 and was removed by President Johnson in 1866.
He was again elected to the 43rd Congress (March 4, 1873-March 3, 1875) and was an unsuccessful candidate for reelection in 1874 to the 44th Congress.
He served as pension agent in Boston 1876-1886, then resumed the practice of law and also engaged in literary pursuits.
He died in Melrose, Mass., November 11, 1891 and is buried in Wyoming Cemetery.