John White Geary (1819-1873)
John White Geary (December 30, 1819 - February 8, 1873) was a lawyer, politician (mayor of San Francisco, governor of the Kansas Territory, and governor of Pennsylvania), and Union general in the American Civil War.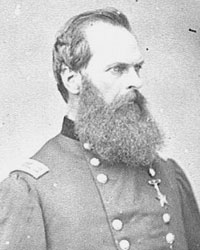 Early years
Geary was born in Mount Pleasant, Pennsylvania, near Pittsburgh, the son of Richard Geary, an ironmaster and schoolmaster, and Margaret White, a native of Maryland. Starting at the age of 14, he attended Jefferson College in Canonsburg, Pennsylvania, studying civil engineering and law, but was forced to leave before graduation due to the death of his father, whose debts he assumed. He worked at a variety of jobs, including as a surveyor and land speculator in Kentucky, earning enough to return to college and graduate in 1841. He worked as a construction engineer for the Allegheny Portage Railroad. In 1843, he married Margaret Ann Logan, with whom he had several sons, but she died in 1853. Geary remarried the widowed Mary Church Henderson in 1858 in Carlisle, Pennsylvania.
Geary was active in the state militia as a teenager and when the Mexican War started, he enlisted in a Pennsylvania volunteer regiment. He led the regiment heroically at Chapultepec, and was wounded five times in the process. (He an excellent target for enemy fire: a huge man for that era, he stood six feet six inches tall, 260 pounds (118 kg) and solidly built. He was wounded at least ten times in his military career.) His exploits earned him the rank of colonel and he returned home a war hero.
Moving west, Geary was appointed postmaster of San Francisco by President Polk, and in 1850, became the city's first mayor. (He was first the Alcalde under Spanish rule and then the American mayor of the city.) He had to return to Pennsylvania after a year because of his wife's failing health. After her death, President Franklin Pierce wanted to appoint him governor of the Utah Territory, but Geary demurred. In 1856, he became governor of the Kansas Territory, soon to be known as "Bleeding Kansas". Geary was unable to stop the bloodshed there, and stayed in Kansas less than a year, again returning to Pennsylvania to farm. Prior to serving in Kansas, Geary was a Democrat, but afterwards he became an enthusiastic Republican and active abolitionist.
Civil War
At the start of the Civil War, Geary raised the 147th and 28th Pennsylvania Infantry regiments and became colonel of the latter. Commanding the district of the upper Potomac River, he was wounded and captured near Leesburg, Virginia, on March 8, 1862, but was immediately exchanged and returned to duty. He was promoted to brigadier general and the command of a brigade in Nathaniel Banks's corps, which he led in the Shenandoah Valley against Thomas J. "Stonewall" Jackson. His brigade joined John Pope's Army of Virginia in late June. He led it at the Battle of Cedar Mountain on August 9, 1862, where he was seriously wounded in the arm and leg. He returned to duty on October 15 as the division commander; the corps was now part of the Army of the Potomac, designated the XII Corps, under the command of Major General Henry W. Slocum.
Geary's division was heavily engaged at Chancellorsville, where he was knocked unconscious as a cannonball shot past his head on May 3, 1863. (Some accounts state that he was hit in the chest with a cannonball, which seems unlikely.)
At the Battle of Gettysburg, Slocum's corps arrived after the first day's (July 1, 1863) fighting subsided and took up a defensive position on Culp's Hill, the extreme right wing of the Union line. On the second day, heavy fighting on the Union left demanded reinforcements and Geary was ordered to leave a single brigade, under George S. Greene, on Culp's Hill and follow another division, which was just departing. Geary lost track of the division he was supposed to follow south on the Baltimore Pike and inexplicably marched completely off the battlefield, eventually reaching Rock Creek. His two brigades finally returned to Culp's Hill by 9:00 p.m. that night, arriving in the midst of a fierce fire fight between a Confederate division and Greene's lone brigade. This embarrassing incident might have damaged his reputation except for two factors: the part of the battle he was supposed to march to join had ended, so he wasn't really needed; and, because of a dispute between army commander George G. Meade and Slocum over the filing of their official reports, little public notice ensued.
The XII Corps was transferred west to join the besieged Union army at Chattanooga. Geary's son Edward died in his arms at the Battle of Wauhatchie, enraging him sufficiently to prevail in a battle in which his division was greatly outnumbered. He distinguished himself in command during the Battle of Lookout Mountain, the entire Atlanta Campaign, Sherman's March to the Sea, and through the Carolinas. He oversaw the surrender of Savannah, Georgia, and briefly served as the city's military governor, where he was brevetted to major general.
Governor of Pennsylvania
After the war, Geary served two terms as the Republican governor of Pennsylvania, from 1867 to 1873. He established a reputation as a political independent, attacking the political influence of the railroads and vetoing many special interest bills.
On February 8, 1873, less than three weeks after leaving the governor's post, Geary was fatally stricken with a heart attack while preparing breakfast for his infant son in Harrisburg, Pennsylvania. He was buried there with state honors in Mount Kalma Cemetery.
In memoriam
Geary County, Kansas, is named in honor of John W. Geary (at the insistence of its citizens, instead of the proposed name honoring Confederate President Jefferson Davis), as is Geary Boulevard in San Francisco, a major artery in that city, and Geary Hall, an undergraduate dorm building in East Halls at Pennsylvania State University.