Samuel Garland (1830-1862)
Brigadier-General Samuel Garland was born at Lynchburg, Va., December 16, 1830, of an old Virginia family, his great-grandmother having been a sister of President Madison. His father, Samuel Garland, Sr., a well-known lawyer, died when his son was five years old.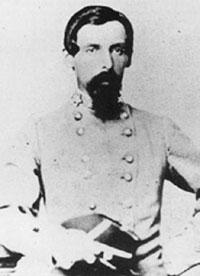 Garland entered a classical school at the age of seven years, and graduated from the Virginia Military Institute on July 4, 1849, standing 3rd in a class of 24. At VMI he was the founder and president of the first literary society of that institution.
In 1851 he graduated in law from the University of Virginia, and he at once entered upon the practice of the profession at Lynchburg. His career during the period before the war was one of worthy prominence, and he became widely esteemed as a skillful lawyer and polished gentleman. He was in practice with his father, and an instructor in constitutional law at Lynchburg College before the War.
He married Elizabeth Campbell Meem in 1856. She died on June 12, 1861, Their only child, Samuel, died in August 1861.
In 1859, after the affair at Harper's Ferry, he organized the Lynchburg Home Guard, of which he was the first captain. He was not by inclination a military man, entering the service both in 1859 and 1861 as a matter of duty; but when enlisted Davis wrote, in exemplification of the "highest quality of man, self-sacrifice for others."
He was Colonel, 11th Virginia Infantry Regiment, and led his regiment 1st Manassas. He was wounded at Williamsburg in 1862 but did not leave field. Promoted to Brigadier General in May 1862, and commanded Garland's Brigade of D. H. Hill's Division at Seven Pines, the Seven Days, and in the Second Manassas campaign.
He was killed while leading his Brigade in the defense of Fox's Gap on South Mountain on 14 September 1862. He was mortally wounded on Sept 14, 1862, at South Mountain. His body, kindly cared for by General McClellan, was subsequently transferred with tokens of respect to the hands of his friends.
He is buried Lynchburg, Va. A monument to him was dedicated at Fox's Gap, Maryland on September 11, 1993.