John G. Foster (1823-1874)
John G. Foster (1823-1874) was born at Whitefield, New Hampshire. He attended school in Nashua, then studied at the Hancock (NH) academy. He "prepped" for admission to West Point, at Crosby's Nashua Literary Institute. He was appointed to West Point by U.S. Representative Charles G. Atherton, and graduated fourth in the class of 1847.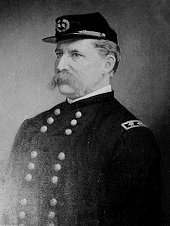 After graduation Foster was breveted a Second Lieutenant of Engineers and assigned to Washington, D.C. A few months later the War With Mexico began. Foster was attached to a company of sappers, miners, and pontoon builders in Mexico, 1847-1848. He was part of the siege of Vera Cruz and other engagements, and in September 1847 at Molino del Ray. Sent home to recuperate, Foster returned and was breveted a first lieutenant and then captain, for brave and meritorious conduct.
At the conclusion of the Mexican War, Foster was assigned as an engineer to work on coastal fortifications, and he worked in the coastal survey office at Washington, D.C. as well. From 1855 to 1857 he served as assistant to the professor of engineering at West Point; then, in 1858 he worked on building Fort Sumter in Charleston (SC) harbor. On July 1, 1860 Foster was commissioned as a full captain of engineers, after fourteen years' service. During 1861 he was in command of strengthening the fortifications at Charleston harbor in anticipation of war. Foster was in command when the garrison at Fort Moultrie was transferred to Fort Sumter, and he was second in command when Sumter was bombarded. Foster was present when the fort surrendered and was evacuated (April 12-14, 1861); he was breveted major for his gallantry.
After the surrender at Fort Sumter, Foster worked on northern coastal fortifications. He was appointed brigadier general of volunteers (October 23, 1861); the State House portrait is after a photograph taken at about this time.
As a brigadier general of volunteers Foster saw action in the capture of Roanoke Island (NC) on February 8, 1862. He also participated in the capture of New Bern (NC), and in the bombardment of Fort Macon (GA). Foster was in command of the department of North Carolina (July 1, 1862-July 13, 1863), and here several regiments of New Hampshire Volunteers were under his command. Foster participated in all the North Carolina battles while in command of the department; July 18, 1863 he was breveted a major general of United States Volunteers.
Foster next commanded the department of Ohio (December 12, 1863-July 9, 1864), when he asked for relief because of injuries suffered in a fall with his horse. During 1863 Foster was also made a major in the Corps of Engineers.
After the Civil War Foster served in the department of Florida, but his health was not good. In 1869, while on temporary duty with the Corps of Engineers in Washington, D.C., he was dispatched to work on improvements in Boston harbor. This gave him opportunity to return to Nashua from time to time.
Foster's funeral in Nashua was one of the great events in the city's history. All business was suspended, and public and private buildings were draped in mourning. Eight Civil War generals guarded the hearse; a Foster compatriot from the Mexican War, Colonel George Bowers, acting as Commander of the John G. Foster Post, Grand Army of the Republic, commanded a detachment of United States Regular Army troops as an escort for the procession to the cemetery.